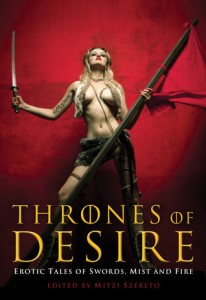 Format Read: ebook provided by the publisher
Number of Pages: 256 pages
Release Date: September 18, 2012
Publisher: Cleis Press
Genre: Fantasy Romance, Erotic Romance
Formats Available: Trade Paperback, ebook
Purchasing Info: Amazon | B&N | Kobo | Book Depository US | Book Depository (UK) |Goodreads | Author's Website | Publisher's Website
Book Blurb:
Thrones of Desire is a place where lust and legend abound, and adventure, passion and danger entwine. Think mystical lands and creatures, kings and queens, knights and renegades, heroes and villains, warlords, maidens and princesses. Think battles and danger, honor and dishonor, good and evil. Most of all, think hearts filled with passion and secret desire. This is a place where romantic chivalry is alive and well, but so too is romantic wickedness. This is a place where the good do not always win, and the bad are often more captivating and desirable than their altruistic counterparts. In these lush and timeless landscapes, the battle for flesh can be as important as the battle for power. Intrigue, sorcery, revenge, lawlessness, dark secrets and mysterious elixirs; entanglements with supernatural beings — everything is possible in these magical mythical landscapes. Inspired by Game of Thrones these imaginative steamy tales transport the reader to fantastical realms.
My Thoughts:
The thing about short story collections is that some members of the set are going to be absolutely fantastic, and some are going to be, in a word, "meh". It's the nature of the beast.
But what about this collection?
There were two stories that stuck in my mind afterwards, that definitely lived up to the promise of being both dark fantasy and erotic sexuality intermingled.  Kim Knox's At the Sorcerer's Command and Ashley Lister's Here There Be Dragons. In both cases, the darkness comes from the fantasy side of the equation.
In the Knox story, a paladin and an apprentice wizard invade the inner sanctum of a sorcerer, and are trapped. Or so it seems. But nothing is as it seems. The apprentice wizard, Miar, is a soul-catcher, she can find out the true-name of anyone, and with that true name, she can control them. Of course, there's a catch: she doesn't know what triggers her talent.
Varun, the paladin, is more than a paladin. Or less. He is a shadowbeast. He has no soul, being wizardspawn. But he is immune to most magic. Miar doesn't know what Varun is, only that she desires him, and that it is forbidden. Her mage trainer is owed her maidenhead as the price of her training.
The sorcerer is the enemy. She thinks that she controls these enemy interlopers. That she is watching them fulfill their base desires for her own amusement, before she throws them both to her troops. But she is wrong. Varun has outplayed her. Miar's fulfillment triggers her talent, and the soul-catcher steals the sorcerer's name. Also perhaps what little heart a shadowbeast has.
Here There Be Dragons was haunting. A female dragon trainer, Georgiana, exacts revenge on an invader through a series of lies of omission so subtle that he doesn't realize that he's being misled to his death. Unfortunately for poor Georgiana, she sends him to his fate after she's discovered through a bout of quite satisfying sex that this raider could make her very, very happy, but only if she were willing to betray every oath she ever swore, and she simply can't.
Other stories in the collection are good, but much more in the vein of standard fantasy romance, or at least standard fantasy erotic romance.
There were a couple of stories, Nyla Nox's The Widow's Man and M.H. Crane's Saints and Heroes, where I had the feeling I was reading a piece of something that belonged in a larger universe–I kept hoping for more explanation of the setup, or the background, than I had. I was interested, but I just didn't have enough to figure the whole thing out.
Verdict: I found a lot of stories in this collection that I enjoyed. A couple didn't veer much outside of standard fantasy, but were still good, while some, like the Knox and Lister stories, were absolutely standouts. The Eric Del Carlo and Janine Ashbless stories that open the collection are also very, very good and worth a shout-out.

I give Thrones of Desire four blushing stars.
***FTC Disclaimer: Most books reviewed on this site have been provided free of charge by the publisher, author or publicist. Some books we have purchased with our own money and will be noted as such. Any links to places to purchase books are provided as a convenience, and do not serve as an endorsement by this blog. All reviews are the true and honest opinion of the blogger reviewing the book. The method of acquiring the book does not have a bearing on the content of the review.