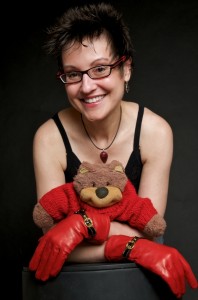 If you think that Game of Thrones on HBO just isn't sexy enough, Mitzi Szereto has a collection for you! Thrones of Desire:  Erotic Tales of Swords, Mist and Fire is a collection that was definitely inspired by the series, but may owe a little to all those suggestive fantasy covers of yesteryear. Except in these stories, the things those covers suggest really happen, and a whole lot more.
Mitzi's here to tell us about the collection, her own writing (including the mysterious adventures of a teddy bear!) and host a giveaway!
Marlene: Hi Mitzi, welcome to Book Lovers Inc! Can you please tell us a bit about yourself?
Mitzi: I guess I'm a bit of a Renaissance woman. First off, I'm an author and anthology editor of multi-genre fiction and non-fiction. I have my own blog "Errant Ramblings: Mitzi Szereto's Weblog" (http://mitziszereto.com/blog), which covers pretty much whatever I feel like covering, and I'm the creator and presenter of the Web TV channel "Mitzi TV" (http://mitziszereto.com/tv), which is a series of videos on "quirky" London. I've also lectured in creative writing at several British universities and am known for having pioneered erotic writing workshops in the UK and mainland Europe.
Marlene: Describe a typical day of writing? Are you a planner or pantser?
Mitzi: A typical day of writing doesn't always involve that much writing! Seriously though, it seems impossible to actually do one thing and one thing only. There's always a ton of other stuff coming in that needs dealing with. Oh, the joys of email! I'd probably have to say I'm more of a pantser than a planner. I tend to write and let things happen, though I might have a general idea of a plot floating around in my head. But no, you won't find me mapping out any books or working with outlines. I don't do the outline thing!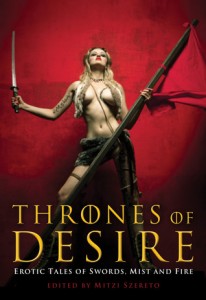 Marlene: And how is it different for you as an author to edit an anthology versus writing a story of your own?
Mitzi: It is still creating a book from conception through to birth. Although I don't write all the stories, I always contribute an original story to all my anthologies, write the introductions (which can actually be harder than writing a story), and seek out a suitable person to write the foreword. There is a great deal of work and responsibility that goes with an anthology. It's not a matter of sitting on your backside and watching as the stories roll in, picking out a few, then shipping the whole lot off to the publisher to deal with. I work with each individual writer, helping them make their stories the best they can be. Some stories need a light touch, some a heavier touch and some just hit the mark straight off. There is an incredible amount of detail work involved in doing an anthology, including administrative. You have to be really good at multi-tasking!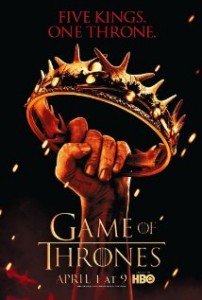 Marlene: Speaking of which, what was the inspiration behind getting this collection together?
Mitzi: It was probably a logical progression from my erotic fairy tales book In Sleeping Beauty's Bed, which was also in the fantasy realm. There's a huge interest in fantasy fiction these days, thanks to the Harry Potter and Lord of the Rings films putting it out there for a much wider audience. Add to this the success of the HBO TV series Game of Thrones, which is based on the bestselling epic fantasy novels by George R.R. Martin and you now have a genre that shows no signs of slowing down. It's inevitable it would influence authors and anthology editors such as myself to get more involved in the genre.
Marlene: And what's the process for putting together a collection like this? Do you have a favorite story in the collection?
Mitzi: As the mother hen, it would be highly improper of me to pick a favorite story. The stories are all different (as are their authors) and each has something special to offer. Regarding the process, I cast as wide a net as possible in order to attract writers from all areas of literature in order to find stories that are unique and which have the right fit. It's not an easy task, nor is editing other people's work. It's a delicate balancing act to work with another writer's material and get he or she to see how it can be made better—and to do so without compromising the work and changing it into something that is no longer theirs.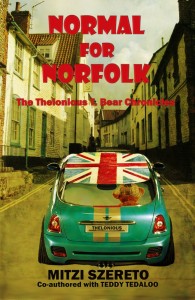 Marlene: Most of your writing has been in the erotic romance genre, but then there's Thelonious T. Bear. How do those two things relate? Or do they?
Mitzi: They relate in that I've worked in many genres and often blend them together into something new. I'm not sure it's really accurate to say that most of my work has been in the erotic romance genre. In fact, I've never considered that to be my main area, but rather an area some of my work touches upon. As I said, I like to mix and blend genres and do something different each time, therefore one book is not the same as another. Normal for Norfolk (The Thelonious T. Bear Chronicles) is a quirky crime novel/cozy mystery that contains elements of magic realism just as it does humor, so that title draws on areas I've already worked in, just as Thrones of Desire draws on my work in the fantasy genre, i.e. my erotic fairy tales short story collection In Sleeping Beauty's Bed.
Marlene: What do you think is the difference between a reader and a real Book Lover?
Mitzi: It's probably safe to say that a reader reads to pass the time and a book lover prefers reading above everything else, savoring the experience from the selection of the book through to finishing the last page.
Marlene: Can you tell readers what they can expect of Thrones of Desire?
Mitzi: Thrones of Desire is an intelligent collection of stories featuring high quality prose, plenty of erotic steam, and fantastical thrills that will transport readers to other worlds. What more could anyone want?
Marlene: What projects do you have planned for the future?
Mitzi: I'm writing another novel as we speak, which is harkening back a bit to my Pride and Prejudice: Hidden Lusts, though in this instance, it will not be a sex parody as was P&P, but rather a sequel to a classic work of literature that contains elements of the Gothic and the erotic. There's also another Thelonious T. Bear book in the works with my famous co-author Teddy Tedaloo. In addition, I've got a new anthology in the works and I'm collaborating on another novel with a writer friend of mine. I guess you can say that I'm pretty busy. Oh, and did I mention that I'll be appearing at the upcoming Miami International Book Fair in November? Everyone's been asking when I'll start doing more public appearances in America, so now I am.
Marlene: Now can you tell us 3 reasons why people should read your books?
Mitzi: They're not the same old same old. They offer the unexpected. And, particularly in the case of my erotic-oriented titles, they don't dumb down to readers.
Marlene: What book do you recommend everyone should read and why did you pick that particular book?
Mitzi: There are many great books out there, but it's down to what each person enjoys or is in the mood for. I'd probably go with Lolita by Vladimir Nabokov. It's an exceptional novel—the plot, the writing, the everything.
Marlene: Morning person or night owl?
Mitzi: Night owl, definitely.
————
Mitzi Szereto is an author and anthology editor of multi-genre fiction and non-fiction, has her own blog "Errant Ramblings: Mitzi Szereto's Weblog" and is creator/presenter of the Web TV channel "Mitzi TV", which covers the "quirky" side of London.
Places to find Mitzi: website | blog | twitter | facebook | Goodreads | Google+
Thrones of Desire edited by Mitzi Szereto
published by Cleis Press

Thrones of Desire is a place where lust and legend abound, and adventure, passion and danger entwine. Think mystical lands and creatures, kings and queens, knights and renegades, heroes and villains, warlords, maidens and princesses. Think battles and danger, honor and dishonor, good and evil. Most of all, think hearts filled with passion and secret desire. This is a place where romantic chivalry is alive and well, but so too is romantic wickedness. This is a place where the good do not always win, and the bad are often more captivating and desirable than their altruistic counterparts. In these lush and timeless landscapes, the battle for flesh can be as important as the battle for power. Intrigue, sorcery, revenge, lawlessness, dark secrets and mysterious elixirs; entanglements with supernatural beings — everything is possible in these magical mythical landscapes. Inspired by Game of Thrones these imaginative steamy tales transport the reader to fantastical realms.

Find it at:Amazon | B&N | Kobo | Book Depository US | Book Depository (UK) | Goodreads
~~~~~~~~~~~~~~~~~~~~~~~~~~~~~~~~~~~~~~~~
Cleis Press has generously offered a print copy of  Thrones of Desire to one lucky commenter! 
All you have to do is answer Mitzi's question: If you were a damsel in distress, who would you rather be rescued by and why: a dashing prince, a half-man/half-dragon, or a wicked sorcerer?
(You can read our full giveaway policy here)
Please be sure to include a valid email address in the comment form 
(need not be in the actual body of the comment).
This giveaway is open to all, including International entries!
Giveaway ends on Saturday, November 3, 2012; and we will announce the winner on Sunday.
Good luck!