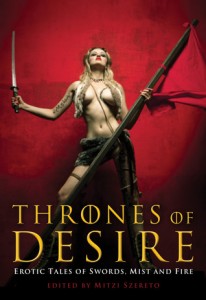 Format Read: ebook provided by the publisher
Number of Pages: 256 pages
Release Date: September 18, 2012
Publisher: Cleis Press
Genre: Fantasy Romance, Erotic Romance
Formats Available: Trade Paperback, ebook
Purchasing Info: Amazon | B&N | Kobo | Book Depository US | Book Depository (UK) |Goodreads | Author's Website | Publisher's Website
Book Blurb:
Thrones of Desire is a place where lust and legend abound, and adventure, passion and danger entwine. Think mystical lands and creatures, kings and queens, knights and renegades, heroes and villains, warlords, maidens and princesses. Think battles and danger, honor and dishonor, good and evil. Most of all, think hearts filled with passion and secret desire. This is a place where romantic chivalry is alive and well, but so too is romantic wickedness. This is a place where the good do not always win, and the bad are often more captivating and desirable than their altruistic counterparts. …

4 Stars,featured,Mitzi Szereto,Review,The Rocket Lover

25 Oct 2012

Comments Off

on Thrones of Desire edited by Mitzi Szereto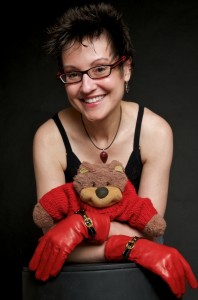 If you think that Game of Thrones on HBO just isn't sexy enough, Mitzi Szereto has a collection for you! Thrones of Desire:  Erotic Tales of Swords, Mist and Fire is a collection that was definitely inspired by the series, but may owe a little to all those suggestive fantasy covers of yesteryear. Except in these stories, the things those covers suggest really happen, and a whole lot more.
Mitzi's here to tell us about the collection, her own writing (including the mysterious adventures of a teddy bear!) and host a giveaway!
Marlene: Hi Mitzi, welcome to Book Lovers Inc! Can you please tell us a bit about yourself?
Mitzi: I guess I'm a bit of a Renaissance woman. First off, I'm an author and anthology editor of multi-genre fiction and non-fiction. I have my own blog "Errant Ramblings: Mitzi Szereto's Weblog" (http://mitziszereto.com/blog), which covers pretty much whatever I feel …

featured,Giveaways,Interview,Mitzi Szereto,The Rocket Lover

24 Oct 2012

9 comments

Format Read: ARC provided by the publisherNumber of pages: 224 pagesRelease Date: 1 July 2011Formats available: PaperbackPublisher: Cleis PressPurchasing Info: Goodreads, Amazon, Book Depository, Author's website, Cleis PressBook Blurb:
Imagine that Jane Austen had written the opening line of her satirical novel Pride and Prejudice this way: "It is a truth universally acknowledged, that a single man in possession of a good fortune, must be in want of a good romp and a good wife — although not necessarily from the same person or from the opposite sex." In Pride and Prejudice: Hidden Lusts Mr. Darcy has never been more devilish and the seemingly chaste Elizabeth never more turned on.

The entire cast of characters from Austen's classic is here in this rewrite that goes all the way. This time Mr. Bingley and his sister both have designs on Mr. …

2 Stars,Mitzi Szereto,Review,The Quirky Lover

29 Jun 2011

3 comments