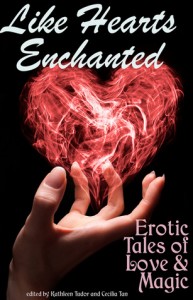 Format Read:ebook provided by the publisher
Number of Pages:74 pages
Release Date:May 31, 2012
Publisher:Circlet Press
Genre: Fantasy romance
Formats Available: ebook
Purchasing Info: Amazon | B&N | Kobo | Author's Website | Publisher's Website
Book Blurb:
Love is a universal ideal transcending time and place and occasionally even dimensions. Anyone who has ever been in love knows that there is something magical about it, but what happens when real magic gets involved in matters of the heart? From love spells, to the ability to open the eyes and the mind, to a special little something that can make you downright irresistible, anything is possible when magic and love mingle.

Prepare to be enchanted and aroused as these five original short stories help you answer the important questions, like "What if love is right in front of you, and all you need to do is let it in?", "What happens when you mix steampunk, love potions, and a sexy strip tease?", and of course, "What's the best course of action if you accidentally summon a demon of lust into your living room?"

Sweet love will take you by surprise in "Violets" by Annabeth Leong. In "Summer's Breath" by Deb Atwood, love, magic, and need intertwine and show you a hidden world. Heart's desire is not always what it seems in "Knight of Her Dreams" by Kathleen Tudor. "By the Book" by Elizabeth Thorne takes us on a laugh-out-loud journey through lust, and delivers us to Ann Foster's "The Captain," a steampunk romance with a twist.

True love, red-hot sex, enlightenment, salvation, or anything in between; when matters of the heart and matters of magic collide, watch out! Love is in the air, and these five tales of love, sex, and enchantment will capture your senses and whisk you away to a world (or worlds) where anything is possible.
My Thoughts:
Although the subtitle of this collection is "Erotic Tales of Love and Magic" the stories didn't seem like erotica. They were very definitely love stories, I'm just not sure that they all fell into the erotica category. As they say, your mileage may vary.
What they all have in common is that the magic involved in each story is pretty much magic of the witchcraft variety. Magic of the more homely sort. There are no dragons here. Nothing showy happens. There are only two otherworldly creatures in this collection, a fae and an incubus, and even the incubus gets caught up in a simple love spell.
The thread that binds these stories together is that the magic of love, or when someone involves magic spells in dealing with love, surprising things happen.
My favorite story in the collection is Elizabeth Thorne's "By the Book". Catherine summons a gorgeous naked man into her living room using a spell from a library book. When he looks bored inside the summoning circle, she unsummons him, really, really fast. He may be gorgeous, but she's tired of being with men who don't want to be with her. 20 minutes later, he's back. Clothed this time, and at the front door. He's not bored anymore, either. He's annoyed.
Nobody's ever turned him down before. He's intrigued. It's the most interesting thing that's happened to him. He wants to talk about it. The talk leads to a pillow fight. And an explanation of why love spells don't work. Except this one that did.
The other really good story in the collection is Annabeth Leong's "Violets". Helen desperately wants to keep her best friend Silvia from returning to her boyfriend Jared, who has just given her a black eye. Again. She wants to help Silvia find a good man this time, and not another loser. So she goes to Silvia's aunt. Why? Because Silvia's aunt is a bruja, a wisewoman from Puerto Rico, who can provide both a love spell for Silvia, and maybe a curse for the bastard who gave her the shiner.
But there's a catch. The love spell must be prepared by someone who loves Silvia. Who better than her best friend, Helen? And maybe the preparation and application of this love spell will finally let these two women realize that the best person for them, the one who really loves them, is each other.
Verdict: Like most collections, there are hits and misses. The two stories highlighted above are definitely the hits in this collection, at least as far as I am concerned.
"Knight of her Dreams" by Kathleen Tudor and "The Captain" by Ann Foster were both pretty good stories as well. "Knight" was a bit predictable, but the story was well-told. "The Captain" is the steampunk story in the collection. The steampunk aspects were minor, but the interesting part of the story was the way the tables got turned on the main character.
Unfortunately, one story didn't work at all for me. That was "Summer's Breath" by Deb Atwood. A summer fae comes to earth and needs to submit herself to someone before the winter solstice or she will be lost. I got that part. It was the ending. I think this story might have been bigger than the format. It sounded interesting, but there just wasn't enough to figure out everything that happened. Too bad, too.

I give Like Hearts Enchanted 3 stars.
***FTC Disclaimer: Most books reviewed on this site have been provided free of charge by the publisher, author or publicist. Some books we have purchased with our own money and will be noted as such. Any links to places to purchase books are provided as a convenience, and do not serve as an endorsement by this blog. All reviews are the true and honest opinion of the blogger reviewing the book. The method of acquiring the book does not have a bearing on the content of the review.