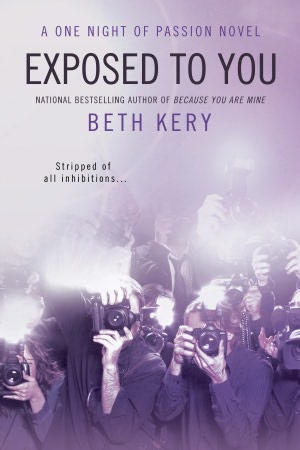 We are thrilled to welcome New York Times & USA Today Bestselling author Beth Kery to back BLI today to celebrate the release of her latest novel Exposed to You, which I read and thoroughly enjoyed (my review will be posted later today). Exposed to You, will be released from Berkley Heat on November 6, 2012.
About Exposed to You:
Length: 320 Pages
Genre: Erotic Contemporary Romance
Series: One Night of Passion Book II
Release Date: November 6, 2012
Publisher: Berkley Heat
Formats Available: eBook, Kindle, Nook, Trade Paperback
Purchasing Info: Publisher, Author's Website, Goodreads, Amazon, Barnes & Noble, BAM, The Book Depository, Chapters, Powell's, IndieBound, Kindle, Nook, iBooks
Book Blurb:
Losing control is just the beginning…

"What would you do if the sexiest man in the world was bent on bringing you unbearable pleasure again and again? Joy Hightower wasn't sure she could survive the experience…or live without it."

It's not often you're hired to paint a body tattoo—and what a body—on a total stranger at a Hollywood film set. A reserved and careful art teacher, Joy would never forget it. In a rare fit of raw desire she gave herself completely, knowing she'd never see him again, or ever repeat such a shameless, naked impulse.

Little did she know, the man with whom she shared that lightning bolt of lust was star Everett Hughes. For Everett, women and sex came as easily as fame. But how could he hope to convince the guarded Joy that beneath the hard body and sexy façade of celebrity was a real man who wanted only one, real woman?

In the heat of an intoxicating affair, Everett endeavors to break down her barriers, gain her trust, and expose himself as the real deal. But can Joy do the same, and reveal to him the vulnerable woman who longs to be loved, wanted, and desired forever?
Beth! Welcome back to BLI, it's so great to be able to chat with you about Exposed to You. 🙂
Beth: Thanks to you and the ladies for having me at BLI, Lea.
Lea: Exposed to You is the second full-length novel in your One Night of Passion series and it's the love story between Everett Hughes, and Joy Hightower. Please tell us a little about the story. Everett was introduced in Addicted to You, the first novel of the series wasn't he?
Beth: Everett is Katie Hughes' celebrity older brother, and yes, he did play a significant role in Addicted to You, Katie and Rill's love story. Exposed to You is about a woman who lives in fear of the return of her cancer. Joy Hightower has withdrawn from family, friends, home and started a whole new life for herself—a safe, but sterile one. But then Everett Hughes blazes into her world, and he isn't the type of man it's easy to say 'no' to. They start a love affair. It's not easy for her to accept that he would choose to be with her, no matter what, and it's not easy for Everett to convince her that he's the real deal, not a shallow caricature of a Hollywood movie star. Exposed to You is about opening up enough to trust and let love in, even if it comes at the 'wrong' time and seems not only unlikely, but too perfect to be true.
Lea: Everett stood out on page as a secondary character in Addicted to You, much like he does in 'life'. You really do him proud in Exposed to You Beth. I mean this guy is every woman's dream for a variety of reasons but he is so comfortable in his own skin and unassuming to quote:
"How could he possibly be so sublimely beautiful and seem about as aware of it as the air he breathed? If there were a trace of disingenuousness in his actions, a hint of contrivance, it'd be one thing. But instead, he was all easy male grace and quick intelligence, good-natured humor interspersed with sudden, dark, smoldering sexuality. He was just . . .

Everett."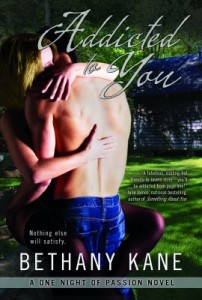 Did the essence of Everett's character come to you while you were writing Addicted to You? He comes from a very normal background and that is reflected in his "feet on the ground" persona isn't it?
Beth: Everett was one of those rare characters that really did come to me fully developed. I knew he was effortlessly gorgeous from the first, but quirky and sublimely comfortable in his own skin. I wanted more for him than to make him a movie star stereotype. I thought it'd be fun to make him really psychologically healthy. He balances the considerable challenges of fame with grace and humor, he adores his family and friends and would do just about anything for them. I don't think Everett is perfect, by any means, but he's learned from his mistakes instead of making them again and again. He trusts himself instinctively, and that's why he doesn't angst over or deny the fact that he's falling in love with Joy. To him, it's a blessed experience. He's waited for it—for Joy—for a long time.
Lea: As you mentioned, Joy is a cancer survivor, and she lost her mother to the same disease. Her cancer is in remission but like anyone in a similar situation, she is terrified it's going to come back. Joy is lovely and sweet, an extremely private person who doesn't talk about her fears or history openly. Everett is very intuitive and senses she is keeping something painful inside but she doesn't share easily does she?
Beth: No, Joy is a law unto herself. She's learned to contain her fears and manage her life by withdrawing from all the things she deserves—family, friends and the love and acceptance that comes from community. It's very hard, I think, to see a loved one suffer for so long with a brutal disease. Joy desperately doesn't want that for anyone she loves—for them to have to helplessly watch her suffer like she did her mother. The last thing she wants to do is fall in love, but Everett makes it impossible to stay locked away inside herself.
Lea: This book is really steamy but the eroticism is so beautiful and tender. Did you craft the relationship between Everett and Joy to show how this almost surreal experience, in a way, breaths life into this woman who has endured so much?
Beth: Everett is the epitome of life, certainly. He's vibrant and sexy and passionate. The very first scene of the book sort of sets the stage, because even though it isn't in Joy's nature to have a sexual exchange with a stranger, she grabs at the opportunity, wanting to hold onto life, feel it, embrace it. Her reaching out to Everett is the true essence of Joy, the fighter that doesn't want to give up. But she's also fearful, and she wears her fear like a shroud and withdraws. Everett's challenge is for her to live life, despite fear. He often makes this challenge sexually, when he demands that she feel full force and completely, participate in intense eroticism with him. He instinctively hates when she shuts herself off and he sort of pulls her out of herself. I think that's why their sexual exchanges are so intense and might have a surreal quality.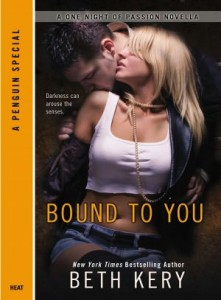 Lea: Can Exposed to You be read as a standalone or would you recommend the stories be read in order?
Beth: It definitely can be read alone. For full enjoyment, a reader might want to read Addicted to You first, but it really isn't a must at all. There are two novellas in the series as well, Bound to You and Captured by You, but again, each of these are standalones and are love stories about separate couples.
Lea: You've had an amazing year Beth, including Exposed, you've released 3 books in your Home to Harbor Town, Harlequin Special Edition series. Bound to You and Captured by You novellas in the One Night of Passion series. And, congratulations, you made the New York Times and USA Today Bestseller lists with Because You Are Mine, your groundbreaking serial erotic romance.
Are you taking a breather or is it full steam ahead?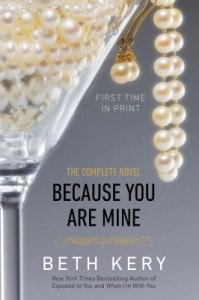 Beth: Yes, it's been an intense year. It's definitely full steam ahead. I have another serial coming out next February called When I'm With You, which takes place in the Because You Are Mine world. Because You Are Mine releases in paperback on January 29. I have several mass market releases next year, including Release and Addicted to You. I'll be working hard on more books for the Berkley Heat line.
Lea: What can readers expect next from Beth Kery's desk?
Beth: Ian and Francesca, from Because You Are Mine, are featured in When I'm With You, but I'd also like to be able to do another book furthering their love story. I plan to do another book in the One Night of Passion series as well.
Lea: Okay, please summarize Exposed to You Twitter style in 140 characters or less!
Gorgeous, down-to-earth movie star falls hard for a cancer survivor, but has to convince her that life and love are a risk worth taking.
Lea: I want to wish you every success with Exposed to You, it's a wonderful, captivating love story Beth. And thank you so much for taking time out of your horrendously busy schedule to chat with us today. ☺
Beth: It was my pleasure. Thank you!
Where to find Beth Kery
Website | Facebook | Twitter | Goodreads
~~~~~~~~~~~~~~~~~~~~~~~~~~~~~~~~~~~~~~~~
~*~*Giveaway*~*~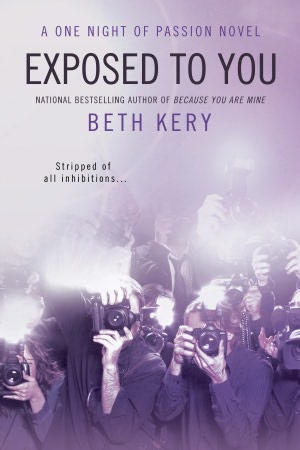 Beth has generously offered TWO print copies of EXPOSED TO YOU to TWO lucky commenters!
All you have to do is leave a meaningful comment about Beth's post or a question for her!
(You can read our full giveaway policy here)
Please leave us a way to contact you.
(Email in blogger profile or twitter name – no way to contact you – no entry).
This giveaway is open to International entries!
*International entries to qualify: Please Check your country is on The Book Depository's list of countries for free delivery.*
Giveaway ends on Saturday, November 10th, 2012; and we will announce the winner on Sunday.
Good luck!