Today we welcome to Book Lovers Inc. Sara Daniel another brand new Entangled Bliss author who is on a virtual globe trotting book tour celebrating the release of her sweet contemporary romance Construction Beauty Queen! Join us as I chat with Sara and you could even win a copy of Construction Beauty Queen!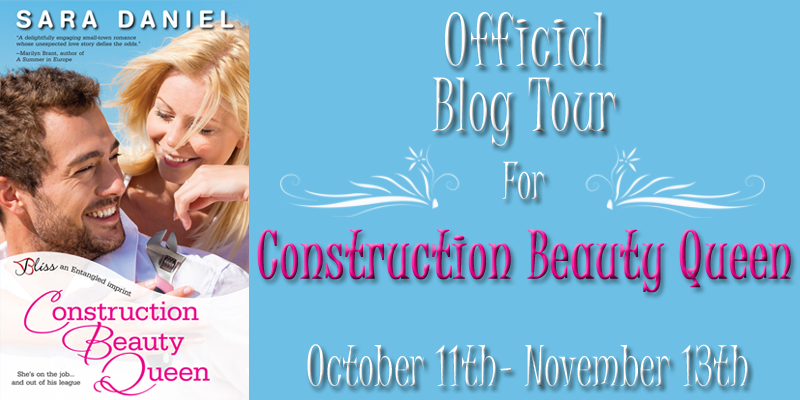 Stella: Hi Sara, can you please tell us a bit about yourself?
Sara: Hi, Stella! Thanks for having me here today. As an author, I write what I love—irresistible romance and captivating small-town drama. On the personal side, I'm a frazzled maid, chauffeur, chef, and personal assistant. I'm crazy about country music and the drama of NASCAR. And I have my very own happily ever after with my hero husband.
Stella: Describe a typical day of writing?
Sara: I sit in front of the computer and catch up on my email and social media with a cup of coffee. Then I open my writing file and stare at the screen. I write for a while, then wander the house, reheat my coffee and find some food. I write some more, rewarm the coffee, get another snack, etc., etc.
Stella: Are you a planner or pantser?
Sara: Well, I thought I was a pantser for years, writing without any pre-planning, and unfortunately I accumulated quite a collection of under-the-bed manuscripts that way. The truth is I need a road map in order to create a plot that sticks together. I'm reluctant to call myself a plotter though. I still have too many things I don't know about the plot when I start my story. I think I have it all figured out before I begin, but I discover so many things that I didn't know once I'm writing. I update my story notes to reflect these changes and bring everything together as a cohesive whole at the end.
Stella: What do you think is the difference between a reader and a real Book Lover?
Sara: I'm not sure, but I'll take a stab and say the difference is the level and type of passion. I think readers love the story and are passionate about good stories. Book Lovers love the story too, but they also love the physical book, the cover and the "extras" that come with the book or from the author.
Stella: Your latest release Construction Beauty Queen was one of the few selected novels to debut Entangled Publishing's new sweet romance, Bliss line, congratulations! Can you tell our readers what they can expect of it?
Sara: Readers can expect "uplifting, heartwarming stories" from every Bliss book and of course a happily-ever-after, satisfying romance. In addition, readers of Construction Beauty Queen can expect a sweet, sassy romance with a memorable small-town cast of characters.
Stella: Do you still remember what inspired Construction Beauty Queen? Was there a specific moment/event that sparked the idea for the story?
Sara: Several years ago, my husband, his father and I reroofed our house. I learned firsthand what a dirty, sweaty, backbreaking job it was. As I cautiously walked up the slope to the peak of the roof, I realized this job was the perfect place for a heroine who was out of her element but determined to prove she could do the job and do it well. That seed eventually sprouted into Construction Beauty Queen.
Stella: Could you introduce Matt Shaw and Veronica Jamison, the hero and heroine of Construction Beauty Queen?
Sara: Here are 5 adjectives that I think tell everything you need to know about their personalities:
Veronica—determined, self-motivated, friendly, generous, caring
Matt—loyal, guarded, protective, cautious, hard-working
Stella: Can you tell us 3 reasons why people should read Construction Beauty Queen?
Sara:
1. Inventive espresso flavors
2. Endearing, memorable characters
3. Happily-ever-after irresistible love story!
Stella: Can you summarize Construction Beauty Queen for us Twitter-style (140 characters or less)?
Sara: Unlikely couple w quirky small-town cast. She's on the job…& out of his league. Construction Beauty Queen by @SSaraDaniel @RomanceIsBliss
Stella: Can you share with us some little secret trivia connected to the writing of Construction Beauty Queen?
Sara: The part of the roofing scene where the wheelbarrow falls off the roof stemmed from my stark terror during my own roofing experience that both I and my wheelbarrow would plunge to the ground if I attempted to maneuver it while on the top of the roof. My husband had no such qualms, but that's okay because I panicked enough for both of us. 🙂
Stella: I saw on your website that you write contemporary romances, erotic romances and paranormal romances. Which one is your favourite, your "first love"?
Sara: I started out writing contemporary romance, and I will confess that is still my favorite. I adore mixing the romance with small-town drama and quirky characters. Having said that, romance in all its forms is my ultimate love.
Stella: What is next on your schedule? Any future plans you'd like to share with us?
Sara: I have two connected short stories out this fall that are both small-town contemporary romances featuring reunited past lovers from Musa Publishing's Finally Ever After line. Zane's Art is out now, and Wyatt's Guilt will be out in early December. I'm also starting on a follow-up novel to Construction Beauty Queen, featuring two of the characters I introduced in this book and of course bringing back the whole small-town cast.
Stella: What kind of romance novels do YOU read? Can you share a few of your favourite authors/series?
Sara: I read a variety, but contemporary romances with some family drama thrown in are my favorites. My all-time favorite hero is Kenny Karmody from Suzanne Brockmann's Out of Control. That mix of sweet, vulnerable, tough, fearless, and irreverent made me fall head-over-heels in love. Susan Elizabeth Phillips' First Lady is probably my all-time favorite book because every single character captivated me on every single page. When I finished that book for the first time, I turned to page one and immediately started reading it again.
Stella: Can you share with us some little secret trivia, something that not many people know about you?
Sara: Just to show you how exciting life can be in the suburbs, I'll admit that I save my dryer lint. Go ahead and laugh, but it's true. Apparently, the lint makes a great fire starter, and I'm a good Boy Scout mom who does a lot of laundry!
Well, now that you know my biggest secret, I want to hear from you. Leave a comment telling me a little secret trivia that most people don't know about you.
I write what I love. That means irresistible romance, captivating small-town drama, and quirky characters in romance fiction as Sara Daniel. In children's chapter books as Sara Shafer, that means fun, family and adventure. Whatever I write, you're guaranteed a happy ending. I write fiction to entertain but also to give people hope and a belief that everything can and will turn out happily ever after.

On the personal side, I'm a frazzled maid, chauffeur, and personal assistant (aka mom). I tried a stint as a landlord of two uninvited squirrels. (The Bravest Squirrel Ever is the fictionalized version of that experience from the squirrel's point-of-view!) I'm crazy about country music and the drama of NASCAR. And I have my very own happily-ever-after romance with my hero husband.

Visit my website, follow my blog, like me on Facebook or email me for the latest updates on my books and writing projects or to debate the best race car drivers!
Construction Beauty Queen by Sara Daniel

She's on the job…and out of his league.

Chicago socialite Veronica Jamison is determined to shake off her sheltered lifestyle and overbearing parents. She heads to her grandfather's small town of Kortville, ready to roll up her sleeves and work for the family construction business. She'll prove her worth, even if it means answering to the company's ruggedly handsome co-owner, Matt.

Matt Shaw just wants to run his business, spend time with the niece he's raising on his own, and give back to the townspeople who have stood by him. Managing a spoiled-rotten princess he knows he'll never be good enough for? Not part of his plan. But as he gets to know Veronica, he learns there's more to her than her beautiful looks and designer clothes. She's got a heart as rich as her background.

With the quirky townspeople rallying against Veronica inheriting her grandfather's business, it's up to Matt to try to drive her out of town. But how can he, when instead she's driving her way into his heart
~~~~~~~~~~~~~~~~~~~~~~~~~~~~~~~~~~~~~~~~
~*~*Giveaway*~*~
There are TWO giveaways:
Blog giveaway
Entangled Publishing has generously offered an ebook copy of Construction Beauty Queen by Sara Daniel!
All you have to do is answer Sara's question and tell us  a little secret trivia that most people don't know about you.
(You can read our full giveaway policy here)
Please be sure to include a valid email address in the comment form (need not be in the actual body of the comment).
This giveaway is open to all!
Giveaway ends on Saturday, 17 November 2012; we will announce the winner on Sunday.
Good luck!
Grand Prize Giveaway:
Sara is giving away a custom manicure set and a $20 Ulta Gift card!
Just fill out the Rafflecopter form below:
Good luck!