We are happy to kick off the blog tour celebrating Ophelia London's brand new release Speaking of Love, the second book in her Perfect Kisses series, published in Entangled Publishing's Bliss line. Ophelia stops by to tell you about her Top 10 Favourite Romance Novels, so let's see if you agree with her or not, and you could even win a great prize by commenting. 😉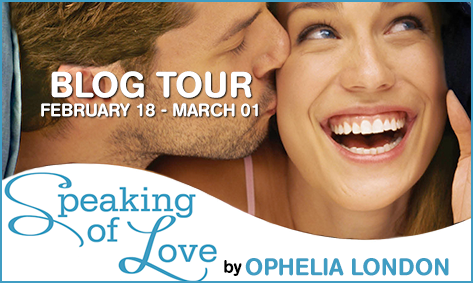 My Top Ten List of Best Romance Novels
by Ophelia London
I'm so excited to be talking books about romance, especially this time of the year! Obviously, lovey-dovey tales are near and dear to my heart, so let's get this party started…
10) "The Marriage Bargain," but Jennifer Probst. This was the first Entangled Publishing novel that I read. Let's just say, after one steamy shower scene, I was hooked!
9) "What the Lady Wants," by Jennifer Cruise. Nothing like some sexy bait-and-switch combined with a little bad-body detective to get the heart racing.
8) "Watermelon," by Marian Keyes. In this first book in her Walsh Family series, Ms Keyes is the master of weaving tragic subjects with humor and the perfect happily ever after.
7-6) "Hopeless," by Coleen Hoover and "Anna and the French Kiss," by Stephanie Perkins. I had to toss a couple YA's in here, because there's nothing like the thrill of first kisses and first love.
5) "Try Me," by Diana Albert. If I ever run into my ex-love on the side of the highway, I would pull over, too. And the fact that he's a Marine on leave, well…where do I sign?
4) "Austenland," by Sharon Hale. This wonderful spin on "Pride and Prejudice" is full of smoldering glances, stolen kisses and a good old-fashioned fist fight. What's not to love?
3) "The Bridges of Madison County," by Robert James Waller. Whoever said men can't write romance was dead wrong with this one. This short and sweet story has scenes that both broke my heart and sizzled on the pages.
2) "Redeeming Love," by Francine Rivers. With a dashing hero who will love his lady no matter what, it's a tale of true love with pure romance at its heart.
1) "Outlander," by Diana Gabaldon. The sexiest Scot since Connery, a honeymoon on the highlands, throw in a little time travel, and you've got a recipe for some serious swooning!
Thank you for having me on! So, what do you think of my list? Do you agree? Which books would you add?
Ophelia London was born and raised among the redwood trees in beautiful northern California. Once she was fully educated, she decided to settle in Florida, but her car broke down in Texas and she's lived in Dallas ever since. A cupcake and treadmill aficionado (obviously those things are connected), she spends her time watching arthouse movies and impossibly trashy TV, while living vicariously through the characters in the books she writes. Ophelia is the author of PLAYING AT LOVE, SPEAKING OF LOVE… and ABBY ROAD. Visit her at http://ophelia-london.blogspot.com. But don't call when The Vampire Diaries is on.

Connect with Ophelia at her Blog – Facebook – Twitter – Goodreads
Speaking of Love by Ophelia London

Book #2 in the Perfect Kisses series

Speech teacher and successful matchmaker Mackenzie Simms decides to find a woman for her friend, handsome newspaper tycoon Rick Duffy. Though they've been each other's go-to dates for the past month, Mac and Rick couldn't be more different: she is outspoken, sarcastic, and completely loathes his privileged lifestyle. He's laid-back, unassuming, and seems comfortable at an upper-class charity function. So why can't she stop thinking about him?

Rick knows he and the opinionated-though-adorable Mackenzie are better off as friends, so he agrees to the double-date getaway Mac plans at his family cabin. But seeing Mac cuddle up with her "friendly" date rankles Rick beyond reason, and Mac regrets her matchmaking scheme the minute she sees the way her beauty-queen cousin looks at Rick. Can Mac 'fess up to what's really in her heart, when speaking her mind puts everything at risk?
Please be sure to include a valid email address in the comment form (need not be in the actual body of the comment).