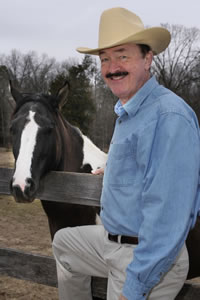 Today we are happy to welcome to Book Lovers Inc. Leigh Greenwood, who is one of those rare romance authors who happen to be a man! Leigh Greenwood has been writing romance novels for more than 25 years, penning both historical and contemporary pieces.  Join us as I sat down with Leigh to discuss books, reading, romance and whether a man perceives any of them differently. And don't forget to enter the giveaway at the end, you could win a copy of Heart of a Texan, the latest release of Leigh Greenwood!  
Stella: Hi Leigh, welcome to Book Lovers Inc.! Can you please tell us a bit about yourself?
Leigh: I'm a 71-year-old divorced father of three grown children, all married, and the grandfather of two adorable babies. I have a BA and MA in music and taught for nineteen years. Since beginning my first book in the summer of 1983, I've written over fifty books, won awards, and appeared on bestseller lists.
Stella: Describe a typical day of writing? Are you a planner or pantser?
Leigh: I don't have a typical day. I try to get most of my writing done in the morning, but that doesn't always work. I do try to write something every day, but that doesn't always work, either. I used to be a planner, but over the years I've pretty much become a pantser.
Stella: What do you think is the difference between a reader and a real Book Lover?
Leigh: I think readers enjoy the act of reading while book lovers love the book as much as reading it. Readers tend to get books from the library or get rid of the book after they've read it. Real book lovers want to keep every book they've ever read.
Stella: Leigh, you are somewhat of a rarity: a male romance writer! I bet everyone is curious to know: how did you start writing romance novels? And since you've been penning romances for more than 25 years, I bet back then it was even more of a sensation.
Leigh: There' s a more detailed explanation of my start on my website, but briefly I was trying to get my wife to write a book when she challenged me to write one instead. I don't know why I thought I could, but I did. I joined Romance Writers of America in 1985 and was immediately accepted into the writing community, but my editor insisted that I have a feminine-sounding pseudonym. I think I was about the only man writing by myself who was published at the time. (I'm not sure when Tom Huff's last book came out). As far as I know, I'm the only one who's lasted this long. It is unusual, but my picture has been in the back of my books so my readers have no trouble accepting me.
Stella: I saw on your website that you started by writing historical romances, what appealed to you about dreaming up stories set in the past?
Leigh: I've always been interested in history. The study of music involves a lot of history because monarchs, the church, and wealthy nobles were the patrons of music for many centuries. I minored in English history, and like every male child who grew up during the 40s and 50s, I adored westerns and watched nearly every western on TV until I went to college.
Stella: Your latest release Heart of a Texan, the 7th book in the Night Riders series was just released on November 1st. Congratulations! Can you tell those of our readers who aren't yet familiar with your work and series a bit about the setting and the world of the Night Riders series?
Leigh: The Night Riders were a crack team of Confederate raiders, striking behind enemy lines under cover of darkness, operating with one mind, one heart. Until one of their number betrayed them. In the aftermath of tragedy, the seven survivors swore they would hunt down the traitor. But to each, life would bring first a woman and then a revelation: Far sweeter than revenge is love.
Stella: Could you introduce the hero and heroine of Heart of a Texan?
Leigh: After Roberta Tryone's father was killed by masked bandits, she swore she would unmask the killers then return to a more civilized part of the world, Virginia. Unfortunately, she shot the wrong man and was forced to nurse him back to health. In the process, she discovered that Texas and Texans weren't as bad as she had thought.
Nate Dolan has spent eight years trying to bring the man responsible for his brother=s death to justice. He considered the loss of his own life worth the price. It took Roberta to make him realize that love was more powerful than the lust for vengeance.
Stella: What is next on your schedule? Any future plans you'd like to share with us? Will there be more books in the Night Riders series?
Leigh: This is the last book in the Night Rider series. Readers will be relieved to know Laveau diViere finally pays for his crimes. I've just begun a three-book series that has two themes. Spencer's Clearing was a small Kentucky town of twelve families, which touched on the border with Tennessee. One night in 1863, two rogue Union soldiers who'd stolen a payroll died there. Afraid of retribution by the Union Army, the whole town moves to Arizona. In 1839, a young couple heading to Santa Fe died. Their three boys were taken in by three different families. The attempts of the boys to find each other brings them into conflict with the town's efforts to keep its past a secret. Can both achieve their goals, or will the success of one mean the failure of the other?
Stella: What kind of romance novels do YOU read? Can you share a few of your favorite authors/series?
Leigh: I never name my favorite romance authors. It's just a professional courtesy since I have known many of them for more than twenty years. In addition to romance, I enjoy reading mysteries. Needless to say I'm a great fan of Louis L'Amour.
Stella: Can you share with us some little secret trivia, something that not many people know about you?
Leigh: After all this time, there's not much about me readers don't know. How about this? In my old age, I've developed a passion for gardening and cooking. I have two freezers nearly bursting at the seams with produce from the garden or soups I've made with vegetables I've grown. I even like turnip greens.
Stella: Please leave us with a question you'd like to ask readers to answer in the comments!
Leigh: Would you like to see more romances written by men?
Heart of a Texan by Leigh Greenwood

"A breathtaking Western romance." —Romance Reviews on Texas Pride

In The Wrong Place…

Roberta didn't mean to hurt anyone. But the night the masked bandits raided her ranch, it was hard to tell friend from foe. She didn't know Nate Dolan was only trying to help when she shot him in the chest. And when he offers to help her catch the culprits, she only feels guiltier. The absolute least she can do is nurse the rugged cowboy back to health…

With All The Right Moves…

Nate has been on the vengeance trail so long, he nearly forgot what a real home looked like. And Roberta is mighty fine incentive to stay put for a while C even if she has a stubborn streak as wide as the great state of Texas. She might be convinced she's healing the wound in his chest, but neither of them known she's also soothing the hurt in his heart.

"Entertaining high-stakes adventure." —Booklist on Texas Pride

Buy at Amazon – Book Depository – Kindle
Leigh Greenwood is the author of the popular Seven Brides, Cowboy, and Night Riders series. The proud father of three grown children, Leigh resides in Charlotte, NC. He never intended to be a writer, but found it hard to ignore the people in his head, and the only way to get them out was to write. Visit him at:
~~~~~~~~~~~~~~~~~~~~~~~~~~~~~~~~~~~~~~~~
~*~*Giveaway*~*~
Sourcebooks is offering a paperback copy of Heart of a Texan  to a lucky US/CAN commenter, and since we love our international readers just as much, BLI is sponsoring another copy for them!
All you have to do is answer Leigh's question and tell us: Would you like to see more romances written by men?
(You can read our full giveaway policy here)
Please state in your comment whether you are US/CAN or international!!
Please be sure to include a valid email address in the comment form (need not be in the actual body of the comment).
This giveaway is open to all!
Giveaway ends on Saturday, 24 November 2012; we will announce the winner on Sunday.
Good luck!