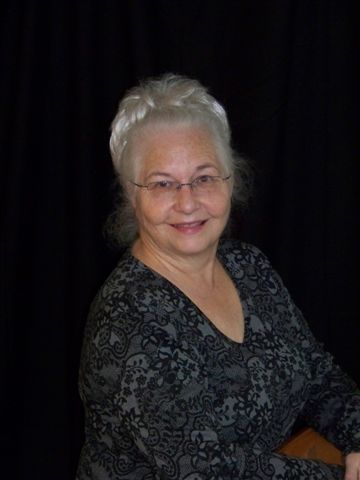 Today we are happy to welcome to Book Lovers Inc. Carolyn Brown, who is celebrating the release of her latest novel Mistletoe Cowboy which combines two very fine things: a sexy cowboy and a holiday romance, yay! Please give a warm welcome to Carolyn, read on to get a first glimpse of the story and don't forget to enter the giveaway at the end, you could win yourself a copy of Mistletoe Cowboy just in time for the holidays! 😉 
Hello!
I'm so excited that y'all asked me to stop by your site on my blog tour for Mistletoe Cowboy. It's a real pleasure to be here.
I just love the fall and the holiday season that Halloween kicked off a couple of weeks ago. First it's the witches and goblins and then all the good food and family at Thanksgiving and then Christmas and New Year's tops the whole season off with mistletoe, twinkling lights and lots of fun.
Stella asked me what makes a cowboy as sexy, or sexier, than say, a handsome billionaire executive, or maybe a rakish duke or even a shape shifting wolf man?
Well, a billionaire could jet you off to Italy to dine in a fancy restaurant and a shape shifting wolf man could blink and carry you into another world ruled by wolves while a rakish duke could pick you up in a carriage pulled by six white horses.
Any one of those would be an adventure but a cowboy like Creed in Mistletoe Cowboy, why, he could outdo them all by just eating snow ice cream in front of a crackling fire in the living room. Like this:
"Living room?" he asked.

"Oh, yeah! Warm fire, snow ice cream, and Christmas."

He sat on one end of the sofa. She claimed the other.

She grabbed her head with her free hand. "Oh, shit!"

Creed set his ice cream on the end table, scooted down the length of the sofa, cupped her chin with his hand, and kissed her hard.

"Wow, that worked," she said when he pulled back.

"Heat melts cold, darlin'."

He went back to the other end and started eating again.

In seconds Sage had gone from aching cold to boiling hot. How many times could a woman's body do that and not explode?
It just flat out don't get much sexier than that, folks!
A billionaire cowboy could buy a woman a diamond necklace; a shape shifter could give her a night in the wilds of a world she'd only imagined; a rakish duke could kiss her fingertips and make her heart flutter.
A cowboy can take an old quilt, a sofa, a John Wayne movie and turn it into an event even there's enough snow on the ground that no one is going anywhere outside. Like this:
He weighed the options.

"Neither. Let's make popcorn and hot chocolate and watch an old Western movie on television. We can cuddle up together under a nice warm quilt on the sofa and Noel and Angel can check on us if we fall asleep."

"Right now that sounds like a wonderful plan. You ever seen McClintock with John Wayne?"

"Only about twenty times. It's one of my favorites."
Imagine curled up on the sofa with the cowboy on the front of Mistletoe Cowboy with your head on his broad chest, his big strong arms around you and those sexy lips on yours.
Then of course there's that sexy drawl when they tip their hat and say, "Yes, ma'am." Or the brush of their callused hand on a lady's arm when he opens the door and helps her into his pickup truck. Or the way their jeans fit just right over the tops of their boots. It's the way that they listen to what their lady is saying rather than talking about themselves all the time. And it's those slow, sizzling kisses in the kitchen, the barn or in the shower that make a woman want a cowboy of her very own.
I asked Sage why cowboys appealed to her. She's an up and coming artist who mingles with the billionaire executives, who paints wolves and images of Indians in rocks that looks like ghosts of yesterday, and who could probably get a rakish duke to buy her a ticket to London.
She said that at first she dang sure did not want a cowboy in her life. She didn't want one on her ranch and she for sure didn't want one in her house. She and Creed locked up horns more than once during the three weeks they waited on her grandmother to return from Pennsylvania to sign the deed over to Creed. There were times when she might have taken a duke or an executive, or even a shape shifter if they would have kicked Creed off her ranch. Sage had to admit that Creed was sexier than any billionaire she'd ever met and she didn't want to leave Texas. That left out the rakish duke. And she could paint wolves all day so she didn't need one of those.
However, the heart wants what it wants and in her opinion, if all the men she knew were gathered up in one holding pen, Creed Riley would win the prize for sexy by a unanimous vote.
What about you? In your opinion what is it about a cowboy that makes him sexy?
Mistletoe Cowboy by Carolyn Brown 

'Tis the season for…
• A matchmaking grandma on a long-distance mission…
• Mistletoe temptation in every doorway…
• A sexy cowboy with a killer smile…

When Gran Presely agrees to sell Creed Riley the Rockin' C Ranch for a song at Christmastime, he can hardly believe his good fortune. There's just one little catch-her tantalizing granddaughter Sage is part of the deal…

Commitment! It made Sage run the other way. It made Creed shudder. But Sage's granny, the Widow Presley, was determined to get her granddaughter a cowboy for Christmas. And who better than Creed, the man interested in purchasing the widow's Rockin' C Ranch?

The fact that a three-day blizzard was blowing in just made things all the better. A person can't run from commitment when they're snowed in, now can they?

Buy at Amazon – Book Depository – Kindle
Carolyn Brown is a New York Times and USA Today bestselling author with more than forty books published, and credits her eclectic family for her humor and writing ideas. She writes bestselling single title cowboy and country music mass market romances. Born in Texas and raised in southern Oklahoma, Carolyn and her husband now make their home in the town of Davis, Oklahoma, where she is working on her next cowboy romance, Just a Cowboy and His Baby, which will be in stores in December 2012. Carolyn's first women's fiction novel, The Blue Ribbon Jalapeño Society Jubilee, hits stores in March 2013. For more information, visit her at:
~~~~~~~~~~~~~~~~~~~~~~~~~~~~~~~~~~~~~~~~
~*~*Giveaway*~*~
Sourcebooks is offering a paperback copy of Mistletoe Cowboy  to a lucky US/CAN commenter, and since we love our international readers just as much, BLI is sponsoring another copy for them!
All you have to do is answer Carolyn's question and tell us: In your opinion what is it about a cowboy that makes him sexy?
(You can read our full giveaway policy here)
Please state in your comment whether you are US/CAN or international!!
Please be sure to include a valid email address in the comment form (need not be in the actual body of the comment).
This giveaway is open to all!
Giveaway ends on Saturday, 24 November 2012; we will announce the winner on Sunday.
Good luck!