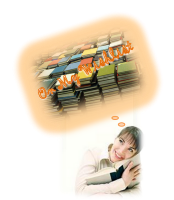 Hey Everyone!
It's Stella the Christmas Lover (oh yeah, anyone who knows me would agree I should have definitely gone with that name ;-))! So here I am with still more holiday read recommendations (that you could read for the BLI Holiday Reading Challenge *hint hint*) , something for everyone (and don't worry there are so many terrific holiday releases that I'll be back soon with more holiday wishlist items 😉 lol):
For the steamy lover:
Merry Sexy Christmas by Beverly Jenkins, Kayla Perrin, Maureen Smith

Have yourself a sexy little holiday

…Overtime Love by Beverly Jenkins

Drew Davis's goal is to buy the semipro football team where he is general manager. But the owner's grandaughter, Tasha Bloom, unexpectedly inherits it first. Still, Drew's not brokenhearted, since their mutual passion for football runs second only to their attraction to each other. But can the team and their budding romance make it to the New Year's Day championship?

Ex-mas Reunion by Kayla Perrin

Kendra Harris and Damien Monroe had a summer fling years ago. Now fate has left them stranded together at the airport during a winter snowstorm. Sharing a rental car makes sense if they want to get home for Christmas. And so does sharing a hotel room…and a bed. Because sometimes the one that got away is the only one you ever wanted.…

A Holiday Affair by Maureen Smith

Over the holidays, Atlanta attorney Ava Cameron is dumped, depressed…and primed for a one-night stand with sexy stranger Colby Austin. How is she to know he will end up being opposing counsel on a major case—and the best mistake she has ever made?
I loved Whatever You Like by Maureen Smith so much that when I craved more I went stalking her other books and found out she will soon release a holiday novellay, yay! So I'm excited to read this anthology sounds like a lot of fin 😀
And another scorching anthology I hope to find under the tree:
Red Hot Holiday by Anne Calhoun, K.A. Mitchell and Leah Braemel

I'll be home for Christmas…to fulfill all your dreams.

This holiday, a Mountie is determined to get her man. A widow finds a fireman who ignites her passions again. And two men unsure of their commitment discover a happily ever after—and a blindfold—under their tree. No matter your desires, this collection of three shorts is bound to treat you to all the joys of the season.

Edited by Angela James, this anthology includes:

I Need You for Christmas by Leah Braemel

Ryan Porter is a sculptor, and beneath his callused hands, even the most rigid metals bend to his will. So, too, does his girlfriend Megan—a confident, strong woman who delights in submitting to Ryan's dominance in the bedroom.

Megan is a Mountie, and she's spent the past few years in the arctic following her career dreams. Family obligations kept Ryan at home, but their love survived the distance thanks to several hot visits. A Mountie always gets her man, and Megan is bound and determined to keep Ryan.

Now Megan's with Ryan for the holidays…but how long will this visit last? She's always been willing to do anything Ryan desires, but will he finally tell her that all he needs for Christmas is her?

Breath on Embers by Annie Calhoun

Christmas is the perfect time for Firefighter Ronan O'Rourke to take things to the next level with his sexually adventurous girlfriend. He knows she has feelings for him—and he's sure of his feelings for her—but when Thea refuses his invitation to sample Christmas in New York City because what they share is nothing more than sheet-burning sex, Ronan sets out to change her mind.

Deep down Thea Moretti knows she cares for Ronan, but she can't move past her grief over her late husband. Loud music and sex with Ronan are the only things she's got that her feel alive, so she takes as much of both as she can get. She knows Ronan wants more, but during the darkest time of the year finding her way won't be easy.

Ronan gambles everything and challenges Thea: one night of passion with him and another man. Can he prove to her that what they share isn't just great sex but an emotional connection strong enough to last forever?

Wish List by K.A. Mitchell

Blindfolds. Handcuffs. Submission.

There's so much Jonah Kendrick hasn't tried, and so much he wants to explore. But just before Christmas he finds a ring box in his boyfriend's desk. Jonah panics. He loves Evan and their sex is hot, but how can Jonah be ready for forever, when there are so many items on his Naughty Bucket List? Desires that might drive Evan away.

Evan's noticed Jonah has been distant. His usually talkative and cheerful boyfriend is preoccupied. The seemingly straitlaced Evan stumbles across Jonah's wish list of sexual kinks, and Evan realizes he may not have to hide his true nature from Jonah after all. The Dom in him wants to see Jonah on his knees, begging, submitting, but Evan isn't sure Jonah's ready to accept what being Evan's sub would mean.

The two lovers must figure out how to share their hidden desires with each other before their secrets permanently damage their love.
I love steamy romances and combined with the holidays they are too much for me to resist! Bring it on Carina Press, I'm ready! 😀
For the sci-fi lover:
A Galactic Holiday by Anna Hackett, Stacy Gail and Sasha Summers

Do androids dream of electric sugar plums?

A detective who refuses to modify her body teams up with her cyborg rival to track down a burglar who is putting toys into homes. A solitary ice miner finds love and friendship while stranded on the surface of Galileo. And two hardheaded negotiators put their differences aside to evade an assassin and save their planets. Enjoy these visions of Christmases yet to come with three science-fiction novellas from Carina Press.

Edited by Angela James, this anthology includes:

How the Glitch Saved Christmas, by Stacy Gail

Reina Vedette chose principle over position when the Chicago police department ordered her to accept performance-enhancing body modifications or lose her rank. Demoted to a level one detective, Reina's stuck chasing a bizarre, Grinch-in-reverse break-in case with fiery bod-mod enthusiast and level five top detective Edison Wicke.

Wicke has had his eye on Reina for ages, and as the two of them hunt down the benevolent burglar, they take turns warming each other with body heat in the subzero Chicago winter. Despite professional friction and their opposing views on bod-modding, Reina soon has to admit that she and Wicke are perfect for each other.

But when they track down their philanthropic quarry on Christmas Day, an unexpected glitch in a homemade android brings out Reina's emotional side, and she and Wicke must decide whether love between a Neo-Luddite and a "walking toaster" is a gift that either of them can give.

Galileo's Holiday, by Sasha Summers

Ice miner Riley works alone in the depths of space, and that's the way she likes it. She's proud of her independence, and when her ship gets destroyed by raiders on the icy surface of Galileo, she's not sure she wants to rely on rakish trader Leo and the kindness of a band of settlers to survive.

Despite her attempts to keep her distance, it's not long before Riley warms to the family atmosphere of the settlers' station. As Galileo's Holiday approaches and she develops feelings for the handsome, charming Leo, she questions whether she really wants to remain alone.

But Leo is hiding cargo the raiders want, and when they come back for it, everyone on the small station is in danger. Riley will risk anything to protect her new friends—because if the raiders succeed, the choice between Leo and a life alone won't be Riley's to make.

Winter Fusion, by Anna Hackett

Ex-space marine Savan Bardan survived the Galactic Wars to become the most ruthless trade negotiator in the galaxy. His planet needs energy to survive, and he'll do anything to close the deal for the Perman fusion crystals that can provide it—even if it means seducing his beautiful, infuriating opponent, a rival icier than her planet.

Perma's top negotiator, Brinn Fjord, lost her father when Savan delayed her planet's Trade Guild membership years ago. She hates the handsome Rendarian and the planet he represents. She's determined to finish the deal and get rid of him as quickly as possible, so she can celebrate the holidays.

But soon the rival negotiators are in a fight for their lives. Besieged by mysterious accidents and unforgiving weather, Brinn and Savan have no one to depend on but each other. As they put the past aside, they uncover a desire hot enough to melt ice, and Brinn discovers a secret that may keep them apart.
Another very promising (and totally unorthodox) title from Carina Press' holiday release selection, sounds like a lot of adventure, so of course I'm on board!
For the cowboy lover:
Mistletoe Cowboy by Carolyn Brown

Tis the season for…
• A matchmaking grandma on a long-distance mission…
• Mistletoe temptation in every doorway…
• A sexy cowboy with a killer smile…

When Gran Presely agrees to sell Creed Riley the Rockin' C Ranch for a song at Christmastime, he can hardly believe his good fortune. There's just one little catch-her tantalizing granddaughter Sage is part of the deal…

Commitment! It made Sage run the other way. It made Creed shudder. But Sage's granny, the Widow Presley, was determined to get her granddaughter a cowboy for Christmas. And who better than Creed, the man interested in purchasing the widow's Rockin' C Ranch?

The fact that a three-day blizzard was blowing in just made things all the better. A person can't run from commitment when they're snowed in, now can they?
No, don't even look at the cover and wonder about the logistics of how the poor sexy hunk doesn't catch a cold with his shirt open out in the snow, rather read the blurb, curl up on the sofa and read away. This one sounds like a perfectly delectable and sexy treat, yeehaw!
For the sweet romance lover:
Jane's Gift by Karen Erickson

A devastating house fire cost Jane Clark nearly everything: her husband, her confidence, and her looks, with the physical scars marbling her body. Now, two years later, she's living and healing back in her childhood hometown of Lone Pine Lake. The upcoming holidays are the perfect opportunity to bring some Christmas cheer into her young children's lives, starting with a visit to the firehouse, where her brother's best friend has offered to help quell their residual fears.

Lone Pine's resident playboy, fire captain Christian Nelson is happy with his single-guy lifestyle. He's an everyday local hero, so he's never wanting for attention around the holidays. But when Jane Clark shows up, Chris is immediately drawn to the beautiful widow—even though kids and commitment have never been his style.

Despite her brother's warnings about his friend's playboy status and dangerous occupation, Jane can't help but fall for the gorgeous fire captain. The holidays are a time of new beginnings, but can two scarred people find the strength to let go of their pasts to live in the present, when a lifetime together might be the sweetest gift of all?
If you are looking for a sweet, heartfelt romance, that has emotions and will move you, Jane's Gift is the perfect choice. It is delightful and has so much heart!
So tell me, did any of these titles make it into your holiday wishlist?
Any other category, unusual holiday story you are looking forward to? (no worries, I'll have a whole post consecrated to holiday historical romances ;-))