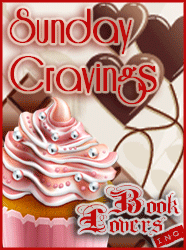 Hello Book Lovers everywhere in the world! How was your weekend? Ready to start sharing our Sunday Cravings for this week? It seems like November is a pretty busy month, so for yet another week there are quite a few titles being scheduled for release from many different genres.
So, let's start 🙂
Caro and Marlene: Cold Days by Jim Butcher
HARRY DRESDEN LIVES!!!

After being murdered by a mystery assailant, navigating his way through the realm between life and death, and being brought back to the mortal world, Harry realizes that maybe death wasn't all that bad. Because he is no longer Harry Dresden, Chicago's only professional wizard.

He is now Harry Dresden, Winter Knight to Mab, the Queen of Air and Darkness. After Harry had no choice but to swear his fealty, Mab wasn't about to let something as petty as death steal away the prize she had sought for so long. And now, her word is his command, no matter what she wants him to do, no matter where she wants him to go, and no matter who she wants him to kill.

Guess which Mab wants first?

Of course, it won't be an ordinary, everyday assassination. Mab wants her newest minion to pull off the impossible: kill an immortal. No problem there, right? And to make matters worse, there exists a growing threat to an unfathomable source of magic that could land Harry in the sort of trouble that will make death look like a holiday.

Beset by enemies new and old, Harry must gather his friends and allies, prevent the annihilation of countless innocents, and find a way out of his eternal subservience before his newfound powers claim the only thing he has left to call his own…

His soul.
Caro: it feels like forever since the last book in this series. I'm so addicted it's painful to wait. Harry is one of my favorite character out there and I cannot wait to listen to his new adventure. We left him in a very bad situation and I really want to see how he'll survive this. love love love this series. *super excited Caro*
Marlene: I absolutely second Cold Days. I love Harry. He's not just my favorite character in urban fantasy, but he also operates in (and frequently saves) my favorite hometown, Chicago. I can't wait to see him survive his most recent round of truly rotten decisions–the poor man never can catch a break, but that's what makes him so fascinating. That and he has a truly fabulous line of snark!
Caro: Trapped by Kevin Hearne
After twelve years of secret training, Atticus O'Sullivan is finally ready to bind his apprentice, Granuaile, to the earth and double the number of Druids in the world. But on the eve of the ritual, the world that thought he was dead abruptly discovers that he's still alive, and they would much rather he return to the grave.

Having no other choice, Atticus, his trusted Irish wolfhound, Oberon, and Granuaile travel to the base of Mount Olympus, where the Roman god Bacchus is anxious to take his sworn revenge—but he'll have to get in line behind an ancient vampire, a band of dark elves, and an old god of mischief, who all seem to have KILL THE DRUID at the top of their to-do lists.
I read this one and I can't recommend it enough. It's funny and full of action. Exactly what you expect front this series. *2 thumbs up*
Stella: The Importance of Being Wicked by Miranda Neville
The rules of society don't apply to Caro and her coterie of bold men and daring women. But when passions flare, even the strongest will surrender to the law of love…

Thomas, Duke of Castleton, has every intention of wedding a prim and proper heiress. That is, until he sets eyes on the heiress's cousin, easily the least proper woman he's ever met. His devotion to family duty is no defense against the red-headed vixen whose greatest asset seems to be a talent for trouble…

Caroline Townsend has no patience for the oh-so-suitable (and boring) men of the ton. So when the handsome but stuffy duke arrives at her doorstep, she decides to put him to the test. But her scandalous exploits awaken a desire in Thomas he never knew he had. Suddenly Caro finds herself falling for this most proper duke…while Thomas discovers there's a great deal of fun in a little bit of wickedness.

This is the first of a four book series centered around a group of badly behaved late-Georgian art collectors.
I'm always looking for great new historical romance novels and this one looks like a lot of fun! 😀
Caro: Steel's Edge by Ilona Andrews
The Edge lies between worlds, on the border between the Broken, where people shop at Wal-Mart and magic is a fairy tale—and the Weird, where blueblood aristocrats rule, changelings roam, and the strength of your magic can change your destiny…

Charlotte de Ney is as noble as they come, a blueblood straight out of the Weird. But even though she possesses rare magical healing abilities, her life has brought her nothing but pain. After her marriage crumbles, she flees to the Edge to build a new home for herself. Until Richard Mar is brought to her for treatment, and Charlotte's life is turned upside down once again.

Richard is a swordsman without peer, future head of his large and rambunctious Edger clan—and he's on a clandestine quest to wipe out slavers trafficking humans in the Weird. So when his presence leads his very dangerous enemies to Charlotte, she vows to help Richard destroy them. The slavers' operation, however, goes deeper than Richard knows, and even working together, Charlotte and Richard may not survive…
I completely forgot it was coming out this week, until I received an email from Book Depository telling me the book was on its way! *g* I LOVE this world. It's romance with a twist. I am super excited. Ilona cannot do wrong. I am loved all her books so far. *g*
Which will be your Sunday Cravings for this week?