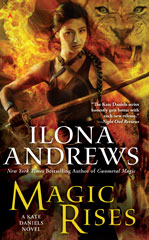 Format read: ebook
Series: Kate Daniels #6/Magicpocalypse #7
Genre: Urban Fantasy
Release Date: July 30, 2013
Number of pages: 327
Publisher: Ace
Formats available: ebook, paperback
Purchasing Info: Goodreads, Author's Website, Book Depository, Indiebound.
Book Blurb:
Atlanta is a city plagued by magical problems. Kate Daniels will fight to solve them—no matter the cost.

Mercenary Kate Daniels and her mate, Curran, the Beast Lord, are struggling to solve a heartbreaking crisis. Unable to control their beasts, many of the Pack's shapeshifting children fail to survive to adulthood. While there is a medicine that can help, the secret to its making is closely guarded by the European packs, and there's little available in Atlanta.

Kate can't bear to watch innocents suffer, but the solution she and Curran have found threatens to be even more painful. The European shapeshifters who once outmaneuvered the Beast Lord have asked him to arbitrate a dispute—and they'll pay him in medicine. With the young people's survival and the Pack's future at stake, Kate and Curran know they must accept the offer—but they have little doubt that they're heading straight into a trap.
My Thoughts:
Do you ever have that moment where you finally get a book that you've been salivating over for years… and then can't quite bring yourself to open it? Because right now it is all potential and built-up expectations, but once you read it there is a chance for devastation and crushing disappointment.
This Book Lover has been eagerly anticipating this release since finishing the bizarrely boobtastic Magic Slays back in 2011. But Ilona and Gordon have been very, shall we say, ominous, in their descriptions. Lots of "we took big risks" floating around their blog. Along with candid admissions of impending epic turmoil and tragic death.
I was, ergo, a little nervous to dive into this. So nervous that I managed to put off reading it for 12 whole hours.
Time to start bidding on the Death Pool. Joining Kate and Curran on their exciting Overseas-TrapAdventure are:
Barabas (My favorite attorney ever! Oh god, Ilona wouldn't kill him, would she? She was just in our comments a few weeks ago casually chatting about his awesomeness and lovelife. Was that nothing more than an unknowing Memorial Service?!)
Derek (Nah, he's already had his ass handed to him Magic Strikes. He's going to be FINE. DO YOU HEAR ME?!)
Mahon (Ugh, he gets more condescending all the time. He can die.)
Aunt B (Hah! Like anything short of a nuclear missile could take out Aunt B.)
Doolittle (His death would start a cataclysmic death-domino effect as no other Pack personage seems to have any idea how to handle even basic injuries. This is getting to a not-good place.)
Andrea (Practically a main character. She has Protagonist Immunity. I think. Is there another Andrea book planned? Shit. Must verify….)
Raphael (The only way he dies is if Andrea is pregnant.)
George (Is she as much of asshole as her father? Her impending potential death doesn't bother me.)
Keira (Jim's sister. New character. I smell a redshirt.)
Eduardo (Introducing Redshirt #2, the delicious buffalo-man.)
Saiman (Hahahahah! He'll outlive us all. Also, this is going to be fucking hilarious.)
Established fans of the series will love this little outing to Europe. We get to meet some exciting new creatures, (were-dolphins WHATTHEFUCK THIS IS AWESOME. Bring on the were-orcas. Who would be total assholes), see new places, and make new friends. Or enemies. Which is not important. What is important is that this is now tied with Magic Bleeds as my favorite Kate-book.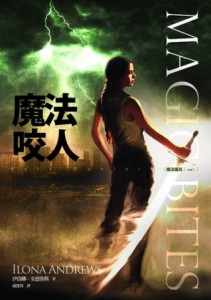 (Note: BEST COVER OF THE SERIES. Kate looks about 10 years too young. But other than that? Fucking perfect. Look, she's not a ginger with breast implants! Much closer to my mental image of her. Now I don't need to consider buying chinese editions of each book to cannibalize for their far superior cover art.)
Alas, nothing is perfect. Curran is a high-handed asshole. Kate forgives him too easily. And what is with this on-going thing about Kate being a terrible liar? They've brought it up before and it never quite meshes for me. By definition Kate lies all the bloody time. About everything in her past and her future. The Pack just seems to think it's some kind of moral failing that she's not a compulsive or casual liar. Bite me people!
All in all, I give Magic Rises 4.5 stars!


Established fans of the series will clearly be reading this. However, it would not be a good book for newcomers to the Magicpocalypse. This is a overarching-plot heavy book. Too much that is going on relies on your knowledge of previous events.
(Note the second: You don't need to have read Gunmetal Magic to follow the events here. But it will help explain Andrea's new pack-centric disposition.)
Who do you think will die? Who would you miss the most? Or, if you've already finished reading it, who DID you think would die? Sound off in the comments!
***FTC Disclaimer: Most books reviewed on this site have been provided free of charge by the publisher, author or publicist. Some books we have purchased with our own money and will be noted as such. Any links to places to purchase books are provided as a convenience, and do not serve as an endorsement by this blog. All reviews are the true and honest opinion of the blogger reviewing the book. The method of acquiring the book does not have a bearing on the content of the review.