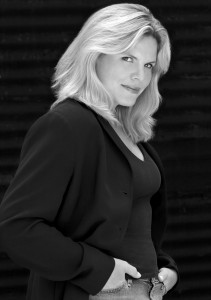 We are delighted to welcome author Sara Humphreys to BLI today who is joining us to celebrate the release of Untamed, the latest book in her Amoveo Legend series. Sara is an award-winning author whose stories are very popular, garnering many rave reviews. The Amoveo Legend series is published by Sourcebooks and Untamed hit the stands and e-readers on November 6, 2012.
 About Sara:
Sara Humphreys has been attracted to the fantasies of science fiction, paranormal, and romance since her adolescence when she had a mad crush on Captain Kirk. An actress and public speaker, Sara lives in Bronxville, NY, with her husband, who is very considerate of her double life, and four amazing boys.
Lea: Sara! It's such a pleasure to be able to chat with you about your series and new book Untamed! I'm a Trek lover too, gotta love Kirk and the gang. I can't wait for the next movie! 😉
Sara: Hi! Thanks for having me here today. I adore William Shatner as Kirk but Chris Pine is delicious! I'm super excited for the next movie and I think it's coming out this summer.
Lea: Sara, not only do you have a busy family life, you have a career as a public speaker as well as your writing. Please describe a typical day of writing, how do you balance it all?
Sara: Some days I balance it well and others….not so much. My boys are in school full-time so I get a lot done on school days. The hardest part of working from home is being disciplined and not allowing myself to get caught up in time-sucks online.
Lea: Would you describe yourself as a planner or pantser?
Sara: I was a pantser but due to deadlines with my publisher I'm now more of a planner. However, sometimes the plan I make for a book is not what the characters want me to do. In cases like that, my plan goes out the window and I let characters drive the story. So I guess I'm both.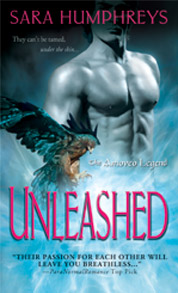 Lea: The characters in your books and the world you've created for them are based on the Amoveo Legend. Amoveo began with Unleashed, the first book in the series, please share some insight into your creative world and the impetus for the series.
Sara: There wasn't one ah-ha moment. The Amoveo are a result of asking myself a lot of questions. I wanted to create an entirely new race of shapeshifters but I didn't want them limited to one animal so I gave them ten animal clans. I wanted their race to be magical so I gave them other abilities as well, like telepathy and the ability to travel at the speed of thought and visualize things into existence. The mind is their most powerful tool. I also believe in true love and adore the idea of a pre-destined mate, so that had to be part of their legend. I then asked myself what would happen if not all of the Amoveo were happy about mixing with humans. I put all of that together and the Amoveo is what I came up with.
Lea: Are the heroes of your stories alpha males? If so, are the heroines all betas or have you mated them with alpha females?
Sara: Yes and Yes. The men are alphas and the women are as well. I wanted these strong, sometimes over-bearing men, to have women who could handle them and put them in their place if needed.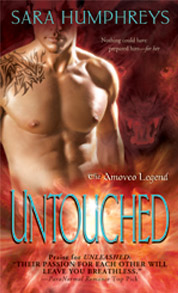 Lea: The heroes of the Amoveo stories are shifters, do they all change into wolves, or can readers expect the guys to share their human selves with different creatures?
Sara: There are ten animal clans among their race. Lion, Panther, Cheetah, Tiger, Wolf, Coyote, Eagle, Falcon, Fox and Bear. Each of the heroes and heroines are from different clans.  They can only shift into their clan animal or their human form. 
Lea: What can we expect of the latest book in the series, Untamed?
Sara: Untamed is different from the first two books because the heroine knows that she is a human/Amoveo hybrid. Kerry and Samantha were unaware of their Amoveo heritage. Layla, however, knows what she is but hates the Amoveo. She's lived her life in fear that some Amoveo man was going to come along and drag her away. William, her mate, is a pureblood from the Gyrfalcon Clan and is known for being really uptight and rigid. The poor guy dosen't know what to make of the feisty woman that fate has brought him. Expect sparks to fly.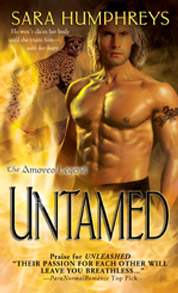 Length: 320 Pages
Genre: Paranormal Romance
Release Date: November 6, 2012
Publisher: Sourcebooks
Formats Available: Paperback, Kindle, Nook
Purchasing Info: Author's Website, Amazon, Barnes & Noble, Books-A-Million,, Powells, Goodreads, The Book Depository, Kindle, Nook
Book Blurb
An ancient race of shapeshifters has lived secretly among humans for thousands of years…they are…the Amoveo

William Fleury has finally found his mate. A highly respected attorney and member of the Gyrfalcon Clan, he's known for his cold, calculating demanor. However the ice around his heart thaws the moment he sets eyes on his mate.

Layla Nickelsen is a world traveled photographer with a secret…she gets more than a digital image from her pictures. The only thing she dreads more than her Amoveo heritage is the knowledge that someday her mate will find her…and claim her. Raised on a rural Maryland farm by a loving foster mother. She and two other hybrids live in fear of the full blooded Amoveo. Unable to shapeshift like her siblings, Layla always feels out of step.

When her mate arrives to claim her the intense and immediate connection is startling…but when the safety of the farm is violated and Rosie is attacked…the game changes and sacred trusts are challenged.

William shows her the way of the Amoveo and helps her realize her powers with remarkable speed. But will the Council and the pure blooded Amoveo embrace the newly revealed hybrids?

Lines are drawn and loyalties are questioned…The Amoveo become a house divided.

Layla swiftly discovers that there's a fine line between love and lust.

You can't escape your fate.
Lea: Are the Amoveo heroes all part of the Gryfalcon Clan, like William or does it depend on their shifter form?
Sara: Nope. Each of the heroes in the series is part of a different clan. Malcolm Drew in Unleashed (#1)  is from the Golden Eagle Clan. Dante Coltari in Untouched (#2) is from the Fox Clan. Pete Castro is Undone (#4) is human and Dominic Tejada in Unclaimed (#5) is from the Tiger Clan.
Lea: As the blurb indicates Layla is unable to shapeshift, are the heroines in the Amoveo novels most often able to shift or is Layla an exception?
Sara: Samantha and Kerry don't shapeshift until they connect with their mates and find out that they're half Amoveo. Layla's adopted siblings, however, are hybrids from the Wolf Clan and both of them are able to shift even though they haven't found their Amoveo mates yet.
Lea: Would you advise readers to enjoy the series books in order or do you feel they can be read as standalones?
Sara: They can be read as standalones but you would get a spoiler or two if you do it that way. Ideally it's best to read them in order but you don't have to.
Lea: Undone is the next book in the Amoveo Legend series, what can fans expect to see when Pete and Marianna's story hit the shelves?
Sara: Pete and Marianna's story is different for a few reasons. First of all, he's human and has no Amoveo blood. Marianna is a pureblood from the Bear Clan and is totally uninterested in the unrest among the Amoveo. She's a party girl who just wants to live her life and stay out of politics but the Purists won't stand for it. Pete works for her brother, Dante, and is assigned to keep an eye on Marianna. Even though Pete knows all about the Amoveo…she thinks he doesn't.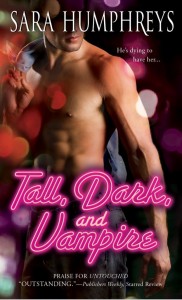 Lea: You have an exciting year ahead, and have sold a new series, please tell us about your new series, Dead in the City!
Sara:  I'd love to! My vampire series is about a coven of vampire chicks that live and work in New York City. Olivia Hollingsworth is a three hundred year old celibate vampire and the head of a small coven. She owns and operates a nightclub in NYC and also happens to be best friends with Marianna Coltari. (Actually, Undone is a crossover book between the two worlds and Olivia and her coven are introduced in Pete and Marianna's story.) According to their vampire legend, some vampires have a blood-mate and if they bond with this blood-mate then both become Daywalkers. Olivia never believed that fairy tale until a sexy cop shows up at her nightclub bearing a striking resemblance to her human lover from three hundred years ago. Each book will be about one of the girls from Olivia's coven. Olivia's book is first. Tall, Dark, and Vampire, will be out in August 2013. 
Lea: Please summarize Untamed for us twitterstyle (in 140 characters or less)? 
Layla spends years hiding from her Amoveo mate. William is as stoic as they come, until he finds Layla. You can't escape your fate.
Lea: Now the BLI hard question, please tell us 3 reasons why people should read your books?
Sara:  They're a sexy escape into a new world. They'll reaffirm your belief in true love. You'll want to know what happens next.
Lea: Thank you so much for joining us today Sara, and much success with Untamed! J
Sara: Thank you, Lea! It was a thrill to be here today. Thanks so much for hosting me.
Praise for the Amoveo Legend series:
"Compelling… Deft world-building and sensuous love scenes make this paranormal romantic thriller an enjoyable journey." —Publishers Weekly
"The characters haunted my dreams…I thought about this book constantly." —Long and Short Reviews
"I loved the book. I'm looking forwards to many more in this series." —Night Owl Reviews, Reviewer Top Pick
"Fast-paced paranormal romance with fantastic world-building." —The Book Girl
Where to find Sara:
Website | Sara's Angels | Twitter | Facebook
~~~~~~~~~~~~~~~~~~~~~~~~~~~~~~~~~~~~~~~~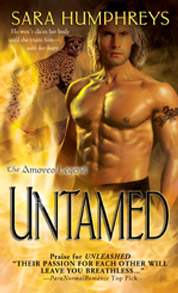 ~*~*Giveaway*~*~
We have 2 copies of UNTAMED up for grabs. *Please read the following carefully*!
Sourcebooks has generously offered a print of Untamed to one lucky commenter from the USA or Canada! 🙂
Book Lovers Inc. is offering a copy in any format to one International Entry! *Please Note if a print copy is requested it must be to a country on The Book Depository's delivery list.
All you have to do is leave a meaningful comment about Sara's interview or a question for her!
(You can read our full giveaway policy here)
Please leave us a way to contact you.
(Email in blogger profile or twitter name – no way to contact you – no entry).
Giveaway ends on Saturday, December 8, 2012; and we will announce the winner on Sunday.
Good luck!