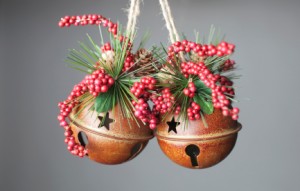 We are delighted to welcome back Katie Porter a.k.a. writing duo Lorelie Brown & Carrie Lofty to BLI today to celebrate the release of their Christmas story Came Upon a Midnight Clear, which released from Samhain November 27th! The ladies wow'd me with their Vegas Top Guns series and they have hit another home run with Came Upon a Midnight Clear, a sizzling m/m lovers reacquainted story layered with conflict and emotional undertones.
About Katie Porter:
Katie Porter is the co-writing team of Lorelie Brown and Carrie Lofty, friends and critique partners of six years.
Both are multi-published in several romance genres. Carrie has an MA in history, while Lorelie is a US Army veteran. Generally a high-strung masochist, Carrie loves weight training but she has no fear of gross things like dissecting formaldehyde sharks. Her two girls are not appreciative. Lorelie, a laid-back sadist, would rather grin maniacally when Carrie works out. Her three boys love how she screams like a little girl around spiders.
Be sure to enter the Giveaway at the end of the post!
Take it away Katie!

That Holiday Spirit
By Katie Porter
We like to think that Nate and Kyle from Came Upon a Midnight Clear are more than your typical alpha gay leading men, mostly because we loved writing about them and giving them a perfect happy ending.
For a holiday romance, that happy ending has to be extra perfect. It's not enough that all the Whos in Whoville get their Christmas presents back. No, the Grinch's heart has to grow three sizes before he can cut the roast beast.
Now, I'm not going to give away any details, but the happy ending between Nate and Kyle ranks up there with the most perfectly perfect finales we've ever written. Why? Because of the Christmas miracles. (I was tempted to say "because of the Christmas miracles, dammit," but thought that might be inappropriate.)
After all, we had a lot to pull off. Reunite long-estranged lovers. Heal old hurts. Resolve youthful misunderstandings. Make not one but two struggling Hollywood companies profitable. Complete death-defying stunts. And yes, help one character's heart grow three sizes. All that with some smokin' hot sex and a heavy dollop of Christmas-in-London sparkle.
Basically, everyone who had a wish in Came Upon a Midnight Clear needed to have that wish come true. A holiday romance isn't a regular romance, because we expect even more magic than usual. Nate and Kyle had that magic, but they're stubborn, powerful men with wounded hearts. Of course it's going to take them a while!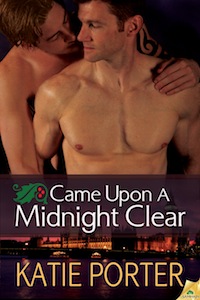 Length: 221 Pages
Genre: Contemporary Erotic Romance, m/m, Holiday Romance, Red Hots!
Release Date: November 27, 2012
Publisher: Samhain Publishing
Formats Available: eBook, Kindle, Nook
Purchasing Info: Publisher, Author's Website, Goodreads, Kindle, Nook
Book Blurb
Born to old Virginia money, film producer Kyle Wakefield's conservative upbringing kept him in the closet. Only once did he venture outside: for a tempestuous teenage affair with Nathan Carnes. When Nathan's self-destructive streak landed him in prison, Kyle slammed the door on youthful hopes. Despite Hollywood successes, he still hides his true self.

He thought he'd moved on, until his production company hires Nathan and his Second Chances stunt crew to work on the London set of a big-budget action flick. Watching Nathan risk life and limb with fellow ex-cons looking for a fresh start makes it tough for Kyle to keep his desires hidden.

Thirteen years have passed since Nathan's teenage self-doubt led him to sabotage any chance of a future with Kyle. He's come a long way since then, but despite their explosive sexual chemistry, Kyle treats their attraction like a deep dark secret.

Their matched Hollywood ambitions and a pain-in-the-ass director make cooperation essential. As the London holiday season casts its spell, the two men find themselves on the verge of falling in love again—even as old secrets and pain keep them shackled. The only hope of unlocking their hearts is a Christmas miracle.
Warning: This book features a snowy London Christmas, sex on a pool table, a hot-and-dirty gay nightclub, and naughty references to candy canes.

Excerpt

The snow was coming down now, gathering in swoops and crevices along the buildings and curbs. Nate's levity dimmed. His expression was the one Kyle most often saw on the set, when Nate went over and over the details of a stunt. He was so damn clever. Only now, that calculating expression was unwelcome. It was a reminder of real lives waiting to drive a wedge between them.

"What is it?" Kyle asked.

"I want this snow to stop. Soon. The forecast said only a dusting."

"Any more than a dusting means…?"

"Added risk for the jump tomorrow."

A chill sank into Kyle's bones that had nothing to do with the strengthening wind. "If it's too bad—"

"Forget it," Nate said with a dismissive wave. "Leave it for morning."

At least that's what he said. But as they walked on toward the exclusive jewelry boutique, Kyle could feel the tension in Nate's hand and see the careful, assessing way he watched the sky.

Every shop was still brimming with people, and every pub was jammed with revelers. Some wore paper crowns from Christmas crackers. Most were smiling. Kyle wanted to be one of them.

"Hey," he said, bumping their bodies together. "Guess what."

"Hmm?"

"It's Christmas Eve."

Nate grinned. "When we were sixteen. That was the best one."

A flush helped warm Kyle's chilled cheeks. "The way that video store clerk snickered at us when we said we were twenty-one."

"It was worth it. I got to see you turn just about as pink as you are now. Then we got to watch our first gay porn flick. A very merry Christmas."

"Until you tried a goddamn mentholated blowjob."

Nate's laugh was the best, most wonderful sound on the whole planet. In that, Kyle was not being hyperbolic or a drama queen. It was true. "How was I supposed to know peppermint candy canes would sting?"

"The word pepper was a clue. Pepper and my prick shouldn't be in the same thought."

"It didn't stunt your growth in that department," Nate said with a cheeky smile. "And I licked you like that candy cane until it was all better."

Kyle made an appreciative noise in his throat. "Yes, you did. And that was the night we both decided leather chaps would never, ever be our thing."

"Well…" Nate licked his lower lip. "Never say never. I'd look amazing in leather chaps and you know it."
They're so cute! But…what about that ominous snow? What about the tension that still shoves between them when they reminisce about even the happiest of their youthful memories? Trust in your dear Katie Porter to deliver comfort and joy on all fronts. Nate, Kyle and our readers deserve no less.
***
What the critics are saying: Came Upon a Midnight Clear has been described as "masterful," (Publisher's Weekly), "a complex gift," (Library Journal), and "the perfect piece of erotica: nuanced, complex, dirty, loving, and intimate (RT BookReviews). Not only did the folks at RT make Came Upon a Midnight Clear a 4½ Star Top Pick, they've selected it as a Reviewers' Choice nominee for Best Erotic Romance Ebook of 2012—the first gay romance to receive that honor!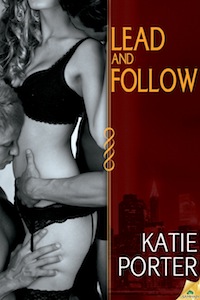 Don't forget about Katie's "Amazing Race to a Kindle " contest, which is going on now. Review Double Down on Amazon for your chance to win a gift certificate or even a Kindle Fire!
Thanks again to Booklovers Inc for featuring Katie Porter and  Came Upon A Midnight Clear!
Up next for Katie Porter, the co-writing team of Carrie Lofty and Lorelie Brown:
In January, LEAD AND FOLLOW will launch the five-part "Club Devant" series of erotic multi-partner romances set in a hot New York City burlesque club. RT BookReviews gave Lead and Follow 4 Stars and raved, "Fans of erotica will be left breathless as they cha-cha straight into a cold shower."
Now that the first three of the RT BookReviews 4½ Star Top Pick "Vegas Top Guns" series have been released, readers can anticipate the final two installments, HARD WAY and BARE KNUCKLE, in 2013.
Where to Katie Porter:
Website | Twitter | Facebook
Or individually: Carrie Lofty @carrielofty and Lorelie Brown
Question: What do you most enjoy about holiday romances, or if this is your first, what are you looking forward to in reading one?
~~~~~~~~~~~~~~~~~~~~~~~~~~~~~~~~~~~~~~~~
~*~*Giveaway*~*~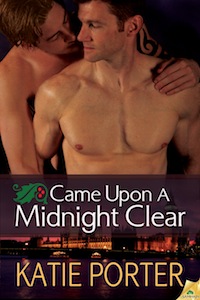 Katie has generously offered a digital copy of CAME UPON A MIDNIGHT CLEAR to one lucky commenter (Winner's choice of format)!
All you have to do is answer the question noted above!
(You can read our full giveaway policy here)
Please leave us a way to contact you.
(Email in blogger profile or twitter name – no way to contact you – no entry).
This giveaway is open to International entries!
Giveaway ends on Saturday, December 8, 2012; and we will announce the winner on Sunday.
Good luck!