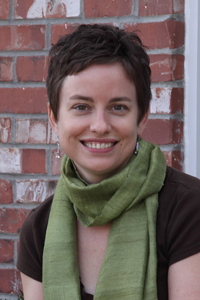 We are thrilled to welcome author Anne Calhoun to BLI today. Anne is an award winning multi-published author who is here to celebrate the release of her novella Breath on Embers which releases from Carina Press today. Breath on Embers is an extraordinary story about a woman who feels empty in the wake of the loss of her husband and the special guy who is able to stoke and ignite the tiny ember of light still burning inside her. Breath on Embers left me 'breathless' and my full review of Anne's story will post later today at BLI.
About Anne:
After doing time at Fortune 500 companies on both coasts, Anne landed in a flyover state, where she traded business casual for yoga pants and decided to write down all the lively story ideas that got her through years of monotonous corporate meetings. Her first book, LIBERATING LACEY won the EPIC Award for Best Contemporary Erotic Romance. Her story WHAT SHE NEEDS was chosen for Smart Bitch Sarah's Sizzling Book Club. Anne holds a BA in History and English, and an MA in American Studies from Columbia University. When she's not writing her hobbies include reading, knitting, and yoga. She lives in the Midwest with her family and singlehandedly supports her local Starbucks.
Take it away Anne!
9/11
by Anne Calhoun
I don't talk about this very much, but I was living in Manhattan on 9/11. We'd been in the city for six weeks. I'd just started graduate school. My husband was looking for work (he ended up working in California and so was one of those people who flew cross-country in the weeks after 9/11 when planes were so empty you could stretch out in the middle row and sleep). My sister worked on Wall Street, and was literally knocked out of her shoes when the first Tower came down. She remembers the impact, then searching for her running shoes in a cloud of choking dust. When she came to my apartment later that day, her back was scabbed over with abrasions where debris tore through her jacket and blouse. I remember the memorials outside the firehouses, the fliers posted on every light pole and subway station. I remember randomly losing it on the street for weeks afterwards. While there were many, many acts of courage and human kindness, shock and grief were palpable presences in the city for a long, long time.
When I started writing I knew the heroine, Thea, lived in Manhattan and her beloved husband died in a tragic accident two Christmases earlier. She needed a hero who understood what she'd gone through. Ronan, a FDNY lieutenant, lost his uncle, also FDNY, on 9/11. He understands Thea, what she feels, her interior world, but he desperately wants to give her something besides grief. He's come through grief to the other side, changed in so many ways. He knows it's possible for her to live, and love, again.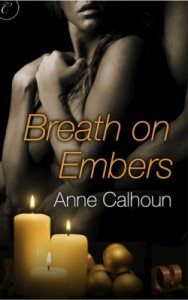 Length: 98 Pages
Genre: Contemporary Erotic Romance
Release Date: December 3, 2012
Publisher: Carina Press
Formats Available: ebook Kindle, Nook
Purchasing Info: Author's Website, Publisher, Goodreads, Kindle, Nook
Book Blurb
Christmas is the perfect time for Firefighter Ronan O'Rourke to take things to the next level with his sexually adventurous girlfriend. He knows she has feelings for him—and he's sure of his feelings for her—but when Thea refuses his invitation to sample Christmas in New York City because what they share is nothing more than sheet-burning sex, Ronan sets out to change her mind.

Deep down Thea Moretti knows she cares for Ronan, but she can't move past her grief over her late husband. Loud music and sex with Ronan are the only things she's got that her feel alive, so she takes as much of both as she can get. She knows Ronan wants more, but during the darkest time of the year finding her way won't be easy.

Ronan gambles everything and challenges Thea: one night of passion with him and another man. Can he prove to her that what they share isn't just great sex but an emotional connection strong enough to last forever?
The thing that strikes me about the courageous first responders to any emergency is their commitment to life, to the possibility of saving even one. They believe that life is worth protecting, worth saving. The old adage about police and fire fighters is that they run towards danger when everyone else is running away, but they run towards danger because there's the chance that someone else's life, precious life, is at risk and could be saved.
It's about life and death, resurrection and rebirth.
Ronan knows better than to see his job as heroic deeds of daring and rescue. The only time we see him at work he's sitting in the cab of a fire truck, doing paperwork after a call.  But his commitment to bringing Thea back into the light burns regardless. Because times of darkness reign in all our lives and sometimes we need an everyday hero to save us.
Question: How do you feel about 9/11 in books? Have you read some particularly well done examples (Kathleen O'Reilly's Blaze Sex, Straight Up comes to mind for me)?
Where to find Anne:
~~~~~~~~~~~~~~~~~~~~~~~~~~~~~~~~~~~~~~~~
~*~*Giveaway*~*~
Anne has generously offered a digital copy of BREATH ON EMBERS to one lucky commenter (Format winner's choice)!
All you have to do is answer the question noted above!
(You can read our full giveaway policy here)
Please leave us a way to contact you.
(Email in blogger profile or twitter name – no way to contact you – no entry).
This giveaway is open to International entries!
Giveaway ends on Saturday, December 15, 2012; and we will announce the winner on Sunday.
Good luck!