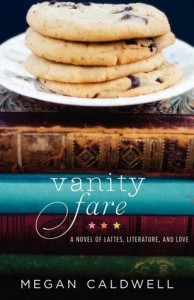 Format read: ebook
Series: N/A
Genre: Contemporary Romance, Woman's Lit
Release Date: Dec. 26, 2012
Number of pages: 400 pages
Publisher: William Morrow Paperbacks
Formats available: ebook, paperback
Purchasing Info: Amazon | B&N | Kobo | Book Depository US | Book Depository (UK)
Book Blurb:
A charming novel about a 40-year-old Brooklyn mother, recently divorced, who starts writing copy for a bakery, discovers a knack for food-related literary puns, and becomes entangled in a love triangle.

Molly Hagan is overwhelmed.

Her husband left her for a younger, blonder woman, her six year-old son is questioning her authority, and now, so is she. In order to pay her Brooklyn rent and keep her son supplied with Pokemon and Legos-not to mention food and clothing-she has to get a job. Fast.

So when an old friend offers Molly a copywriting position at a new bakery, finding romance is just about the last thing on her mind. But the sexy British pastry chef who's heading up the bakery has other thoughts. And so does Molly when she meets the chef's intimidating business partner-who also happens to have a secret that might prevent Molly from getting her own Happily Ever After.
My Thoughts:
Megan Caldwell's debut release, Vanity Fare, came to my reading pile at just the right time. After having endured so many books with young (barely out of college) protagonists, it was refreshing to read something that was, um, *coughs* much more age appropriate. But the story isn't one that should be relegated to a certain age group of women only. In fact, the story had some great messages that could help any woman get their focus in life reassessed.
What I enjoyed most in this book was the voice of the story. Written in the first person, it was entertaining to read the inner snarkiness of the character. Molly, although initially a bit down on herself, was able to move through her immediate situations because of her spunky nature. But she wasn't the only one that could claim ownership to this; the remaining characters all shared a certain amount of quirk that maintained the witty feel throughout the book.
Part of the humour was the blend of classic literature and its use in the creation of the bakery. Again, this theme was employed throughout the tale and not just in reference to Molly's job. In fact, it was clear to see many connections with Pride and Prejudice in the book, from the portrayal of Nick and Simon, to the financial mess Molly's mother was going through. It was a modern take on the classic, albeit one that could stand on its own merits too.
As much as the story was about Molly finding a way to pay the bills and maybe find love, it was equally about Molly finding herself. Jane Austen's generation might have tsk'd at the idea of this, but it was very cool to see Molly go from being dependent on her ex-husband to being able to speak for herself and find the strength within to become self-sufficient. Her curious road to success included fun lists, a decent therapist, and a cathartic scrapbooking session. What a reader could glean from these things was a message about stepping out of your comfort zone and testing your own boundaries in life. This was a very good lesson.
Vanity Fare was less about the steamy romances that I've been reading and more about the substance of life. I was actually starting to think, as I neared the end, that the *love* part of this love story would never happen, but either way, I would have been okay with it, for all of the other accomplishments this main character had achieved. In the end, it was the sum total of the lessons Molly had learned that made me truly enjoy reading it.
I give  ***Vanity Fare*** 5 stars!


***FTC Disclaimer: Most books reviewed on this site have been provided free of charge by the publisher, author or publicist. Some books we have purchased with our own money and will be noted as such. Any links to places to purchase books are provided as a convenience, and do not serve as an endorsement by this blog. All reviews are the true and honest opinion of the blogger reviewing the book. The method of acquiring the book does not have a bearing on the content of the review.