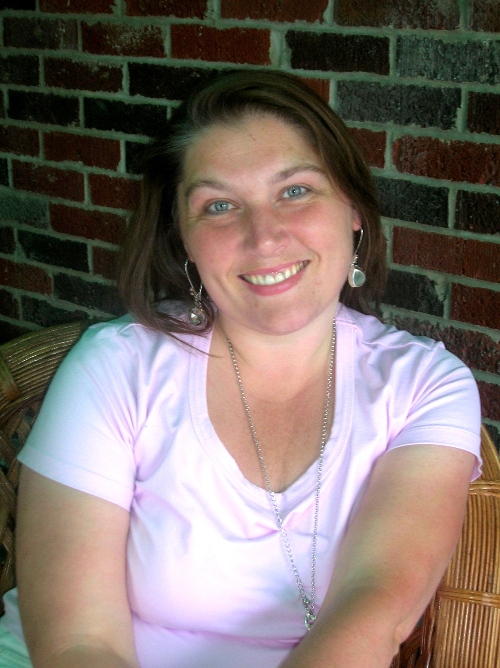 TGIF Book Lovers! 🙂 We are very pleased to welcome the multi-faceted Jenna Bennett to Book Lovers Inc. today. Under the name Jennie Bentley, she writes murder mysteries about home renovation (well, everyone says houses are money pits, right?) But we're here to talk to her Jenna Bennett persona, the one who writes the science fiction romance. Fortune's Hero, the first book in her new series is just out, and it was an interesting mix of jailbreak, action/adventure and enemies to lovers romance, along with a bit of rebellion against the evil empire thrown in for spice. Answer Jenna's question at the end of the post, and you could win a copy of Fortune's Hero for your own. 
Marlene: Can you please tell us a bit about yourself?
Jenna: Happily! I was born in Norway and now I live in the US with a husband and two kids. I've worked as almost everything at some point or another: actress, waitress, receptionist, reservationist, translator, foreign language teacher, proofreader, tour guide, bank teller, realtor, renovator, image consultant, Avon-lady… For the past four years I've been writing full time, and finally feel like I've found myself!
Marlene: Describe a typical day of writing? Are you a planner or pantser?
Jenna: Typically I write from eight in the morning, when the kids go to school, until around two thirty, when it's time to pick them up again. I also write after they're in bed, and if I'm on deadline – which is most of the time – I might squeeze in some time while they're doing their homework or playing or watching TV, too.
I'm very much a pantser. If I know too much about what I think will happen in a book, I lose most of my desire to write it. I like to discover the ins and outs of the action as I go along, same as when I read.
Marlene: What do you think is the difference between a reader and a real Book Lover?
Jenna: A real Book Lover is someone who doesn't bend the spine?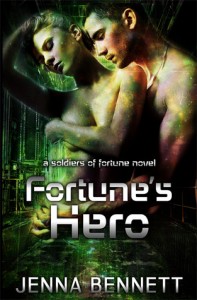 Marlene: What can we expect of Fortune's Hero?
Jenna: Hopefully a few hours of fun! There are bad guys and good guys and creepy extraterrestrial critters and ice cold subterranean rivers and laser pistols and plasma rifles and space shuttles and galactic smugglers and a planetary system with two moons – the action takes place on one of them – and what I hope is a pretty satisfying love story.
Marlene: Will there be more books in this series? What is next on your schedule?
Jenna: There will be more books! Fortune's Hero is the first of four, and the main character is Quinn Conlan, the captain of the Good Fortune, which is a space freighter. The other three crewmembers will also get a book each. Next up is Holden Sinclair, the ship's translator, in a book I think will be called Fortune's Honor. After that, there's Toby Flatt, the mechanic/space monkey: the guy who swings around the ship in zero-gee making the necessary repairs. His book will be called Fortune's Hope, I believe. And finally there's Fortune's Hour and Isaac Miller, who's a mercenary the other three picked up a couple years ago. He offered protection in return for a ride home, and he's been with them ever since.
Marlene: Now can you tell us 3 reasons why people should read Fortune's Hero?
Jenna: Other than the good guys and bad guys, creepy extra-terrestrial critters, ice cold rivers, and satisfying love story?
I have to put my kids through college.
All kidding aside, I think it's a pretty good book. I suspect some people at least will enjoy it; the kind of people who enjoy that kind of thing. My editor calls it a cross between Indiana Jones and Star Trek, so that should give you a pretty good idea. And it's about my favorite kind of relationship, the kind that develops across cultural and national – or planetary – boundaries, between two people who have every reason in the world to dislike one another, and who fall in love anyway.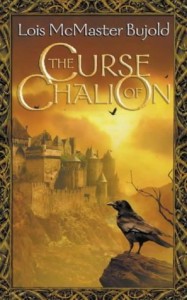 Marlene: What were your inspirations in writing Fortune's Hero?
Jenna: The original idea came pretty much out of the blue, one day in 2010 when I was asked to write a piece of 200 word flash fiction for a group blog I was part of. The story had to start with the words, "if you have to die, February is the best month for it," and there was Quinn, sitting in prison on this little moon on the outer edge of the galaxy, thinking about the woman who had betrayed him, and wanting to die. It kind of went from there.
In less specific ways, I really enjoy Lois McMaster Bujold's books, both her science fiction series, the Vorkosigan Saga, and the fantasy titles. There's a bit of Vorkosigan in Quinn, as well as rather a lot of Lupe dy Cazaril, from The Curse of Chalion. I read that book back in 2003 or so, when it was first released, and didn't realize until after I'd written Fortune's Hero, just how much of Caz is in Quinn.
Marlene: Who is your favourite type of hero? And what does make a hero in your eyes?
Jenna: Bad boy, definitely. The kind of guy with a moral code all his own, one that doesn't necessarily coincide with the law or with anyone else's, but one he holds tightly to. It helps if he's a bit cocky, too. Charm is definitely not to be underrated. 🙂
I guess a hero is someone who does what needs to be done with no thought to the personal risks he runs by doing it. In Fortune's Hero, Quinn escapes from prison. He could stay out there and probably be all right for a while, but he chooses to go back to rescue the rest of his crew instead, even though the chances of getting them out are pretty close to nil. But he's the kind of guy who can't not try. I think that's what makes a hero.
Marlene: Fortune's Hero is your first foray into science fiction, or science fiction romance? What made you decide to try your hand in the spacefaring end of the romance genre?
Jenna: It was more like it chose me, really. I'm a mystery writer, and didn't have any plans of branching out, especially not into science fiction. If anything, I guess I was thinking I might try my hand at romantic suspense. But then Quinn showed up in my head one day and just wouldn't leave. Months went by while I was working on other things, and he was just very insistent. (That probably makes me sound like I'm crazy. He didn't actually talk to me. I don't really hear voices in my head. Not real voices. But he was in there, and every so often I'd think about him, because he was just so cool, and I could sense he had this really great story he wanted me to tell.)
Anyway, months later I took this online class with the fabulous Heather Graham, about writing suspense. I was expecting romantic suspense; instead, it was about writing suspenseful fiction. I thought about dropping out, since as a mystery writer, I'm supposed to know how to write suspenseful fiction already, but I'm nothing if not competitive. So I decided to do the first assignment. It was to write a scene starting with the sentence, "The blood dripped on the floor." And there was Quinn again, sitting in prison on that same moon, dealing with the same "medical team," being exsanguinated.
It kind of went from there. Everyone in the class was very complimentary about the scene, and I ended up writing not just the first scene of the book – which doesn't start with "The blood dripped on the floor" anymore, but otherwise it's the same – but I also came up with a character sketch and an outline for the first book, as well as an idea for the second. It took a year after that to get a publisher interested, but again, Quinn just wouldn't leave me alone. I kept thinking about him, and thinking about him, really wanting an opportunity to tell his story, and last fall I finally got it. Entangled Publishing offered me a contract for the whole series, and now here we are!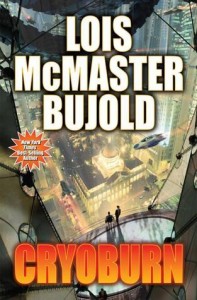 Marlene: Which science fiction universe is your favorite? (Star Trek, Star Wars, Firefly, Battlestar Galactica, something else?)
Jenna: I did enjoy both Star Wars and Firefly quite a lot, but I'm going to have to fall back on books again, I'm afraid. I like Lois McMaster Bujold's Nexus in the Vorkosigan Saga. She's had quite a few books to develop it, and it's extremely well conceived down to the smallest details, and it makes perfect, beautiful sense, both historically, geographically and culturally.
Marlene: If you had a starship, what would you call it and who would you take with you (could be fictional or real life people) as part of your crew in a voyage of where no humans have gone before? 
Jenna: I'd call it the Sky Rat, because I like the idea of having a ship called the Sky Rat. One of these days, I might write a story about a ship called the Sky Rat. And I'd probably take my family. That's boring, I know.
Of course, I could take Han Solo, Mal Reynolds, and Captains Kirk and Picard and spend my days watching them argue about who gets to drive…
Marlene: Can you share with us some little secret trivia, something that not many people know about you?
Jenna: Most people don't realize I'm not American, and that I'm writing in a language not properly my own, but I already told you that. I'm deathly afraid of bugs. I like potato chips – crisps – a lot more than I should. I have a guilty passion for a long-dead TV show called The Young Riders. And I can't tell my right hand from my left, at least not in the moment. I'm forever telling my husband to take a left when I mean right.
Marlene: Please leave us with a question you'd like to ask readers to answer in the comments!
Jenna: Can I borrow yours and ask what everyone else's favorite science fiction universe is? That was a great question, and I'd really like to know!
Fortune's Hero by Jenna Bennett

Quinn Conlan had it all: a fast ship, a great crew, a gorgeous girlfriend, money, and adventure around every bend. That was before he agreed to ferry a shipload of weapons to the besieged planet Marica. Now he's stuck in the prison colony on Marica-3, enduring weekly sessions with the camp's "medical team," and praying for a quick death before he breaks under the torture and spills everything he knows about the Marican resistance.

When opportunity strikes, Quinn takes Elsa, a Rhenian med tech, hostage and heads into the inhospitable interior of the small moon where he formulates a plan for getting his crew out of prison, his ship out of impound, and everyone out of orbit. But when Elsa professes her love, can Quinn take the beautiful doctor at her word, or will trusting her—and his heart—condemn him and his crew to an eternity on Marica-3?

Read an excerpt here
New York Times bestselling author Jennie Bentley/Jenna Bennett writes the Do It Yourself home renovation mysteries for Berkley Prime Crime, and the Cutthroat Business mysteries for her own gratification. For Entangled Publishing, she writes a variety of romance, from contemporary to futuristic and from paranormal to romantic suspense. Her most recent release is Fortune's Hero, first in the Soldiers of Fortune series of science fiction romantic suspense novels. For more information about the Fortune series or any of her other books, please visit:
~~~~~~~~~~~~~~~~~~~~~~~~~~~~~~~~~~~~~~~~
~*~*Giveaway*~*~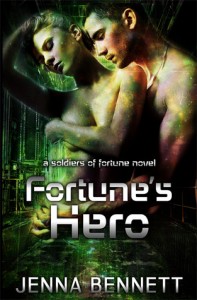 Jenna Bennett has generously offered an  ebook copy of Fortune's Hero to one lucky commenter!
All you have to do is answer her question:
Which science fiction universe is your favorite? (Star Trek, Star Wars, Firefly, Battlestar Galactica, something else?
(You can read our full giveaway policy here)
Please be sure to include a valid email address in the comment form (need not be in the actual body of the comment).
This giveaway is open worldwide!

Giveaway ends on December 29, 2012 and we will announce the winner on Sunday.
Good Luck