The Book Lovers are very happy to welcome today's guest, Misa Buckley, to BLI! Misa is here to talk abuot the joy of favorite places and happy places, and just how she works those themes into her science fiction romances. Her latest science fiction romance is the absolutely fantastic Tin Cat. (This was marvelous SFR, check out last week's review of Tin Cat for the details).
Halfway Up The Stairs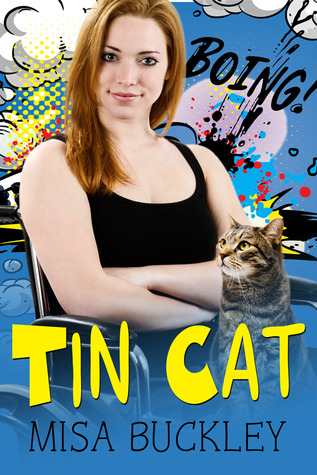 Is there any young child that doesn't have a favourite place? Mine was what we called a tree house, though in reality it was little more than a few planks wedged across the branches, where I would escape the nonsense created by my younger brother and his mates. I'd read. Books taken from my parents' bookshelves, from the school library, or ones I'd saved up my pocket money to buy.
There are several films that I fell in love with, that I still adore now I'm an adult, because they play on this 'favourite place' theme. The Never-Ending Story could have been about me, if I was a boy. Labyrinth was the story of a girl trapped in the world of her imagination (I'm not sure I learnt from this until I was older; as a teen I'd rather have stayed with Jareth…)
When I wrote Tin Cat, it was the story of a woman who once had a favourite place, who loved that so much that her dream was to have her own. For Amber, it was a comic book store. It was based on a store I visited a few times but has now sadly closed. It's a place where you can sit and read, where you meet fellow fans, where customers become friends. It's the sort of shop that used to exist when I was growing up, but that seems to have fallen out of fashion somewhat.
Amber is a geek. She loves comic books and sci fi shows. For her, there is nowhere else she'd rather be, even when somewhere else offers her the opportunity to walk again. Her customers are her friends and very good ones at that – they help out, supporting her emotionally and financially, and look out for her, not because she's disabled, but because she's part of their family.
In short, the comic book shop is her "happiest place", to quote from sci fi show Warehouse 13. Now I'm grown up, my happiest place is sat on the sofa writing the next story (and Saint-Marie, but that's beside the point).
Where is your happiest place?
Tin Cat by Misa Buckley

A year after the accident that put her in a wheelchair, Amber Gerald has more or less gotten used to living with her impairment. It doesn't make a difference to running a comic book store anyway, and the customers have been the best support group she could have wished for.

When she rescues an abandoned cat, Amber has no idea that she's interfering in the mad scheme of a time travelling bank robber. Or that the man that walks into her store dressed like Blade is about to become her bodyguard.

Between being an unwitting owner of an android cat and falling for a cybernetic bounty hunter, Amber finds her life a whole new level of weird as science fiction becomes a very real factual threat.

Buy at Amazon –  Champagne Books – Goodreads
Misa Buckley grew up watching Doctor Who and Star Trek and reading fantasies from Anne McCaffrey and David Eddings. So when she started writing NaNoWriMo in 2007, it was sci fi that she wrote. She found writing a much-needed haven from the crazy of raising five children and a Land Rover-obsessed husband.

It took her a few years to take the step from writing to submitting, but her first published novella, IRONHAVEN, was published in July 2011 by Decadent Publishing. Misa is now contracted with Champagne Books as well as self-publishing.
~~~~~~~~~~~~~~~~~~~~~~~~~~~~~~~~~~~~
~*~*Giveaway*~*~
Misa is giving away  an ebook copy of Tin Cat to one lucky commenter! Choice of format is up to the winner.

All you have to do is tell us:

Where is your happiest place?
(You can read our full giveaway policy here)
Please be sure to include a valid email address in the comment form (need not be in the actual body of the comment).
This giveaway is open to everyone!
Giveaway ends on 30 March 2013 and we will announce the winner on Sunday.
Good Luck!