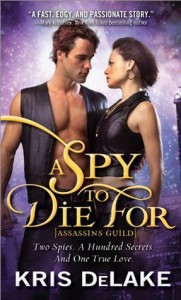 Format Read: ebook provided by NetGalley
Number of Pages: 384 pages
Release Date: July 2, 2013
Publisher: Sourcebooks Casablanca
Series: Assassins Guild #2
Genre: Science Fiction Romance
Formats Available: Mass Market Paperback, ebook
Purchasing Info: Amazon | B&N | Kobo | Book Depository US | Book Depository (UK) | Author's Website | Publisher's Website | Goodreads
Book Blurb:
Jack Hunter is a double agent. Skye Jones is a pirate…or is that just a cover? One thing is for sure—neither of them are competent assasins. Thrown together on the Krell space station during an important Assassins Guild meeting, each is determined to get to the truth and prevent catastrophe. But when Jack and Skye are matched against two master killers, they find themselves caught in the crosshairs between their willingness to trust each other and the undeniable attraction coursing through them. Both knows that a long-term relationship is tough in their profession, but the chemistry they've got is too good to deny. Now all they have to do is stay alive.
My Thoughts: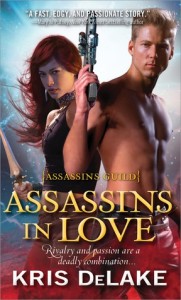 This is either a sequel or a parallel-que (this needs to be a word, really) for DeLake's Assassins In Love (reviewed at Reading Reality) It's second in the series, and some of the events in Assassins in Love seem to have taken place before the start of A Spy to Die For, but the two stories end at very close to the same point in time.
It's not as confusing as it sounds.
On my other hand, even though this story didn't quite read as deliberately light-weight as Assassins in Love, it actually worked better. Or maybe there weren't quite as many plates spinning.
DeLake's gritty space opera world, there are two competing groups of contract assassins; the Guild and the Rovers. The Guild is considered to be slightly more fussy about the contracts they take than the Rovers. It seems like they get paid better, and they certainly train their agents better.
Of course, this story, like Assassins in Love, concerns a pair of operators who would normally work for the rival agencies. But not as assassins, hence the title. Skye and Jack are both researchers, they're the recon agents who make sure that contracts are on the up-and-up.
Even in this less-than-bright future, not everyone who has a price on their head deserves killing. Skye and Jack do recon because Jack refused to be an assassin, and Skye refused to be good at it.
But Jack's Rovers have decided that money is more important than the ethics they used to abide by, and the new leader of the Rovers has put out a contract on Jack for pointing out that they aren't, well, the moral killers they used to be.
He's one night too late. Skye met Jack first. And in spite of her need not to get involved or attached to anyone, she's emotionally attached to the man she spent the best night of her life with. The gut instinct that has kept her alive tells her that Jack is a good man. And that even though everything about someone putting a contract out on him means that he's been dealing with bad people, he's still a good man.
So she helps him escape. She has her own reasons. The same man who put the contract out on Jack also accepted a contract from someone in her own Guild, and she knows that's just wrong. Especially since the woman who gave him that contract is someone who has been disciplined. And is someone who has always been her enemy.
But their escape from the first trap leads them, not just to a long trip to places where they can get unregistered ships and even better unlicensed information–it's also time for two people who aren't sure that it's okay to trust anyone to find out that they have much more than just amazing chemistry. They have a real partnership. All they have to do is live long enough to find out what that means.
Verdict: A Spy to Die For is much more of a straightforward science fiction romance than Assassins in Love was, and that's a good thing. Jack and Skye meet cute in a pretty run-down space station burger joint, and have one perfect night. They may want more, put that's all their lives have taught them to expect.
Then it all goes to hell. Skye's experience of relationships is that everyone leaves her, something that started with her parents. She may want to try for something more, but her early experiences are all of abandonment, and life as a Guild spy doesn't encourage involvement. And in their first night together, it's not as if she and Jack can be candid about their work! They start out with a lot of lies of omission.
When they're forced to rely on each other, the relationship builds slowly and hesitantly, which is the way it should be. Sex is easy, love, or even the ability to trust and rely on another person, is hard for both of them.
This was a story where the character creation was good. The world building had been done in the previous book. The plot was admittedly a bit on the thin side, but watching Skye and Jack reach towards each other made the story fun.
I give A Spy to Die for by Kris DeLake 3 and ½ stars.

***FTC Disclaimer: Most books reviewed on this site have been provided free of charge by the publisher, author or publicist. Some books we have purchased with our own money and will be noted as such. Any links to places to purchase books are provided as a convenience, and do not serve as an endorsement by this blog. All reviews are the true and honest opinion of the blogger reviewing the book. The method of acquiring the book does not have a bearing on the content of the review.