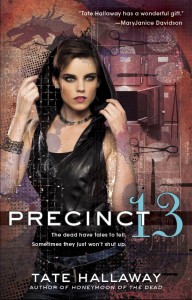 Format Read: ebook.
Number of Pages: 308.
Release Date: August 7, 2012.
Genre: Urban Fantasy.
Publisher: Berkley  Trade.
Formats Available:  ebook, paperback.
Purchasing Info: Author, Goodreads, Amazon, Book Depository.
Book Blurb: 
Recent college grad Alex Conner is thrilled to have landed a job as the Hughes County coroner/medical examiner in Pierre, South Dakota. But when her first day on the job ends with a missing corpse, Alex starts to wonder if she would have been better off collecting unemployment…

When the cops made some cryptic comments about being careful with the body they brought in, Alex just thought the boys in blue were messing with her. That is, until something freaky happens that no amount of med school could have prepared her for. By the time Alex gets herself together, the body has disappeared and the other residents of the morgue start talking her ear off.

After working up the courage to report the missing body, Alex is transferred to the mysterious Precinct 13 where she discovers that her new co-workers—including a cute technomage named Jack—are paranormals just like her. Now, Alex is being encouraged to use her ability to speak to the dead to solve crimes. And despite being in the middle of nowhere, Hughes County sure does have a lot of paranormal activity…
My Thoughts:
This book suffers from one major flaw.*
Is the cover a dragon-tease like the sub-par Nightshifted?
Nope. Cover accurately reflects the awesome inside the book. Kick-ass dragon included. Bite me dragon-haters! And seriously, take a moment to admire this gorgeous cover. You don't often see this kind of artistry on the U.S. editions of urban fantasy books. Someone give the publisher a cookie!
Hmm, Is the heroine too stupid to live, a la Sookie Stackhouse? 
Not even close. It's safe to say that Alex single handedly doubled the collective IQ of Pierre's top-secret investigative unit. Prior to her arrival it was standard fucking procedure to not do anything. Ever. I can only imagine their daily to-do list:
Don't bother enacting magical protections at booby-trapped magic crime scenes. It's not like run-of-the-mill police officers or medical examiners are important or anything. Who cares if they are maimed or killed because you couldn't be bothered to do your fucking jobs?
Don't bother disclosing a conflict of interest in a murder case. It is totally kosher to be banging the murder suspect since we won't actually be investigating anything anyway.
Don't bother with chains of evidence, warrants, or other procedural requirements. Things will get done when they get done. Maybe. Probably. Perhaps.
Don't worry about the human rights implications of your boss having a slave and magically forcing him to risk his life to run menial errands.
Absolutely do not keep tabs on the wherabouts of your colleagues when there is a serial killer running around town.
MORONS! All of them. No wonder the town's corpses are all going on walkabouts. It's not like anyone would bother stopping them before.
Okay… Is there a pointless love triangle that exists simply because market forces dictate there should be?
Again no! Tate handled her editor's presumed demands for a romantic conflict beautifully. The third prong of the so-called triangle gets stomped on and ignored the exact way the passive aggressive workplace flirt should be. In fact, this may be the best love triangle ever.
Obviously Not Getting Any: Why didn't you call me after I stole your phone and programed my number into it?
Leading Lady: Dude, wtf? [Enter Significant Other]. Oh hey, this is my boyfriend.
Boyfriend: Snarks.
Obviously Not Getting Any: Pouts off-page.
After that? Love triangle is NEVER brought up again! It was glorious. We were spared page after page of vapid indecision about when and how to bang whom.
You seem to love this book, what's this MASSIVE FLAW you're all worked up about?
Can't you tell? Precinct 13 suffers from an extreme case of horrific blurb-itis. Look at that blurb! What does that blurb say to you? It says, "*yawn* urban fantasy  cop drama. *snore* oh and she probably has sex with something not human. what was I sayzzzzzzzzz…".
Take a look at these opening sentences:
"I never dreamed of being a coroner. No, when I was a little girl, I wanted to grow up to be a fairy princess or maybe a dragon-riding warrior queen. Turns out, however, there's not a lot of call for either in the real world.

So how did I end up in Pierre working with dead people? As the newspaper's headline read on the day I was elected: "Double-Dare You: Alexandra Connor Wins Coroner Position on a Bet."

That pretty much sums it up."
Alex was never collecting unemployment! She's a dragon-riding warrior queen who won her job on a goddamn bet! Tell anyone who has spent time desperately trying to find work during the worst economic crises of our generation that that is not awesome, and you will be slapped in with this book. Twice. Once in the face and once up the back of your head.
Does this blurb clue you into the tragic, yet totally believable backstory where magically-inclined people are forcibly medicated by a well-meaning but deluded society that doesn't notice what's really going on out on the fringes? No! Instead it gives you the chick who is too stupid to accept that the paranormal might exist when she's surrounded by chattering corpses. I don't know who she is, but she sure as shit wasn't in my book. EPIC BLURB FAIL.
Someone take away the publisher's cookie!
Precinct 13 gets 4 stars, though you would never guess it from the blurb's pathetic introduction to the world of the sensibilitatem.*


You should read Precinct 13 if you are so bored with ex-cops who became PIs because of their supernatural baggage and shifter vs vampire love triangles, that you are ready to stop reading urban fantasy altogether. Tate Hallaway isn't reinventing the genre by any means, but she will remind you why you can't start reading a new book right before going to sleep on a work night.
*No, I didn't knock down a star for the EPIC BLURB FAIL. That's the publisher's fault. And I am feeling magnanimous due to the lovely cover.
I knocked off a star for the practically contagious stupidity of the officers in Precinct 13. All I'm asking for is minimal competency here. Thankfully Alex, my glorious warrior dragon queen, calls them on their shit. All the time. Then makes them do their jobs.
****FTC Disclainer. Most books reviewed on this site have been provided free of charge by the publisher, author or publicist. Some books we have purchased with our own money and will be noted as such. Any links to places to purchase books are provided as a convenience, and do not serve as an endorsement by this blog. All reviews are the true and honest opinion of the blogger reviewing the book. The method of acquiring the book does not have a bearing on the content of the review.