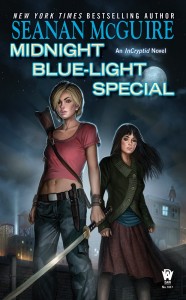 Format Read: ebook and paperback.
Number of Pages: 368.
Release Date: March 5, 2013.
Genre: Urban Fantasy.
Series: InCryptids #2.
Publisher: DAW.
Formats Available: Paperback, ebook, audio.
Purchasing Info: Amazon, Book Depository, Goodreads, Author.
Book Blurb:
Cryptid, noun:

1. Any creature whose existence has been suggested but not proven scientifically. Term officially coined by cryptozoologist John E. Wall in 1983.

2. That thing that's getting ready to eat your head.

3. See also: "monster."

The Price family has spent generations studying the monsters of the world, working to protect them from humanity–and humanity from them. Enter Verity Price. Despite being trained from birth as a cryptozoologist, she'd rather dance a tango than tangle with a demon, and when her work with the cryptid community took her to Manhattan, she thought she would finally be free to pursue competition-level dance in earnest. It didn't quite work out that way…

But now, with the snake cult that was killing virgins all over Manhattan finally taken care of, Verity is ready to settle down for some serious ballroom dancing—until her on-again, off-again, semi-boyfriend Dominic De Luca, a member of the monster-hunting Covenant of St. George, informs her that the Covenant is on their way to assess the city's readiness for a cryptid purge. With everything and everyone she loves on the line, there's no way Verity can take that lying down.

Alliances will be tested, allies will be questioned, lives will be lost, and the talking mice in Verity's apartment will immortalize everything as holy writ–assuming there's anyone left standing when all is said and done. It's a midnight blue-light special, and the sale of the day is on betrayal, deceit…and carnage.
My Thoughts:
Discerning readers will notice that 'format read' section of this post says 'ebook and paperback.' Before anyone points out the oversight in the comments, allow me to assure you it is accurate.
Midnight Blue-Light Special rather conveniently came out right after my birthday. A magical time of year in which I have various book gift certificates demanding immediate spenddown (what do you mean they don't self-destruct 24 hours after opening?). However, I rather inconveniently live in rural Alaska. Where mail arrives at it's own special pace. Ergo, I was forced to download an ebook copy at 12:01 a.m. on March 5th. (I didn't get to read it until FOUR HOURS after all those people who live on the Eastern Seaboard! Bastards.)
Thankfully, this book was totally worth it. I've already read it twice. Three times. Details are not important. What is important is that Seanan McGuire managed to write a cryptid scene so brilliantly amazing that it dethroned the dragons in sheer awesomeness.*
I indicated Istas. "This is Istas, of the waheela. She'll be staying with us here while we take care of things. I wanted her to meet the colony."

"Before there could be Bad Decisions," said the High Priest. He bowed to Istas. "Milady Carnivore. Welcome to our Home."

The other mice took this as an invitation to cheer. The High Priest silenced them all with a stern glare, and one rap of his kitten bone staff against the roof. He might be old, but he still ruled his people with an iron paw.

Istas, meanwhile, was looking at him with unabashed curiosity. "You are talking mice," she said. "Mice are not meant to talk."

"Yet talk we do," said the High Priest. "Truly, you are wise, to approach such a complicated theological question on your very first introduction." He rapped his staff again. This time it was a cue, and the colony's cheering went unabated.

"They're hyper-religious," I explained to Istas, quietly. "They worship my family."

"Oh," said Istas, looking puzzled. She looked at the High Priest. "If you worship her, what do you do with me?"

"We ask that you do not eat us, Milady Carnivore, and offer to share the spoils of our hunt with you," said the High Priest. "We will feast well this night, on rat and bat and feathered snake."

"I would like that," said Istas. "Do you always talk?"

"Sadly," I muttered.

The High Priest pressed his whiskers forward. "You are truly a lover of complex theological debate," he said, sounding delighted. "We will enjoy your company."
I could unreservedly recommend this book on the strength of Aeslin mice alone. Not that I have to.**
Midnight Blue Light Special picks up six months after the events of Discount Armageddon. Verity is still trying to balance her duties as a dancer and cryptozoologist, while Dominic debates whether his life-long dogmatic conditioning is able to withstand the general gloriousness of the Aeslin mice. Or all the sex with Verity. Are reasoning and empathy sexually transmitted? It really makes you wonder about the seriousness of those Covenant boys' faith. Seems like all it takes is one well-armed cute blonde to incite defection. Good thing the Price girls never studied abroad.
When the Covenant comes to town to start a purge, Verity and Dominic both have to make some irrevocable decisions about their ambitions and futures. A less brilliant writer would make these choices feel rushed or cliched. Midnight Blue- Light Special manages to avoid these pitfalls. In part because these decisions have been inevitable since we first met Dominic, and, to a lesser extent, Verity, in Discount Armageddon. But mostly because it really could have gone either way. When we see Verity and Dominic struggle with decisions and motivations, we are just as uncertain as they about the outcome.
Bonus feature? MORE SARAH! There can never be too much Sarah. I want to read an entire book about her adventures with the dragons.
Sometimes the little girls would spend an hour or more making me do parlor tricks before they got bored, and when you've read one preteen dragon's mind, you've read them all.
Double bonus feature? No pointless, time-wasting, angst-filled love triangle!
Unfortunately, in the afterward, Seanan McGuire indicates that this is the last we'll see of Verity and Dominic for awhile. The next InCryptid book will follow another member of the Price clan. Not Sarah, who, as previously indicated, requires her own novel. Not Antimony, who appears to be delightfully insane. Oh no, it's all about Alex. Alex who studies basilisks. Alex who is not accompanied by Aeslin mice, or Sarah, or dragons. Excuse me as I fail to care.
Ahem. Anyway. I give Midnight Blue Light Special 5 stars! After much contemplation (and girl scout cookies), I determined it would not be fair to deduct a half star because I displeased at the protagonist for the next InCryptid book.

 *I wanted to excerpt the whole scene for you, because there are layers of hilarity and brilliance that must be shared. Alas, it doubled the length of the blog post. Seemed a bit excessive.
**The cryptid dragons are still amazingly unique. Kicking ass on one hand, and shredding chauvinistic myths about virgin sacrifices on the other.
****FTC Disclainer. Most books reviewed on this site have been provided free of charge by the publisher, author or publicist. Some books we have purchased with our own money and will be noted as such. Any links to places to purchase books are provided as a convenience, and do not serve as an endorsement by this blog. All reviews are the true and honest opinion of the blogger reviewing the book. The method of acquiring the book does not have a bearing on the content of the review.