Today I am very happy to introduce you to newcomer, Entangled debut author Victoria James, whose first novel The Billionaire's Christmas Baby released just in time for the holidays, and trust having been lucky enough to read it, I can tell you it is THE perfect holiday story: heart-warming, emotional, but leaving you with a happy sigh at the end (look out for my review which will be posted on BLI later this week)! So as you can see I loved The Billionaire's Christmas Baby so it was my great pleasure to sit down with Victoria and talk holidays, romances and tortured heroes with her. So join us and you could even win an ebook copy of The Billionaire's Christmas Baby! 😉
Stella: Hi Victoria, welcome to Book Lovers Inc! Can you please tell us a bit about yourself?
Victoria: Hi Stella, thank you so much for having me! I met my husband thirteen years ago in University-in an English Lit class. Two years later we got married, and now we have two children-a two year old and a six year old. My days are busy juggling the responsibilities of our small business, my writing, kids, and household chores. But when I have a free moment, I'm putting my interior design background to use-I'm always rearranging furniture and pictures in our house. I still do freelance work as well. I love seasonal decorating. Basically, I drive my husband nuts, because he hates change…and thing are always changing!
Stella: Describe a typical day of writing? Are you a planner or pantser?
Victoria: None of my days are typical, LOL. I'm always tweaking my routine depending what's going on at home. For a while I was waking up early-before the kids woke. But then my kids started waking up earlier, so I had to scrap that plan.
Now I try to get in some time during my daughter's nap-but that's only about an hour and a half. The rest is in the evenings. It has to be-or I wouldn't get anything done. I am looking forward to next year though, when my daughter starts preschool-at least I'll have two and a half hours every day! Baby steps…I also don't want to wish this time away either, because I know how quickly kids grow up!
Panster or Plotter-a little bit of both. I get the idea first, and start writing the scene that grips me. Then I will make some notes and a rough outline. The neat-freak part of my personality really wishes I were a plotter. The idea of having a lovely roadmap, maybe with some colour-coded notes and different coloured pens really appeals to me. Alas, the panster side usually wins out.
Stella: What do you think is the difference between a reader and a real Book Lover?
Victoria: I think a book lover will sacrifice sleep, will have a 'keeper' shelf and re-read favourites, would rather spend a Saturday night reading an awesome book to going out, will think about characters long after the book is finished.
Stella: Your debut novel, The Billionaire's Christmas Baby was released by Entangled Publishing in their Indulgence line for the holidays, congratulations! 😀 Can you share with us your story how you found your way to being published and how you got The Call?
Victoria: Sure. I started writing when my son was born (six years ago). But my writing was very sporadic because I had a new baby, and a full time business, and no maternity leave. We also moved quite a bit in the last eight years. But I would write when I could, not losing sight of the goal of publication. When my daughter was born (2 years ago) I started querying agents and my current agent rejected the manuscript that I'd submitted but told me to send something else along. Fast forward to a year later and another house move and I did just that-and she offered me representation. I sold to Entangled, Indulgence last January.
Stella: Once again congrats! 😀 And now let's talk about the novel itself. Can you tell us what readers can expect of The Billionaire's Christmas Baby?
Victoria: Sure. I think it's a feel-good book that reminds us that there can always be a HEA out there for us, if we are open to it. Jackson Pierce had a perfect childhood-until a death changed everything. The tragedy shattered his family, and he grew to hate the holidays, and everything that reminded him of the people he had lost. Hannah Woods, the woman who is about to challenge all his beliefs, grew up with nothing, with no one. And yet, it is Hannah who teaches him the importance of family ties, and the power of forgiveness. Somehow, the two of them must overcome their pasts and find a way to be the family that both of them secretly desire…
Stella: Do you still remember what inspired it? Or how the idea for the story took spark?
Victoria: Yes! I live in Canada, and growing up I adored our snowy winters and white Christmases. I knew I always wanted to be a writer, so writing a book that was set in a remote, snow-filled area during the holidays was too hard to resist…
A few years ago, surrounded by my extended family, I started wondering about how much of whom I was today, was shaped by the people around me. I had always known the love of parents, grandparents, aunts, uncles, siblings, cousins. But what if I hadn't? How would that have changed me? And that thought triggered the characters in THE BILLIONAIRE'S CHRISTMAS BABY. How would different people react to the holidays if they didn't have a family? If they had no one? Would they build walls around themselves? Or would they be in a perpetual search for a soul-mate, for love? The hero and heroine that took shape in my mind became larger than life. Their pain, their need for acceptance and unconditional love tugged at my heartstrings until I was forced to find a way to create a happily-ever-after for the three of them! And of course, it would have to take place during the holidays!
Stella: Could you introduce to us Jackson and Hannah, the hero and heroine of The Billionaire's Christmas Baby?
Victoria:
Jackson Pierce
Height: 6'-2"
Weight: Approx. 200-210lbs depending on how many Christmas cookies he's scarfed down.
Eye Color: Brown, with intriguing lighter flecks of gold-according to Hannah
Hair Color: Brown-or the color of expensive cognac-according to Hannah
Distinguishing feature: A very attractive scowl 😉
Hannah Woods
Height: 5'-5"
Weight: She'd rather not divulge
Eye Color: Green
Hair Color: Brown-or the color of caramel
Distinguishing feature: A gorgeous smile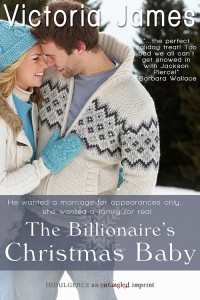 Stella: Now can you tell us 3 reasons why people should read The Billionaire's Christmas Baby?
Victoria: Sure…if you want a romance that will make you laugh, cry, and make you believe in the power of forgiveness and unconditional love. Oops, was that 4?
Stella: Can you summarize The Billionaire's Christmas Baby for us Twitter-style (140 characters or less)?
Victoria: Here it goes!: Gut-wrenching emotion & sensual romance will make laugh, cry & fall in love. Jaded man +abandoned baby+determined woman find their HEA.
Stella: And with the holidays approaching let's talk about them and holiday traditions. Is there anything special you usually do for the holidays? Any special family tradition?
Victoria: Growing up in a North-American-Italian family, the holidays were always filled with an abundance of family, food, and drama. Cousins, grandparents, aunts, uncles, parents, would gather. The crowd was loud and the toasts with homemade wine were plenty.
This year, I'm hosting Christmas Eve dinner for approximately fifteen of our nearest and dearest. I have hosted Christmas Eve before, but I haven't done the full-blown deal. This year, I'm going to cook up a big old, traditional Italian Christmas Eve dinner. All seven fish dishes. I can do it…I hope! The day after I told my husband my plan? He bought a fire extinguisher.
Stella: Do you have a favourite holiday themed story (movies or books)?
Victoria: Must watch: It's a Wonderful Life, The Holiday, The Sound of Music, Christmas at Plum Creek.
Stella: If you could spend the holidays with a fictional character, who would you like to spend it with and what would you be doing?
Victoria: Hmm…well since I love snow, I wouldn't mind heading up to that remote cabin in THE BILLIONAIRE'S CHRISTMAS BABY with hubby and the kids, and spending Christmas Eve with Jackson, Hannah, baby Emily and the Sampsons! I'm sure our kids would get along fine, while we grownups shared a glass or two of Jackson's favourite scotch 🙂 Then, if we're not snowed in, we could head back home to spend Christmas day with the rest of our families.
Stella: Oh, sounds like you'd have a delightful evening 😀 Can you tell us what we should be on the lookout from you, what is next on your schedule?
Victoria: I'm currently contracted for two more books in 2013, and am waiting to hear back on two other proposals. My next release from Indulgence comes out this March, 2013-it's the first book in a trilogy of brothers. It's set in a small town and follows each of the brothers as they fall in love, find themselves, and reveal some of the deep/dark family secrets that have impacted their lives.
Stella: Terrific! So glad to hear I'll have so many stories to look forward to! 😀 Thank you for stopping by Victoria, congratulations on the release of The Billionaire's Christmas Baby and happy holidays to you and your family! 😀
Victoria: Thank you so much, Stella! This was lots of fun 😀 Happy holidays to you and your family as well.
Victoria James is a romance writer living near Toronto, Canada. Victoria is a mother to two young children, and one very disorderly feline.

Victoria attended Queen's University in Kingston, Ontario and graduated with a degree in English Literature, where she met and then later married, her own hero. After Queen's, Victoria earned a degree in Interior Design. After the birth of her first child she began pursuing her life-long passion of writing.

Her dream of being a published romance author was realized this February, 2012, when Entangled Publishing bought her manuscript A Family For Christmas. Victoria has three upcoming books that will be released by Entangled Publishing's Indulgence line. Victoria is living her dream-staying home with her children and conjuring up happy endings for her characters.
The Billionaire's Christmas Baby by Victoria James

Jackson Pierce didn't make his fortune entertaining every half-cocked idea, especially one involving diaper changes. Not even the cute brunette who links him to the baby in her arms can crack his icy heart.

A baby on the doorstep is the least of Hannah Woods's problems—she has to find the baby's uncle, or the child will end up in foster care. She sleuths her way to the reclusive CEO's doorstep only to find six feet of holiday sexy—and a door slammed in her face. But when Jackson comes around and urges they marry for little Emily's sake, Hannah finds herself falling for the jaded billionaire and wishing for a holiday miracle of their own…
~~~~~~~~~~~~~~~~~~~~~~~~~~~~~~~~~~~~~~~~
~*~*Giveaway*~*~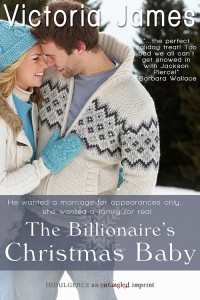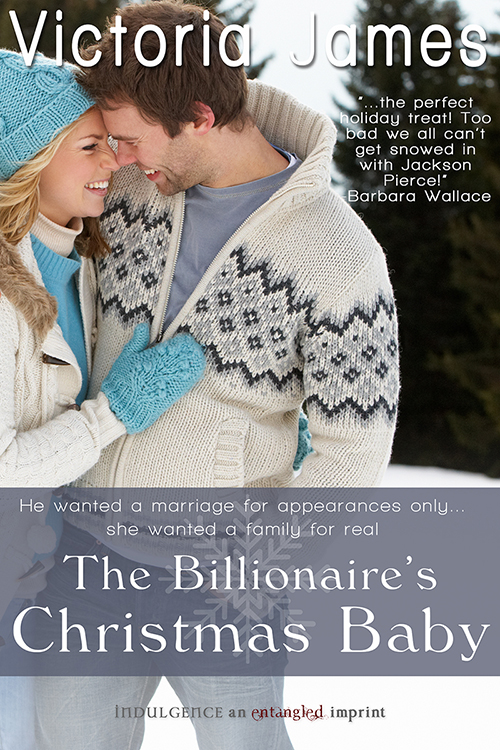 Entangled Publishing has generously offered an ebook copy of The Billionaire's Christmas Baby by Victoria James to one lucky commenter!
All you have to do is tell us: if you could spend the holidays with a fictional character who would you pick? 

This giveaway is open to all!
(You can read our full giveaway policy here)
Please be sure to include a valid email address in the comment form (need not be in the actual body of the comment).
Giveaway ends on Saturday, 5 January 2013 and we will announce the winner on Sunday.
Good luck!