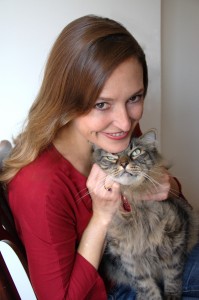 This very special day we are really thrilled to welcome author Hope Tarr here at Book Lovers Inc in celebration of her Christmas themed novella with a special and festive post! Quite appropriate don't you think considering the day? Hope's latest release combines the holiday spirit with a note of fairytale, making A Cinderella Christmas Carol, the perfect book to stay and relax after all the celebrations. So, welcome Hope and don't forget to check at the end of the post for the details of our giveaway 🙂
Happy Holidays!
As we all trundle through the holiday season, I've been asked how I came up with the idea for a Cinderella-Scrooge mash-up for my Suddenly Cinderella Series holiday novella, A CINDERELLA CHRISTMAS CAROL.
On a subliminal level, I expect I was inspired by Disney and the company's wonderful history of integrating the magic of the winter holidays with their fairy tale franchise. With VHS and now direct-to-DVD offerings such as Beauty and the Beast: The Enchanted Christmas, viewers young and old are accustomed to seeing their favorite fairytale characters celebrating the wintertime festivities, whether as a prequel, sequel, or interim storyline.
And while I absolutely adore the Dickens' classic, both the original text and the various film adaptations, the ending strikes me as rather sad or certainly poignant. Scrooge's redemption comes so very late in life and though late is certainly better than never—poor Marley and those chains!—I've always thought how much nicer it would be if Scrooge's transformation could occur earlier, when he was younger—in time not to toss away his One True Love.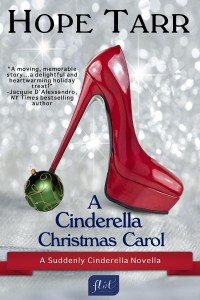 Or at least in time to reclaim her.
Starr, my Cinderella-Scrooge heroine of A CINDERELLA CHRISTMAS CAROL whom readers first meet in the series launch, OPERATION CINDERELLA, has ample reasons for hating the holiday—her deadbeat drunken stepfather who first soured her on celebrating, her deadline-driven job as the managing editor of a top New York City women's magazine, and the fact that the current Christmas is a milestone birthday, her thirty-fifth.
And yet thirty-five is still young, especially in Scrooge years. Unlike that pathetic miser, Starr has True Love ahead of her with the magazine's new art director, sexy, seven years' younger Matt Landry—provided she can find the courage to put aside her curmudgeon ways in time for Christmas Day.
I hope you enjoy this snippet from A CINDERELLA CHRISTMAS CAROL. Happy Holidays, Happy New Year—and Happily Ever After…
Excerpt:
That evening, while cramming papers into her laptop case in preparation for leaving, Starr had had the sudden disconcerting sense of being watched. She'd looked up—and found Landry standing in her open office doorway, his intense hazel eyes stroking over her, the shifting sands of his irises caressing her face. The times when he showed up unexpectedly, and her guard was down and her will weak, the brilliance of his beauty seemed to burn her aquamarine eyes to ash and drain the last drop of moisture from her mouth.

"What is it, Landry?" she'd snapped, and immediately felt the hot sting of a blush strike her cheeks, her redhead's porcelain complexion, as always, a dead giveaway.

He'd hesitated, the florescent hallway lights haloing his shoulder-length hair—the wavy chestnut locks freed from his customary work ponytail. "A group of us is going for drinks. You know, chill out and celebrate tomorrow being a holiday. I—we—were wondering if you might want to come with."

She'd shoved a copper-colored curl out of her eyes and let out a brittle laugh to cover her heart's wild drumming. "And risk being lynched? I don't think so. Thanks but no thanks."

It might be Christmas week but the magazine world had already moved on to Valentine's. As the month of hearts and flowers, February was their single biggest seller of subscriptions and generator of ad revenue. It was also scarily behind schedule, and with Macie's replacement yet to be found, Starr was seriously short-staffed on the editorial side. To make up the missed time, she'd told her entire team, including Landry, to be back in the office on December twenty-sixth. She'd never been exactly popular with her people, but the tough decision to curtail Christmas vacations had hefted the bar toward hate.

The December holiday-themed issue had come out weeks ago. She mentally ticked off the article titles and taglines. Cuddling up on Christmas Eve, Latest Lingerie Trends and Mistletoe Must-Haves, What to Wear (and NOT to Wear) to Sleigh Him on New Year's Eve, and, of course, the latest reworked take on what was pretty much every month's anchor story: sex. Hanukkah Hankie Panky and Christmas Canoodling: Seven Sexy Secrets to Have Him Ho-Ho-Hoing in the Sack.

Imagining canoodling with Landry beneath a brightly lit Christmas tree—the silken feel of his taut, Florida-tanned flesh bared and rippling beneath her fingertips, her wearing skimpy scarlet lingerie and five fewer pounds—shot a quiver of desire through her…
About the Author
Hope Tarr is the award-winning author of twenty historical and contemporary romances including OPERATION CINDERELLA, the launch to her new Suddenly Cinderella Series of contemporary fairytale-themed romances. Hope is also a co-founder and current principal of Lady Jane's Salon™, New York City's first and so far only monthly romance fiction reading series now with satellites in four other U.S. cities.
About the Book
There's nothing On Top managing editor Cynthia "Starr" Starling hates more than Christmas. With an important deadline looming, plus her dreaded Christmas Day birthday, Starr just wants the holiday to end. But when she wakes up Christmas Eve night to the ghost of Christmas Past, Present, and Future—all in the form of the super-hot Matt Landry, the new art director—she knows she's in for a long night.

Matt is the one person on Starr's team she can't boss around and the only one she doesn't need to. He's also her employee and totally off limits, even if he does seem interested. Though he's seven years younger and all kinds of forbidden fruit, he's the form the Powers That Be decided she'd be receptive to.

Because they have a message for her: learn the true meaning of Christmas spirit or risk being alone for the rest of her life.
~~~~~~~~~~~~~~~~~~~~~~~~~~~~~~~~~~~~~~~~
~*~*Giveaway*~*~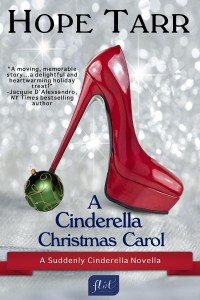 Entangled has generously offered a copy of A Cinderella Christmas Carol by Hope Tarr  to one lucky commenter!
This giveaway is open to all!
All you have to do is ask Hope a question or tell us: What is your favourite holiday story (book or movie)?

(You can read our full giveaway policy here)
Please be sure to include a valid email address in the comment form (need not be in the actual body of the comment).
Giveaway ends on Saturday, January 5th, 2013; we will announce the winner on Sunday.
Good luck!