Today we would like to introduce you to new paranormal romance author Jocelyn Dex, who stops by to tell you all about her debut novel: Araya's Addiction a steamy PNR story introducing her brand new Demons Do It Better series! 😉 So please give her a warm welcome, and if you answer her question you could even win a copy of the book. 
Stella: Hi Jocelyn, welcome to Book Lovers Inc! Can you please tell us a bit about yourself?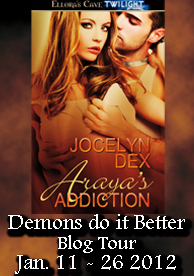 Jocelyn: Hi Stella, thanks for having me! Well, I'm a huge animal lover. While writing, I have at least three dogs curled up next to me and one of them is always snoring. My favorite genre to write and read is paranormal romance – erotic or not. Oh and zombies scare the crap out of me. Yikes!
Stella: Are you a planner or pantser? Can you tell us a bit about your writing process? How do your novels come to life?
Jocelyn: A pantser. A basic idea for a scene pops into my mind and I start writing. I don't know if this is the best way to write but so far it works for me. The characters tell me where they want to go and what they want to do and I do my best to oblige them. Of course, sometimes I have to be mean to them for the sake of conflict.
Stella: What do you think is the difference between a reader and a real Book Lover?
Jocelyn: Hmm… A reader is someone who reads when the mood strikes. They can take it or leave it. A real book lover has to read. They get excited when they find a new book that sucks them in and they'll keep reading until their eyes blur.
Stella: Your debut short-novel, Araya's Addiction was published on 11 January 2013, congratulations! Is it the first in a series or a standalone story? Could you tell us a bit more about the universe the story is set in (paranormal creatures and their hierarchy, powers, etc.) and what readers can expect of Araya's Addiction? 
Jocelyn: Thanks! I'm so excited! Araya's Addiction is the first in a series. I didn't know that when I started writing it though so the series is unnamed right now. I'm in the process of writing the second book. It will feature Araya's sister, Valia.
Araya's Addiction is mainly set in the veil between the human realm and the demon realm. Araya is a Sempire. A Sempire is a female species of demon that requires semen to survive. Kean, her hero, is human plus an eighth Incubus.
"What'd you do to me?" Kean croaked.
Araya's eyes widened. "Nothing," she said in a small voice, the weakness in it unmistakable.
"Bullshit." He tried to sit up but his head pounded and spun so he stayed down.
"You'll feel better soon. Just don't try to hurt me again." She stood on shaky legs and ambled to the bed where she selected a pillow and brought it back to where he lay. She wore nothing but a short green satin robe. She helped him lift his head enough to slide the pillow under and then placed the damp cloth across his forehead.
"What's your name?" she asked him.
He ignored her question. "Shouldn't you be scared right now?"
Her lips lifted at the corners. "Scared of what? A helpless, naked man laid out on my floor?"
Stella: Could you introduce the hero and heroine of Araya's Addiction to us?
Jocelyn:
Hero: Kean
Species: Human and Incubus
Characteristic: Fun loving playboy
Hair Color: Black
Eye Color: Black ringed with silver
Quote:
"Either I'm giving you an orgasm or you're giving yourself one. But I won't be able to concentrate on anything else with the smell of your need clogging my brain. Your choice."
Heroine: Araya
Species: Sempire
Characteristic: Die-hard romantic (which is unusual for a Sempire)
Hair Color: Gold
Eye Color: Gold
Quote:
"Can't you tell? Don't you know?" She breathed against his lips. "I hate you for what you've done but I do want you. I can't not want you."
Stella: How did the idea for the story come to you? Any specific moment/event that sparked the inspiration for it that you could share with us?
Jocelyn: Unfortunately, there is not an exciting inspiration story. The idea of Sempires popped into my head while visiting my mother a few months ago. I don't know why or how but I'm glad it did. It was just "Bam! Sempires!" On the three hour drive home from her house, I talked out loud to myself about it. I couldn't wait to get to my laptop.
Stella: Now can you tell us 3 reasons why people should read Araya's Addiction?
Jocelyn: Yummy demons, steamy sex, emotionally happy ending
Stella: Could you please summarize Araya's Addiction for us Twitter-style (in 140 characters or less)?
Jocelyn: Eek. That's tough. Here it goes. To gain his freedom, the part-Incubus hero must provide the Sempire heroine with his semen but she refuses it even though the lust between them is undeniable.
Stella: Araya's Addiction is an erotic paranormal romance story. What is your favourite supernatural creature and why is that? Any favourite fictional or movie/TV series character that fits the bill? 😉
Jocelyn: At one time, it was Vampires. Ann Rice's, Interview with a Vampire, made them sexy to me. I've moved on to demons. I credit Gena Showalter and Larissa Ione for showing me that demons can be sexy. At the moment, the demons I'm writing about are my favorites. Sempires, Incubi, Ferox.
A TV series demon that I don't find sexy but I do love his character is Crowley from Supernatural. He's bad, he's funny, then he's kind of decent, then he's terrible. Anyway, I love his character.
Stella: What is next on your schedule? Any future plans you'd like to share with us?
Jocelyn: I'm working on the second story in the Sempire world with plans for one more after that. I also have an unrelated novel I need to finish. One day!
Stella: Could you share with us something, a trivia that not many people know about you?
Jocelyn: Jell-O grosses me out. I watched a TV show about the process of making it – actually it was the process of making gelatin, Jell-O's main ingredient – and I haven't been able to touch the stuff since then. YUCKY!
So, does anyone else out there think demons are sexy? Any type in particular?
Araya's Addiction by Jocelyn Dex

When Kean wakes up naked, collared and locked in a cell, he knows thinking with his dick has finally gotten him into trouble.

Kean, part Incubus, enjoys scorching and frequent sex. One night, he finds himself a prisoner forced to help a Sempire rescue her daughter from certain death. To gain his freedom, Kean must provide Araya with his semen to save her life, but she refuses it, even though the lust between them is undeniable.

Determined to escape and to help Araya, Kean ups the stakes and forces Araya into a situation that makes it impossible for her to continue refusing him. Feeling betrayed, Araya enacts a scheme to get Kean out of her life. Her best laid plans may awaken emotions that will bind them to each other forever.

Buy at Amazon – B&N – Kobo – Ellora's Cave
Jocelyn was born in Iowa and currently resides in Texas. She hates cold weather but loves snow. She prefers vacation spots with sandy beaches, palm trees, iguanas and blue-green water. Speaking of iguanas, a huge one stepped on her foot one time.

She shares her home with her very own 6'4″ alpha male and varying numbers of spoiled cats and dogs. Teaching one of her dogs to file his own nails is one of her all-time favorite accomplishments.

Jocelyn loves to paint, loves to read, and loves to write sizzling erotic romance about yummy demons that would make your momma blush.

You can find out more about Jocelyn and her books at

her website – blog – Facebook – Twitter – Goodreads
~~~~~~~~~~~~~~~~~~~~~~~~~~~~~~~~~~~~~~~~
~*~*Giveaway*~*~
Jocelyn has generously offered an ebook copy of Araya's Addiction to a lucky commenter!
All you have to do is answer Jocelyn's question:  Do you think demons are sexy? Any type in particular?
(You can read our full giveaway policy here)
Please be sure to include a valid email address in the comment form (need not be in the actual body of the comment).
This giveaway is open to all!
Giveaway ends on Saturday, 2 February 2013 and we will announce the winner on Sunday.
Good luck!