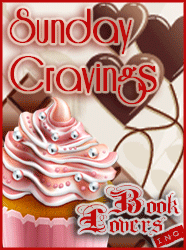 Hello Book Lovers everywhere in the world! How are you? Had a wonderful weekend? Hope yours was better than mine, because let me tell you, that nasty flu I have has driven me crazy!
But, let's not dampen our moods, it's Sunday and time to do some serious drooling over all the new releases that are scheduled for publication next week. So, here are our Sunday Cravings for the week to come 🙂
Marlene: The Six-Gun Tarot by R.S. Belcher
Buffy meets Deadwood in a dark, wildly imaginative historical fantasy

Nevada, 1869: Beyond the pitiless 40-Mile Desert lies Golgotha, a cattle town that hides more than its share of unnatural secrets. The sheriff bears the mark of the noose around his neck; some say he is a dead man whose time has not yet come. His half-human deputy is kin to coyotes. The mayor guards a hoard of mythical treasures. A banker's wife belongs to a secret order of assassins. And a shady saloon owner, whose fingers are in everyone's business, may know more about the town's true origins than he's letting on.

A haven for the blessed and the damned, Golgotha has known many strange events, but nothing like the primordial darkness stirring in the abandoned silver mine overlooking the town. Bleeding midnight, an ancient evil is spilling into the world, and unless the sheriff and his posse can saddle up in time, Golgotha will have seen its last dawn…and so will all of Creation.
They had me at "Buffy meets Deadwood". Seriously, or maybe not so seriously, could it get much cooler than that? I've got to find out what's going on in this one.
Marlene and Caro: All He Ever Dreamed by Shannon Stacey
Josh Kowalski is tired of holding down the fort—better known as the Northern Star Lodge—while his siblings are off living their dreams. Now that his oldest brother has returned to Whitford, Maine for good, Josh is free to chase some dreams of his own.

As the daughter of the lodge's longtime housekeeper, Katie Davis grew up alongside the Kowalski kids. Though she's always been "one of the guys", her feelings for Josh are anything but sisterly. And after a hot late-night encounter in the kitchen, it's clear Josh finally sees her as the woman she is.

Katie's been waiting years for Josh to notice her, but now that he has, she's afraid it's too late. Giving her heart to a man who can't wait to leave town is one sure way to have it broken. But Josh keeps coming up with excuses not to leave—could it be that everything he's ever wanted is closer than he could have imagined?
Marlene: Nobody does contemporary romance like Shannon Stacey. I love her Kowalski Family series (this is one family functional enough that I'd want to be adopted in) and the Kowalski brothers and cousins have all been yummy to a man. But they've all got real flaws and fascinating stories. I can't wait to read the ending of this trilogy.
Caro: I agree with Marlene, I love this family. The books are cute, funny and sexy what else can I ask for?
Stella: Nobody's Angel by Stacy Gail
Investigative journalist Kendall Glynn is horrified when a friend and colleague signs off permanently during a live newscast, jabbing a pen into his jugular. Kendall's no expert, but judging by the strange white veil in the anchorman's eyes, she would swear he was a man possessed.

A descendant of the accursed Nephilim, Zeke Reece prowls San Francisco by night, keeping the city free from paranormal phenomena. But even he is no match for whatever malevolent force is behind a recent rash of murder-suicides. And when a beautiful tenacious reporter becomes the next target, Zeke has no choice but to stay close to her, until he can find the evil spirit and cross it over.

The closer Kendall gets to the truth, the more danger she's in. Fortunately, a sexy and mysterious masked stranger keeps swooping in to the rescue. Kendall's life depends on finding who or what is responsible for the killings, before it finds her.
I'm very interested in discovering Stacy Gail's brand new Earth Angels series, it looks and sounds fierce and exciting! 😀
Marlene and Caro: Haunted Sanctuary by Moira Rogers
Eden Green can't remember a time she didn't believe in monsters—her cousin was born one. Her family's dark past casts a long shadow, making it hard to make friends and harder to commit to a lover. She lives a quiet life in small-town Clover, Tennessee, but she's always waiting for the other shoe to drop.

Tired of the city packs' corruption, yet too alpha to be a subordinate in a sanctuary town, Jay Ancheta satisfies his need to protect by serving as Clover's Chief of Police. As much as he's drawn to Eden, he can't offer forever to a woman who doesn't know what he is—or trust himself to let her go after one taste.

When Eden's cousin and his battered pack stagger into town, their tormentors hard on their heels, Eden is bitten in the chaos. Now Jay not only has a traumatized pack to deal with, but a newly turned wolf with enough hungry alpha power to consume them both.

With their combined strength, they can create a new sanctuary—if their passion can survive the ghosts of the Green family's legacy.

Warning: Contains a newly turned werewolf heroine who enjoys a little rough dominance in bed and a badass alpha wolf hero who'll fight bad guys, ghosts and even the past to protect what's his. Be prepared for violence, death and heartbreak on the way to a happily ever after.
Marlene: Moira Rogers + new series + werewolves. I love her/their Bloodhounds series, I can wait to see what she does with contemporary werewolves!
Caro: I've NEVER been disappointed by a Moira Rogers book. They have so many different series/genres and still they always produce interesting and sexy books. I'm really looking forward to a this new series.
Stella: Be Mine: Sizzle\Too Fast to Fall\Alone With You by Jennifer Crusie, Victoria Dahl, Shannon Stacey
Sizzle by Jennifer Crusie

Business takes a backseat when successful ad executive Emily Tate meets Richard Parker. He's an accountant who's been sent to keep her in line and under budget in her ad campaign for a sensual new perfume called Sizzle. And if Emily's not careful, she could well melt in Richard's hands.

Too Fast to Fall by Victoria Dahl

For Jenny Stone, driving is her escape-from her past, her problems, her quiet life in Jackson Hole. But after Deputy Nate Hendricks stops her-again-for speeding, she could lose more than just her license. She could lose her heart. Nate seems to think that Jenny should replace her love for fast driving with something even more…heart pumping. And despite her need for speed, Jenny's never been one for defying the law.

Alone With You by Shannon Stacey

When waitress Darcy Vaughan's friend asks her to help out with the launch of a fledgling restaurant, she's happy to oblige. Little does she know the owner is Jake Holland, the perfect guy who slipped through her fingers after their one night of passion. But for Darcy and Jake, one touch was just not enough.
Ever since Susi made me discover Victoria Dahl I've been a loyal and die hard fan of her stories, they are always witty, fun and smexy, so I have my eyes on this Valentine's Day anthology because of her 😀
What about your Sunday Cravings? Are there any new books you're dying to read?