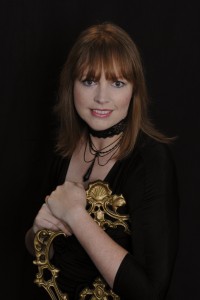 Today we would like to give a warm BLI welcome to paranormal romance author Shona Husk. She's here to tell you about her love of tortured and tormented heroes, especially her goblin heroes in her absolutely fantastic Shadowlands series. 😉 If you answer Shona's question at the end, you could win a copy of the conclusion of the series, For the Love of a Goblin Warrior. Yum!
Marlene: Hi Shona, welcome to Book Lovers Inc. Can you please tell us a bit about yourself?
SH: I grew up reading fantasy novels and discovered romances in my late twenties. I love paranormal romance as it combines the new worlds of fantasy with the HEA. I eat too much dark chocolate, love Supernatural, Farscape and Doctor Who. I like to break out the needle and floss and cross-stitch (usually while I watch TV, which drives my hubby crazy).
Marlene: Are you a planner or pantser? Can you tell us a bit about your writing process? How do your novels come to life?
SH: I'm a plotter. My stories usually start with the hero, sometimes he appears months before I actually work out his story, other times he walks into my mind and tells me everything straight away. As I work him out I get a feel for the world he lives in (I world build through the character, not world build then find the characters). I make a lot of notes, and somewhere during this process I find the heroine and discover her issues. At some point I give up on the organic note taking and start filling out my plotting charts. This helps corral the ideas into something workable—and then I write.
Marlene: What do you think is the difference between a reader and a real Book Lover?
SH: I'm thinking about my sister and I as I write this, as she's what I'd call a reader, but I love talking books. A real Book Lover reads voraciously and is quite happy to pimp their latest find to everyone they know. They are enthusiastic about books and it's public. I think for a reader it is a more private journey. They read and enjoy books but it's a pastime not a passion.
Marlene: What inspired you to make goblins your heroes for this series? Goblins are normally the bogey-men of children's tales. It was an inspired choice, but an unusual one.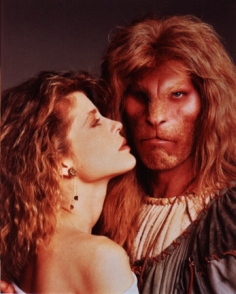 SH: I've always loved Beauty and the Beast, so the idea of having a beastly looking, cursed hero seemed like a good idea. That he be a goblin was one of those 2am ideas that stuck. In the Shadowlands series goblins are still evil and scary, it's what Roan and his men would become if they don't break the curse…it's what Meryn became.
Marlene: And what attracts you to write on the dark side? Your signature books, The Shadowlands series, The Arcane series, and the new series coming this summer, are all very dark-themed.
SH: I've had few people ask me this (usually accompanied with 'but you look like such a happy, normal person' O.o). And I don't have a really good answer; I just find those types of stories interesting and I write what I want to read. I like my characters to struggle and grow, to be exposed to the darkness in themselves and overcome it. I want love to shine the light and lead them.
Marlene: What can we expect of For the Love of a Goblin Warrior?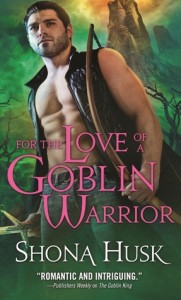 SH: It's more of a 'you can take the man out of the Shadowlands but you can't take the Shadowlands out of the man' story, than the previous two books. Living as a goblin for nearly two thousand years is going to have an effect, overcoming that and breaking free is Meryn's journey in the story. There are nightmares and goblins, magic and romance…and a mystery to solve regarding Nadine's mother.
Marlene: What is your favorite scene from the book and why?
SH: I think it's the moment she realizes what he is—or was. They're falling in love, they've slept together and in his house she finds something that unravels his secret. She's horrified, they fight and she leaves. Meryn is gutted. It's an emotional scene.
Marlene: Could you introduce us to the hero and heroine of For the Love of a Goblin Warrior?
SH: Meryn was mentioned in The Goblin King as the man who'd given into the curse. A warrior and devoted family man, he has a lot of heart and isn't afraid to love again—once he's worked out how to be human. Nadine isn't sure she believes in love. She grew up in foster care after her mother's murder and her father's imprisonment. While she knows about goblins from the stories her mother used to tell, she could never love one as goblins are bad all the way through…or so she believes.
Marlene: Now can you tell us 3 reasons why people should read your books?
SH: They are dark yet hopeful, there's a guaranteed happily ever after, and the heroes are always wounded/tortured and hot 🙂
Marlene: Could you please summarize For the Love of a Goblin Warrior for us Twitter-style (in 140 characters or less)?
SH: ex-goblin warrior must adapt to modern life. But opening his heart to love also means facing up to his past & not all secrets should be told
Marlene: Will there be more books in this series? What is next on your schedule?
SH: At the moment For the Love of a Goblin Warrior is the last book in the series. The curse has been resolved and for the moment the other men who shared the curse are too recently dead to come back (Fane died in book 2 and Anfri in book 1). Brac died long ago, with honor, fighting the Druid, so when I picture him he's a happy well-adjusted person—who might collect coins and be in the defense force :).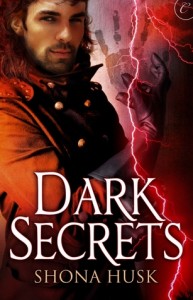 In February, Dark Secrets (weird west romance) is released and in May, Lunar Exposure (erotic sci-fi) and Ruby's Ghost (paranormal romance) both come out. July is The Outcast Prince, which is the start of a new series that explores the Fairy Court of the Underworld, the struggle for the throne and the heroes who are trying to stop death bleeding through into our world.
Marlene: If you could pick one book to read again for the first time, what would it be?
SH: The Time Traveler's Wife. OMG! I cried so hard at the end. Knowing the ending would spoil a re-read.
Marlene: Tell me something about yourself that I wouldn't know to ask.
SH: I have a seahorse tattoo 😉
Marlene: Morning person or night owl?
SH: Morning person, definitely.
For the Love of a Goblin Warrior by Shona Husk

Centuries ago, Meryn was thought to be utterly lost–all traces of his soul given up to the ravening goblin horde. But with the curse that enslaved him now broken, he must once again learn to walk in the realm of men.

Nurse Nadine Gilbert likes working the night shift to avoid her disturbing dreams, but her mysterious new patient looks hauntingly familiar. Meryn knows he doesn't deserve a second chance, but Nadine brings out his long-buried human side. Telling her the truth about his violent past could destroy their fragile trust. Could she ever believe in the love of a Goblin Warrior?

Buy at:Amazon | B&N | Kobo | Book Depository US | Book Depository (UK)
A civil designer by day and an author by night, Shona Husk lives in Western Australia at the edge of the Indian Ocean. Drawing on history, myth, and imagination, she writes about heroes who are armed and dangerous but have a heart of gold–sometimes literally. Look for the other books in the Shadowlands Series, The Goblin King and Kiss of the Goblin Prince, available now. In July 2013, Shona will begin another dark paranormal series with The Outcast Prince! For more information, please visit www.shonahusk.com.
Sourcebooks and Book Lovers Inc. have generously offered a paperback copy of For the Love of a Goblin Warrior by Shona Husk to one lucky commenter!
All you have to do is answer Shona's question:
Do you like the idea of a beastly, cursed hero?
(You can read our full giveaway policy here)
Please be sure to include a valid email address in the comment form (need not be in the actual body of the comment).
This giveaway is open to all!

Giveaway ends on

Saturday, February 2, 2013

and we will announce the winner on Sunday.
Good Luck