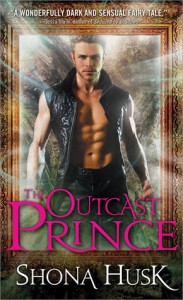 Format read: ebook provided by NetGalley
Series: Court of Annwyn, #1
Genre: Paranormal Romance
Release Date: July 2, 2013
Number of pages: 320 pages
Publisher: Sourcebooks Casablanca
Formats available: ebook, mass market paperback
Purchasing Info: Author's website | Goodreads | Amazon | B&N | Kobo | Book Depository US | Book Depository (UK) | Publisher's Website
Caspian Mort can feel the history in anything he touches, a gift he inherited from his father, the Crown Prince of Annwyn. Devastated over his ex-wife's infidelity, Caspian has withdrawn from human contact except when working as an antiques dealer.

While assessing the contents of the historic Callaway House he encounters the beautiful Lydia Callaway and senses that her home is haunted by a banished fairy. But what does the dangerous exile want? Unbeknownst to Lydia, she's the owner of the last remaining portal to Annwyn—a mirror hidden somewhere in the house. To keep Lydia safe, Caspian will have to divulge the secrets of his heritage, and risk losing his heart again.
My Thoughts: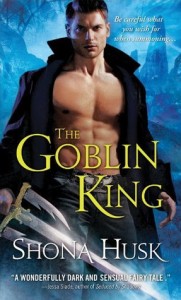 Like Shona Husk's previous Goblin King series, The Outcast Prince takes us back to the darker side of the fairy tales.Very much the grimmer side of Grimm's. You know what I mean, the legends that say don't eat or drink anything when you're in the fairy kingdom or you'll be stuck there.
In Shona Husk's version of the tales, Disneyfication of what should be very powerful and scary magic has just taken away what used to be useful knowledge and defensive strategies. Fairies in this tale are not tiny, cute and helpful sprites. Well, not unless they chose to be. and not unless they're bargaining for something. Like your soul.
Fairies are more like Niall Brigant, Sookie's great-grandfather in the Sookie Stackhouse series. Immortal, otherworldly, and mostly coldly calculating. A being who is playing a long and convoluted political game where humans are beneath notice if they are lucky, or easily sacrificed pawns if they are not.
The machinations of the fairy court in The Outcast Prince seem a lot like those in Yasmine Galenorn's Otherworld series, Julie Kagawa's Iron Fey, or even the sheer bloody-minded backstabbing of Laurell K. Hamilton's Meredith Gentry series, without the indiscriminate sex.
I digress. Yes, I know. Frequently.
The outcast prince in the story is actually a half-blood fairy who was born in our world. It makes him a slightly magical person with some talent and a little more grace than he would otherwise have. Caspian Mort is also more handsome that he might naturally have been. (It clearly helps to have a fairy prince for a father).
And that's the problem. His natural father was a real fairy prince who "glamoured" his mother into having sex with him. His already married mother. So even though dear old dad could have maintained that glamour and brought Caspian and his mother to the Fairy courts, he didn't. He seems to have loved the woman just enough to let her be happy with her husband.
He's loved his unacknowledged son enough to give him a literal fairy godmother and keep him safe by keeping him secret. Being the son of the prince would make Caspian a political target of forces he doesn't have the power to defend himself against.
But fate forces everyone's hand. A magical artifact is missing. One that could change the balance of power in the courts. The fairy gift that Caspian has manifests is psychometry; he can see the history of any object he touches. The object is lost in our world and Caspian is the only one who can find it.
Caspian's reinvolvement in the world of the fae is our introduction to the dangerous kingdom. As he is drawn further in, we understand both why he is so reluctant, and what makes the fae so tempting to mortals and half-bloods alike.
Caspian is both compelled to become involved, and saved, by falling in love. His gift of psychometry has led him to the appraisal of one of the coolest historical houses ever, and the owner of the house is a woman he discovers that he might be able to tell the truth about himself.
She should run far away from him. When she stands by him, she grounds him to the human world. It might even be enough to save his soul.
Verdict: The love story between Caspian and Lydia develops slowly. Not that they don't have heat together from the very beginning, but they are wary of involvement. He can't reveal what he is, and she's been burned by too many people who are just interested in the notorious history of her family. They both step out of their comfort zones to get close to get sexually involved with each other (and it's hot!) but trusting each other emotionally is way more difficult.
The story works well in that they both have extremely unconventional family histories that are slowly revealed, not just to the reader, but also to themselves and to each other. There are multiple voyages of discovery that they share and it helps them understand and reach toward each other.
Husk's version of fairy is dangerous and fascinating. The courts are in turmoil, and that turmoil is affecting our world. Caspian's princely father is the heir to the throne, but he can't inherit unless he marries. His father is ready for him to inherit, but his mother is scheming and backstabbing to prevent it. It is her traitorousness that causes, not just this story, but scores of plagues that have arisen in our world.
Caspian's father can take over if he finds a woman worthy of being his queen. She must be human, because the fae are only fertile with humans. The interesting thing is that he doesn't want to pick just anyone to end the current problem, because that's what his father did. 500 years from now, give or take, he's afraid the woman will just hate him the way his mother hates his father, and look how that ended up. Felan is hoping for a better way. Meanwhile, he schemes.
I enjoyed Husk's introduction to the Courts of Annwyn and I'm looking forward to the rest of the series.

I give  The Outcast Prince by Shona Husk 4 dark stars!
***FTC Disclaimer: Most books reviewed on this site have been provided free of charge by the publisher, author or publicist. Some books we have purchased with our own money and will be noted as such. Any links to places to purchase books are provided as a convenience, and do not serve as an endorsement by this blog. All reviews are the true and honest opinion of the blogger reviewing the book. The method of acquiring the book does not have a bearing on the content of the review.
▲