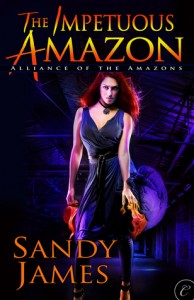 Format Read: ebook provided by NetGalley
Number of Pages: 261 pages
Release Date: January 14, 2013
Publisher: Carina Press
Series: Alliance of the Amazons #2
Genre: Fantasy Romance, Paranormal Romance
Formats Available: ebook, audiobook
Purchasing Info: Amazon | B&N | Kobo | Author's Website | Publisher's Website | Goodreads
Book Blurb:
Megan Feurer is strong and impetuous, like the Fire element she represents. She is an Amazon, sworn to protect humanity from demons, demigods and all manner of supernatural beings who wish ill upon the world. But her fire burns hot and fast, and her unpredictable control of the element brings into question her fitness as an Amazon.

Johann Herrmann chose the life of a Sentinel—a trainer of the four Amazons—to save his sister's life. Now bound to the patron goddess Rhiannon, he knows his duty demands a solitary existence. But when he's assigned to evaluate the Fire Amazon, his sacrifice becomes much more difficult.

Megan's passions ignite a flame that neither she nor Johann can control, and the goddess Freya has reason to fan those flames. A mysterious force is gaining power, and Megan and Johann must join together to fight. And once a passionate fire has started, it's nearly impossible to stop…
My Thoughts:
First of all, the patron goddesses seem to run through their sentinels awfully fast. So far two sentinels down, and still two amazons left to go. I'll bet that we find out what the recruitment process is for sentinels in the next book.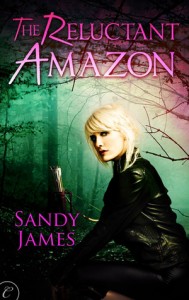 Megan Feurer's Fire Amazon is the opposite of Rebecca Massee's Earth Amazon from Sandy James' first book in this series, The Reluctant Amazon (see BLI review). And it's totally appropriate. Earth is supposed to be, well, grounded. And fire is so, not.
The problem the story has to solve is that Megan seems to have zero control over her fire. Normals aren't supposed to know that there is supernatural evil out there. Megan took out a demon in a mall. With a sword. Seriously. The number of memories that had to be wiped was astronomical.
Torchwood wouldn't have enough ret-con to deal with this girl. No matter how many righteous hits she laid down. She's just too public about it.
The patron goddesses send the second sentinel to teach her some control. And to keep an eye on her. Because the alternative is to send her back to the mundane world minus two years' worth of memories. Talk about sucky alternatives!
Sending the sentinel to train an Amazon is normally the best way to go about this sort of thing. Not that it happens often. But then again, this situation is so far from normal it's not even in the same universe as Amazon normal, and that's saying quite a lot.
The goddesses send Johann Herrmann to teach Megan some control, while the two of them investigate the case of a missing young woman with ties to the Megan's patron goddess Freya. Nothing is ever as simple as it seems.
Johann is one of the causes of Megan's loss of control. Amazons are not supposed to fall for their sentinels. And very definitely vice-versa. But since Earth Goddess Rhiannon let the last sentinel have his own happily ever after with the new Earth Amazon Rebecca, no one is quite sure where that stands anymore. Except that Rhiannon is a jealous witch and probably won't let anyone else have any fun. She's still a bit mad about Artair.
Not to mention she and Freya are not exactly best buds. Goddesses have eternity to score off against one another, and do they ever!
The missing girl that Megan is supposed to find? It's not one missing girl, it's lots. And lots. There's a new badass in town. Except he's a very, very old badass, with hypnotic powers. And he's aiming for Megan.
He'll get her, too. If Megan and Johann don't break all the goddesses' rules. With a little help from Freya.
Verdict: Where The Reluctant Amazon was the worldbuilding story, The Impetuous Amazon is fortunate that the scaffolding is already in place, and is able to just tell its story without having to create its world. We already know how things work here. That helps things get rolling, because Impetuous starts pretty darn impetuously, directly after the events in Reluctant. And I think you need to have read the first book for the second one to make sense. YMMV.
Megan's problems with control relate to her lack of training, because the previous Fire was killed in the first book. Freya's is honked off at Rhiannon because Rhiannon seriously bent the rules in book one. She feels like she can bend them too. And the villainy of the villain is definitely related to book 1.
I was so, so glad to NOT see the insta-love come out to play again. This story takes place two years after the beginning of book 1, so Megan and Johann have known each other that long. They both say that they've been interested in each other that long, in spite of rules against any relationship. They both talk about acting extra cold and extra-snippy to each other because that was the only way to deal with the attraction. Then Freya threw a monkey wrench into the works.
On the other hand, if all four of this generation of Amazons turn out to be goddess-daughters, that's going to constitute serious buzz-kill. Once could be written in, twice started to stretch the old willing suspension of disbelief. Four is going to be well past over the top. That's my personal opinion.
On my third and final hand, the scene where Johann asks Artair how he manages to let Rebecca fight, and Artair's response, was absolutely beautiful. It reminded me of that fantastic saying that "men of quality are not threatened by women of equality", but it was much, much better than that. Awesome stuff.
Freyr, Freya's brother, lends a helping hand in this one, and makes everyone nervous when he does. He reminds me of Morden on Babylon 5. As Vir said, "Some gifts come at just too high a price." In Freyr's case, we haven't seen the price yet. But I don't think the good guys, including Freya, are going to like it when the bill is presented.
Can somebody please give me a chorus of "hunka hunka burnin' love"? You'll get it when you read the book.


I give The Impetuous Amazon by Sandy James 3 and 1/2 fiery stars.
***FTC Disclaimer: Most books reviewed on this site have been provided free of charge by the publisher, author or publicist. Some books we have purchased with our own money and will be noted as such. Any links to places to purchase books are provided as a convenience, and do not serve as an endorsement by this blog. All reviews are the true and honest opinion of the blogger reviewing the book. The method of acquiring the book does not have a bearing on the content of the review.
Sandy James

has generously offered an ebook copy of

The Impetuous Amazon

to one lucky commenter!
All you have to do is answer her question:
If you could have one superpower, what would it be?
(You can read our full giveaway policy here)
Please be sure to include a valid email address in the comment form (need not be in the actual body of the comment).
This giveaway is open to all!

Giveaway ends on

Saturday February 2, 2013

and we will announce the winner on Sunday.
Good Luck!