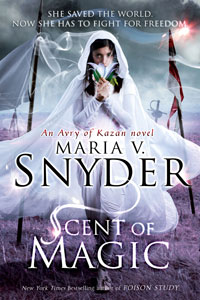 Format Read: eARC from Netgalley.
Number of Pages: 414 pages
Release Date: December 14, 2012.
Series: Healer #2.
Genre: Urban Fantasy.
Publisher: Mira.
Formats Available:  ebook, paperback
Purchasing Info: Author, Goodreads, Powells, Book Depository.
Book Blurb: 
As the last Healer in the Fifteen Realms, Avry of Kazan is in a unique position: in the minds of her friends and foes alike, she no longer exists. Despite her need to prevent the megalomanical King Tohon from winning control of the Realms, Avry is also determined to find her sister and repair their estrangement. And she must do it alone, as Kerrick, her partner and sole confident, returns to Alga to summon his country into battle.

Though she should be in hiding, Avry will do whatever she can to support Tohon's opponents. Including infiltrating a holy army, evading magic sniffers, teaching forest skills to soldiers and figuring out how to stop Tohon's most horrible creations yet; an army of the walking dead—human and animal alike and nearly impossible to defeat.

War is coming and Avry is alone. Unless she figures out how to do the impossible … again.
My Thoughts:
I LOVED Avry's adventures in Touch of Power, and was desperately awaiting the next chapter for almost a year when Mel told me it was up on Netgalley. (Thanks Mel!)
Did Scent of Magic live up to it's predecessor?
Yes and no.
Like Touch of Power, Scent of Magic takes place in a vividly rendered post-apocalyptic fantasy world. A world recovering from the horrific plague (and subsequent genocide) that eliminated all but one partially trained medical worker. A healer whose powers make her a pariah on society (see above re: genocide). A woman who is deeply coveted by the various warlords quibbling over the ruins of several kingdoms.
This is not a series to jump into midstream. But for those who read and enjoyed Avry in book 1, Scent of Magic is a must read. We get a deeper insight into the the political ramifications of the plague, spend time up-close-and-personal with all the egos vying for control, and infiltrate the subjugated populations only too happy to wage war on their neighbors if it'll bring back a vestige of infrastructure. (Very reminiscent of all the peons willing to pledge themselves to Randall Flagg in The Stand. He turned the power back on! Never-mind the regular public executions.)
On its own, Avry's journey into the medieval fantasy version of a world war is brilliant and engrossing. She completely kick ass.
Unfortunately, Maria V. Snyder fell a wee bit too in love with the Dues ex Machina she employed at the end of Book 1 to keep Avry alive.
It basically eliminates any emotional risk for the readers. Oh that beloved character died? No worries! They'll be back in the next chapter. Or the next book. Just to keep you on edge – and give the characters enough time to dust off the magical Venus Fly Trap.
Bad people, however, stay dead. It's not like just anyone can harness the necessary contrivances to resurrect their loved ones.
The book would have worked just as well without any of the aforementioned Lazarus-properties. You know why British and Canadian TV kicks ass? Because characters actually die. Stories are more real when there are actual consequences, and guess what? Death is an integral part of any war.
I give Scent of Magic 3.5 stars. You lose a star for superfluous Dues ex Machina. I might have overlooked it if the author didn't set up book 3 for such a bloody obvious opening to use it again.  Yawn. Alas, she did not ask me to Beta read, so we're stuck with the contrivalicious. (And yes, that is a word. Just ask A Girl and her Fed.)


****FTC Disclainer. Most books reviewed on this site have been provided free of charge by the publisher, author or publicist. Some books we have purchased with our own money and will be noted as such. Any links to places to purchase books are provided as a convenience, and do not serve as an endorsement by this blog. All reviews are the true and honest opinion of the blogger reviewing the book. The method of acquiring the book does not have a bearing on the content of the review.