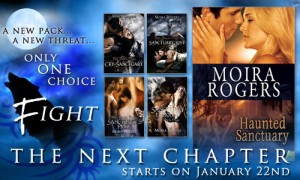 We are delighted to welcome back Moira Rogers to BLI today for the next stop of their blog tour in celebration of the release of Haunted Sanctuary, the first book of the Green Pines series. Haunted Sanctuary is published by Samhain and available now in digital format from multiple outlets. Be sure to check Moira's generous Giveaway details at the end of the post! 🙂
About the Authors:
Moira Rogers is two people, a pair of best friends who collaborate to the extent that sometimes they might as well be one person. (Or perhaps share one brain between the two of them.)
How do you make a Moira Rogers? Take a former forensic science and nursing student obsessed with paranormal romance and add a computer programmer with a passion for gritty urban fantasy. Toss in a dash of whimsy and a lot of caffeine, and enjoy with a side of chocolate by the light of the full moon.
By day, Bree and Donna are mild-mannered ladies who reside in the Deep South. At night, when their husbands and children are asleep, they combine forces to unleash the product of their fevered imaginations upon the page. To learn more about this romance writing, crime fighting duo, visit their webpage. (Disclaimer: crime fighting abilities may appear only in the aforementioned fevered imaginations.)
Take it away Moira!
THE BACKSTORY
From the time we announced the final Red Rock ebook in 2009, people have been asking us when we'd go back to the Sanctuary world and write more about werewolves and their witch rivals. In the beginning we didn't want to return–we had our four books and our two prequel novellas, and those were the stories we had to tell. But people kept asking, and we kept saying, "Well, what if…okay, no, but maybe if…"
A watched pot never boils, and I'm starting to think a watched plot is the same way. The harder we tried to force ourselves to come up with the right story, the more they slipped away. Finally we set the idea aside for a while, reluctantly admitting that maybe it had been too long in any case. We'd missed our window. It was time to work on other–
BOOM! That was our idea, knocking us head over heels. It hit us so hard we sat down and wrote Haunted Sanctuary instead of the book we were supposed to be writing. It wasn't the story we'd originally imagined. It takes place in a new town, with a new cast of characters, and is set several years after the end of Red Rock Pass. You don't have to be familiar with any of the previous books to pick up Haunted Sanctuary…
…but hey. Any excuse to give away books is good for us!
THE BLOG TOUR
Thanks to the generosity of Samhain Publishing–and with the assistance of many awesome bloggers–we get to spend the next twenty days giving away 80 ebooks! Those of you who haven't read the Red Rock Pass books will have twenty different chances to win the entire set in the ebook format of your choice.
In honor of that, we're going to be revisiting some of our favorite scenes from each of the four books…and maybe showing a few sneaky peeks at the next chapter in the Sanctuary Universe!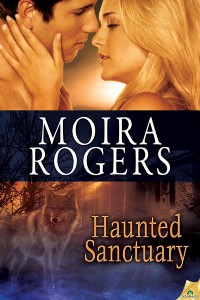 Length: 191 Pages
Genre: Paranormal Romance
Series: Green Pines, Book 1
Release Date: January 22, 2013
Publisher: Samhain Publishing
Formats Available: ebook Kindle, Nook
Purchasing Info:Author's Website, Publisher, Goodreads, Kindle, Nook, iTunes, Kobo, Books On Board, Sony
Book Blurb
Eden Green can't remember a time she didn't believe in monsters—her cousin was born one. Her family's dark past casts a long shadow, making it hard to make friends and harder to commit to a lover. She lives a quiet life in small-town Clover, Tennessee, but she's always waiting for the other shoe to drop.

Tired of the city packs' corruption, yet too alpha to be a subordinate in a sanctuary town, Jay Ancheta satisfies his need to protect by serving as Clover's Chief of Police. As much as he's drawn to Eden, he can't offer forever to a woman who doesn't know what he is—or trust himself to let her go after one taste.

When Eden's cousin and his battered pack stagger into town, their tormentors hard on their heels, Eden is bitten in the chaos. Now Jay not only has a traumatized pack to deal with, but a newly turned wolf with enough hungry alpha power to consume them both.

With their combined strength, they can create a new sanctuary—if their passion can survive the ghosts of the Green family's legacy.

Warning: Contains a newly turned werewolf heroine who enjoys a little rough dominance in bed and a badass alpha wolf hero who'll fight bad guys, ghosts and even the past to protect what's his. Be prepared for violence, death and heartbreak on the way to a happily ever after.
TODAY'S SNIPPET
Haunted Sanctuary: The First Kiss
aka We Just Got a Little Romeo & Juliet Up In Here
Okay, I'll admit…Romeo and Juliet are probably not my usual inspiration when it comes to touching romantic moments. As much as I love star-crossed lovers, I prefer they not be so star-crossed that everyone ends up dead at the end. (Spoiler alert! Uhm, maybe.)
But who doesn't love a climb-up-to-my-window moment? Okay, the window is at the town library and the trellis is more of a rickety fire escape, but this might be one of my favorite first kisses in the Sanctuary universe. What started as a distraction turned into a serious defining moment for both Jay and Eden…even if it was somewhat precarious. And public.
* * *
His cell phone rang. He answered it absently, his eyes still fixed on a transcript from a 911 call. "Ancheta."

Eden's voice spilled out in a terrified whisper. "Jay? I need help."

He straightened and tossed the file aside. "What's wrong?"

"I can't breathe. I can't—" A raspy noise followed by a groan. "I was in a budget meeting and I lost my temper. Just lost it, and I feel like I'm being torn up from the inside."

His hand trembled, and it took him two tries to shove the key into the ignition. "You're at the library?"

"Yes. In my office. I had to use my cell phone and earpiece to call you. I broke my office phone when I picked it up."

"Don't move, and don't open your door. I'll come up the back exit and get you, okay?"

"Okay. Thank you. Thank you, Jay."

He pulled out onto the street. "Don't thank me. Just breathe, and I'll be there in a few minutes."

She let out a choked little laugh. "My coworkers have to think I was drinking at lunch. I acted crazy."

"Stress." Jay slowed at a red light, and was just about to roll through it when it turned green again. "They'll chalk it up to you working too hard."

"Maybe." Eden's voice dropped to a whisper. "Or they'll find out Zack's back in town and blame it on him."

"I won't let them do that. Anyone who has a problem with your family can come to me."

He had to listen to a few of her short, pained breaths before she spoke again. "Is there something wrong with me? Should I be able to handle this?"

"There's nothing wrong with you." But she would need to hear more. "Some people handle the transformation like it's nothing, and other folks never get a handle on it. You're doing good, Eden."

"I'm not doing enough. Lorelei… She hurts, Jay. She hurts so much, and I'm not helping. I think that's why I can't breathe. I'm so angry."

Jay cursed silently. There was precious little he could do for Eden from behind the wheel of his speeding truck. "It'll be better once the full moon is past."

"Okay. Okay, I can make it that long." Something clattered in the background. "I can even—"

"Eden?" His phone beeped as it dropped the call, and he threw it on the seat with a vicious curse. "Fuck."

He should have kept her with him. He should have warned her that maybe she should stay out at the farm, take some time off. Anything to keep her from hiding in her office, cowering like a hurt animal.

He'd fucked up, and now he could only hope Eden didn't suffer for it.

He pulled onto the narrow street behind the library and braked hard, his truck coming to a halt with a shuddering screech. He couldn't go up the side stairs without someone seeing, so he jumped up, grabbed hold of the ladder to the fire escape and pulled it down.

The noise must have roused Eden. By the time he reached her window, she was struggling to open it, her teeth cutting into her lower lip as she concentrated on turning the locks like it was the hardest task she'd ever set for herself. "I broke the phone," she said as she eased the sash up with shaking hands. "I'm afraid to touch anything."

No time to climb inside, not with her eyes so wild and her skin burning. Jay grasped her hands to his chest. "Look at me, Eden Green. Now."

The command stirred her wolf. Power gathered beneath her skin, all that wildness finding a focus in challenging him. Eden's gaze snapped to his, her blue eyes already melting to glowing gold.

He cupped the back of her head and dragged her mouth to his.

A growl worked up her throat, low and warning, but in the next second her mouth opened under his. She slapped both hands to his shoulders, dragging him closer.

Arousal, intense and instantaneous. Jay took the invitation of her open mouth, sliding his tongue over hers before nipping at her lower lip. She whimpered and tilted her head, chasing his tongue with hers. Her fingernails dug into his back as she pressed against his chest.

Her nipples were hard. Without thinking, he cupped her breast through her shirt and rubbed his thumb over the taut peak.

She moaned and arched her back, pushing her breast closer to his hand. Her mouth tore free of his, and she dropped her head back, offering her throat in a moment of unrestrained hunger.

Jay leaned in and shuddered to a stop a heartbeat before closing his teeth on her skin. "Eden."

Her breath whistled out through her teeth. "Oh my God."
Where to find Moira:
Website | Moira Rogers (Bree) Twitter | Moira Rogers (Donna) Twitter | Facebook
~~~~~~~~~~~~~~~~~~~~~~~~~~~~~~~~~~~~~~~~
~*~*Giveaway*~*~

Leave a comment to if you'd like to be entered to win a set of the Red Rock Pass ebooks! And keep an eye open for the new book, Haunted Sanctuary, on sale now from Samhain Publishing!
(You can read our full giveaway policy here)
Please leave us a way to contact you.
(Email in blogger profile or twitter name – no way to contact you – no entry).
Giveaway ends on Saturday, February 16, 2013; and we will announce the winner on Sunday.
Good luck!