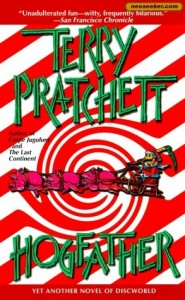 As all true Book Lovers know, there is a fine line between love and addiction. Gift-giving is perfect for leaping right over that divide and shamelessly pushing books on people. Why should your friends and family members have tidy houses utterly lacking in books for you to pillage and/or mercilessly judge?
No reason at all.
Getting an education was a bit like a communicable sexual disease. It made you unsuitable for a lot of jobs and then you had the urge to pass it on.
Susan Sto-Helit understands me. Just substitute "reading" for "education."
We often ask Guest Authors and Guest Posters what the difference is between a book lover and a run-of-the-mill reader. The answer is really quite simple: The true book lover cannot fathom a world without books, and as such, is constantly pushing them on others.
However, It can be a bit difficult to have a book on hand for every occasion. Unlike the end-of-the-year holiday of extreme capitalist aggression, most events sneak up on us without the benefit of weeks of heavy advertising. Over the years I've determined that it is essential to keep your bookshelves stocked with Books For Other People.*
So, without further ado, I present: Books For Every Occasion in 2013.
[youtube http://www.youtube.com/watch?v=N8xCgC3w1zs]
Did I miss any important occasions you need suggestions for? Ask me in the comments! Do my fellow Book Lovers push books on people at every opportunity? Do you stockpile gift books so you're ready at a moment's notice? Or do I need an intervention?
*Bonus point for anyone who realized that Books For Other People do not have to be hidden from judgmental parental units or significant others. Rather, Books For Other People make you look thoughtful and considerate year round. And provide a perfect hiding-in-plain-sight approach to smuggling in personal purchases.