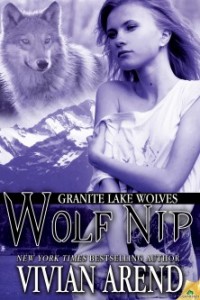 Format Read: e-ARC provided by Novel Sidekick courtesy of Author for Review
Length: 117 Pages
Series: Granite Lake Wolves, Book 6
Genre: Paranormal / Shifters / Erotic Romance
Release Date: February 12, 2013
Publisher: Samhain Publishing
Formats Available: eBook, Kindle, Nook
Purchasing Info: Publisher, Author's Website, Kindle, Nook, iTunes, Goodreads.
Book Blurb:
Cat got your tongue?

Tessa Williams is looking to make her mark outside the family business, and the unusual landlocked paddle wheeler she spots in Haines, Alaska, strikes her as the perfect location. Only the owner is being difficult, refusing to sell. Still, she's sure that replacing her written queries with a little in-person charm is all she'll need to shortly have her Eco-tour B&B on the road to success.

Local wolf-slash-owner of said vessel, Mark Weaver, isn't hanging on to the landmark building out of spite. There are more reasons for holding back the sale than are easily explained on paper. A face-to-face meeting to resolve the matter only confounds it—when Mark recognizes Tessa as his mate.

But she's a cat…and cats don't do insta-mates.

The sexual attraction between them isn't in question, just everything else. He wants her. She wants twue wuv. His wolf can't figure out what the holdup is. Her cat thinks the entire situation, and the pack, are rather amusing.

Somewhere in here is the beginning of a beautiful relationship—if they don't drive each other mad.

Warning: One hyper cat, one laid-back wolf. Inappropriate use of permanent markers, and a heaping side dish of cat/dog jokes. Shenanigans (read: nookie) in front of a roaring fire. Spiced liberally with sarcasm. Enjoy!
My Thoughts:
You can always expect a good time when reading a Vivian Arend's wolf shifters story. The Granite Lake shifters are an especially fun-loving bunch who enjoy life to the fullest. Book 6 in Arend's series matches wolf shifter Mark Weaver with the high strung, success motivated cat shifter Tessa Williams. We met Tessa in the previously published Wolf Line when she supported her best friend Keri during the antics inherent to her shipboard romance with Jared.
Tessa is determined to establish a Bed & Breakfast offering excursions to visitors and has her eye on Mark's unique inherited paddle wheeler home. Tessa submits an offer to Mark to sell but he is unable because of stipulations regarding ownership of the family property. Mark has a counter proposal which he sees as ideal as he has identified the bouncy, impulsive Tessa as his mate. The wrench in the whole mating forever is that Tessa is a cat and doesn't have the immediate "we are meant to be together thing" going on. Tessa wants to mate for love. Mark therefore makes her a joint-business offer she can't refuse and sets about to woo said cat in the sweetest of ways.
I loved both these characters. Mark is kind, very hard working and absolutely devoted to Tessa. In Tessa, Arend develops a stellar cat shifter, she moves like greased lightning, speeding around the paddle wheeler in the blink of an eye, bouncing on her feet and loves making dog jokes. Their romance is endearing and special, Mark is respectful of Tessa's need to be head-over-heels in love before she mates. The sexual attraction burns between them and it's especially potent for Mark who battles with his wolf who is desperate to have his mate. Tessa's cat is unsettled but she doesn't quite get what is wrong with her other half.
Keri and Jared make an appearance so we learn how their relationship is progressing. As well there is the visit to the Granite Lake wolves pack house where a particularly aggressive female has something to say about a cat shifter in their midst poaching one of their eligible males. Tessa handles that issue in an absolutely hilarious way.
Can a wolf and a cat mate and share all the special benefits that two wolves do? Well, you may like to give Wolf Nip a try and find out. 😉 Wolf Nip is a quick, fast paced read and my favorite of Vivian Arend's shifter stories to date. This story can be read as a standalone but it will make you want to catch up on the series.
Oh, and by the way–the Samhain warning for this one? Perfect! 🙂
I give WOLF NIP 4.5 Stars

***FTC Disclaimer: Most books reviewed on this site have been provided free of charge by the publisher, author or publicist. Some books we have purchased with our own money and will be noted as such. Any links to places to purchase books are provided as a convenience, and do not serve as an endorsement by this blog. All reviews are the true and honest opinion of the blogger reviewing the book. The method of acquiring the book does not have a bearing on the content of the review.