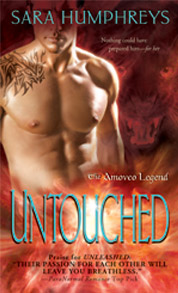 Format Read: Paperback purchased by reviewer.
Length: 320 Pages
Genre: Paranormal Romance
Release Date: April 3, 2012
Publisher: Sourcebooks
Formats Available: Paperback, Kindle, Nook
Purchasing Info: Author's Website, Amazon, Barnes & Noble, Books-A-Million,, Powells, Goodreads, Indiebound, The Book Depository, Kindle, Nook
Book Blurb
An ancient race of shapeshifters has lived secretly among humans for thousands of years…they are…the Amoveo

SHE SHOULD BE SEEN, BUT NEVER TOUCHED…
Kerry Smithson's modeling career ensures that she will be admired from afar, which is essential since mere human touch sparks blinding pain and terrifying visions.

EVERY GOOD MODEL NEEDS A HEAVENLLY BODYGUARD…
Dante Coltari is hired to protect Kerry from those who know who she is—or more importantly what she is—and want her dead because of it. Nothing could have prepared him for the challenge of keeping her safe. But, strangely, his lightest touch brings her exquisite pleasure rather than pain, and Dante and Kerry have an otherwordly connection that might just pull them through.
My Thoughts:
Kerry Smithson is considered the fashion industry's "it girl", when working as a model she knows how to work the camera and her face is recognized the world over.   Kerry travels extensively and the medial refers to her as the "ice queen" because of her refusal to engage in any physical contact with other people, she could actually be considered quite reclusive. Her avoidance of touching other humans is for good reason—Kerry is a telepath so when she touches a person's skin she can see their innermost thoughts: good, bad or evil, and feels excruciating pain in the aftermath. Kerry has one friend in the world, Samantha, who she is able to touch without visions or pain. When Kerry touches Sam, she sees a huge wolf.
Dante Coltari owns a security company and has been hired by his good friend Malcolm and his bride Samantha to guard Kerry during her next shoot taking place in New Orleans. Kerry is none too pleased about having the very tall, formidable man as her bodyguard. If you read Unleashed, the first book in the Amoveo series you will know Dante, like Malcolm and Samantha, is a shifter and there is a back story with regard to the reason they are concerned about Kerry's safety. Sara Humphreys has developed clans for her shifters, which coincide with a specific animal. Dante shifts into a fox, Malcolm a hawk, and so on. While Dante and Malcolm are pure blood Amoveo, Samantha is a hybrid: half human and half shifter, however she possesses the same considerable powers as the pure bloods.
Amoveo shifters begin to dream of their mates post adolescence and must find and mate with that special someone by the time they turn 30 or they face a long and painful death. The clock is ticking for Dante, he has felt his mate in the dream realm but has been unable to identify her or connect with her. When he sees Kerry for the first time, he immediately recognizes her as his. It seems, Kerry like Samantha is a hybrid and the challenge is to convince the unsuspecting, antagonistic model that they are destined to be together.  However, when Kerry finds she experiences pleasure when Dante touches her, the ice-queen begins to thaw.
I quite liked Kerry, Humphreys paints a portrait of a very lonely woman who has been forced to endure a life devoid of human contact save for Samantha. She has adapted, carefully avoiding touch when she is travelling or in contact with many people as a result of her work. As well she has developed a powerful psychic shield that Dante gradually breaks through. Dante is an appealing, protective alpha hero with a very sensual aura. The eroticism is very light in this novel but there is significant sexual tension and chemistry between the protagonists:
His mouth curved slowly into a lopsided grin as he inched his massive frame even closer to her. Her large brown Avoveo eyes widened as he invaded her space further, bringing their bodies just a breath apart. His blood hummed, and his heart beat rapidly, falling time with hers. Her desire for him spilled over him in warm energy waves, and the temperature increased by the second. His body responded quickly, and his energy matched hers.

Static crackled between them in the air.

She licked her bottom lip nervously, and he wanted nothing more than to taste her. His mind filled with wicked images of her long, lush naked body writhing beneath him. Almost instantly there was a shift in her energy. It came faster and harder. Dante froze. Fear. She was frightened? The last thing in the world he wanted was her to fear him.  

Untouched © Sara Humphreys
Dante and his friends William, Malcolm and Steven are dealing with treachery and betrayal within the Amoveo race. Not all of their people are happy about the discovery of the hybrids; the issue at hand is that if the Amoveo do not join with their destined mate the race is doomed to extinction. A suspense subplot involves an antagonist that is part of the Purists, a group of Amoveo extremists that have no issue with resorting to treachery and violence to keep the race "pure". Dante, Kerry, Malcolm and Samantha are therefore targets for more reasons than one.
I did have a couple of niggles with this story. I found the Amoveo's powers a bit over the top, they are telepaths, they shape shift, they dream-walk and communicate and interact in the dream realm, and, they pop in and out of places using some kind of mental power. Secondly, the antagonist of the tale is called the Punisher which I found eye-rollingly silly, but whatever. There are many meetings and discussions about the bad guys and what they are up to and how to deal with them. I would have liked to have a seen a little more action, and demonstration of the Amoveo battle skills, as they are described as very strong and adept fighters related to their animal side. I will say, I haven't read the first novel of the series, which may have held more action sequences, or at least it alluded to it in Untouched.
Aside from the issues noted above, Untouched was a reasonably good, quick read and the plot moved along at a fast pace with a few surprise reveals. Dante and Kelly had good chemistry and it was nice to see them find happiness. It's suggested readers new to this series enjoy the books in order: Unleashed, Untouched, and Sara Humphrey's latest, Untamed. 🙂

I give UNTOUCHED 3 Stars
***FTC Disclaimer: Most books reviewed on this site have been provided free of charge by the publisher, author or publicist. Some books we have purchased with our own money and will be noted as such. Any links to places to purchase books are provided as a convenience, and do not serve as an endorsement by this blog. All reviews are the true and honest opinion of the blogger reviewing the book. The method of acquiring the book does not have a bearing on the content of the review.