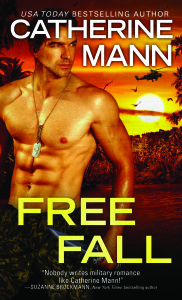 Format Read: digital ARC provided via Net Galley courtesy of Publisher for Review
Series: Elite Force Book 4
Length: 352 Pages
Genre: Military Romantic Suspense
Release Date: March 5, 2013
Publisher: Sourcebooks Casablanca
Formats Available: eBook, Kindle, Nook, Mass Market Paperback
Purchasing Info: Publisher, Author's Website, Amazon, Barnes & Noble, Goodreads, Powell's, The Book Depository, Kindle, Nook
Book Blurb:
Pararescueman Jose "Cuervo" James is committed to his job and not much else. He thought nothing could change that, not even sexy, smart Interpol agent Stella Carson. Their affair burns hot and fast, but family is everything to Stella, and Jose just can't go there. His family demons are too deep, too tenacious.

The demands of their work make it easy to stay away from each other, until a fateful mission deep in the African jungle unexpectedly throws them together. With Stella's life on the line, uncovering the truth about Jose's fears and her tragic past might destroy the spark between them, or gain them a second chance at passion and forever…
My Thoughts:
After landing a job in Interpol's American office as a code breaker Stella Carson set about securing an assignment in Africa. Why? When Stella was 15 year old her mother, an aid worker in the country was killed, supposedly in a car accident. The reported cause of her mother's death doesn't ring true for a variety of reasons and Stella is determined to discover what really happened, maybe then she would feel a sense of closure.
Now, a field operative for Interpol, Stella finds herself commandeering a speedboat through rough waters with four CIA operatives aboard to provide back up in case a helicopter was unsuccessful in picking up the SEAL's and pararescuemen assigned to disable small pirate vessels reaping havoc in the sea off the coast of the Horn of Africa. When things go awry, Stella skillfully maneuvers the speedboat to enable the elite special forces to be pulled from the water. Stella takes a "free fall" into love when she lays eyes on pararescueman Jose "Cuervo" James.
"Need help?"

She turned and there were those coffee dark eyes again. Static-like awareness snapped when she looked back at the intense gaze that had held hers earlier as he'd lifted his facemask. Except now he was more than eyes and a wet suit. He was a lean, honed man in a pair of fitted swim trunks he must have worn under the diving gear. He was glistening bronze with a body trained for survival anyplace, anytime."
Yummy!
Jose and Stella's situation is reversed 6 months later as he and a team of elite forces are flown to a concrete hellhole south of the Horn of Africa to rescue Stella and a group of foreign college students kidnapped by a group of separatists. A whirlwind affair with Stella Carson had ended in a painful breakup but Jose's feelings for her haven't lessened with time, failing to rescue her isn't an option.
Catherine Mann developed an amazing hero in Jose James, as a pararescueman or PJ (Parachute Jumper), he and his team are "like Supermen with EMT bonus powers". These guys are "the best of the best", trained for combat but also go through intense training as paramedics. Jose and his teammates are focused and exceptional at carrying out rescues in the worst of circumstances. However Jose carries a truckload of personal issues along with his rifle and medic supplies. Said personal issues were the source of monumental conflict between him and Stella resulting in their break-up. Despite their relationship disaster it is Jose she calls on when she is thrown into the worst of situations, and you are not going to believe how she sends out the call. I loved this guy, he is sufficiently tortured to make you want to hug him but also fearless, and fiercely protective of Stella, you can feel their love radiating from the pages.
Stella is equally unique, her brilliant logical mind enables her to break and interpret coded messages vital to national security. She is also trained in the use of weaponry and battle ready. Stella does have a soft, feminine side and she ultimately desires a stable home life with Jose at her side, but as she has learned, that isn't meant to be.
Free Fall offers rescue scenes involving death defying feats and action aplenty. Stella and Jose become embroiled in thwarting a heinous plot to kill a high-ranking visiting dignitary along with hundreds of people. Mann gives us a plot riddled with surprises and It the background of the danger, subterfuge and betrayal and endearing heart wrenching love story that caused a lump in my throat more then once. The well-choreographed rescue/action scenes caused goose bumps to rocket up my arms. In addition, we get standout secondary characters both good and evil that add punch to this memorable story.
If you enjoy a high stakes military romantic suspense, you may well like to give Free Fall a try. This is the 4th book in Mann's Elite Forces series, but it can be read as a standalone with no problem.

I give Free Fall 4 1/2 Stars
***FTC Disclaimer: Most books reviewed on this site have been provided free of charge by the publisher, author or publicist. Some books we have purchased with our own money and will be noted as such. Any links to places to purchase books are provided as a convenience, and do not serve as an endorsement by this blog. All reviews are the true and honest opinion of the blogger reviewing the book. The method of acquiring the book does not have a bearing on the content of the review.