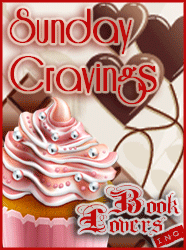 Hello my fellow Book Lovers! How are you? Are you having a pleasant weekend? I hope that you are ready for this week's Sunday Cravings, because let me tell you, we have a lot to share with you tonight! The first week of March is a really busy one with many interesting titles scheduled to hit the shelves. So, no need to wait any longer, let's start!
Caro: Frost Burned by Patricia Briggs
Mercy Thompson returns in the seventh novel in the #1 New York Times bestselling series.

Mercy Thompson's life has undergone a seismic change. Becoming the mate of Adam Hauptman—the charismatic Alpha of the local werewolf pack—has made her a stepmother to his daughter Jesse, a relationship that brings moments of blissful normalcy to Mercy's life. But on the edges of humanity, what passes for a minor mishap on an ordinary day can turn into so much more…

After an accident in bumper-to-bumper traffic, Mercy and Jesse can't reach Adam—or anyone else in the pack for that matter. They've all been abducted.

Through their mating bond, all Mercy knows is that Adam is angry and in pain. With the werewolves fighting a political battle to gain acceptance from the public, Mercy fears Adam's disappearance may be related—and that he and the pack are in serious danger. Outclassed and on her own, Mercy may be forced to seek assistance from any ally she can get, no matter how unlikely.
YAAAAAAAAAAAAAAAAAAY!!!!!! It's that time of the year! Time for a wonderful fix of Mercy's books. I love this series soooo much. I'm excited about it. And this is saying a lot since I'm in a book slump!
Stella: Her Perfect Match by Jess Michaels
She will do anything for him…except surrender.

Vivien Manning, the notorious Mistress Matchmaker, is tired. Tired of the parties, tired of the lovers, tired of being her. So she decides to leave London behind once and for all and start a whole new life.

But before she goes, she must tie up some loose ends, so she makes a list which includes one man she's never been fully able to let go:

Benedict Graystone.

Benedict was broken when Vivien broke off their affairs years ago. So when she comes back into his life… and his bed, he isn't certain of anything except the power of their desire.

But as Vivien moves ever closer to disappearing forever, both of them begin to question if the past can be overcome and if love might be the one loose end that cannot be neatly tied up.

Warning: This book contains scenes of a powerful woman, unafraid of her sexuality, trying to find her way in the world. There is a brief scene of a threesome M/F/M and then one woman falling madly in love with one man. Proceed with caution, a fan and tissues.
I really liked the first two books in the series, and knowing Jess Michaels' writing readers are in for lots of steaminess 😉
Marlene: Blood and Magick by James R. Tuck
Taking out hellish creatures—not a problem. Armed with blessed silver hollow-points and the ability to manipulate magick, he's ready for anything—except betrayal he never saw coming…
Deacon Chalk knows the biggest danger in fighting monsters is becoming one. Just another day at the office for your friendly neighborhood occult bounty hunter. If keeping three helpless were-dog children safe means battling a malevolent trio of witches by any means necessary, so be it. If that means partnering with a ruthless government agent to stay one step ahead of the allies and friends he must now suspect, he's not going to cry about it. The only way Deacon can save humans and shape-shifters alike is to embrace a power beyond his imagining, putting his team at stake—and his soul on the line…
I can never resist another return to the Deaconverse. Deacon Chalk hunts monsters just like the ones that killed his first family. He finances his monster hunting by owning a strip-club, but don't let that fool you. Every single one of those strippers is a monster hunter, too. Along with the priest (who is named after the priest from MASH!) who serves as his second-in-command. Deacon is awesomesauce urban fantasy for those who like it violent, bloody and with an extra helping of gallows humor.
Stella: If You Give a Rake a Ruby by Shana Galen
Her Mysterious Past Is The Best Revenge . . .

Fallon, the Marchioness of Mystery, is a celebrated courtesan with her finger on the pulse of high society. She's adored by men, hated by their wives. No one knows anything about her past, and she plans to keep it that way.

Only He Can Offer Her A Dazzling Future . . .

Warrick Fitzhugh will do anything to protect his compatriots in the Foreign Office, including seduce Fallon, who he thinks can lead him to the deadliest crime lord in London. He knows he's putting his life on the line . . .

To Warrick's shock, Fallon is not who he thinks she is, and the secrets she's keeping are exactly what make her his heart's desire .
With Alisha we really liked the 1st book in the series, When You Give a Duke a Diamond, so we are excited about the second story and the second heroine 😀
Marlene: What Darkness Brings by C.S. Harris
The death of a notorious London diamond merchant draws aristocratic investigator Sebastian St. Cyr and his new wife Hero into a sordid world of greed, desperation, and the occult, when the husband of Sebastian's former lover Kat Boleyn is accused of the murder.

Regency England, September 1812: After a long night spent dealing with the tragic death of a former military comrade, a heart-sick Sebastian learns of a new calamity: Russell Yates, the dashing, one-time privateer who married Kat a year ago, has been found standing over the corpse of Benjamin Eisler, a wealthy gem dealer. Yates insists he is innocent, but he will surely hang unless Sebastian can unmask the real killer.

For the sake of Kat, the woman he once loved and lost, Sebastian plunges into a treacherous circle of intrigue. Although Eisler's clients included the Prince Regent and the Emperor Napoleon, he was a despicable man with many enemies and a number of dangerous, well-kept secrets—including a passion for arcane texts and black magic. Central to the case is a magnificent blue diamond, believed to have once formed part of the French crown jewels, which disappeared on the night of Eisler's death. As Sebastian traces the diamond's ownership, he uncovers links that implicate an eccentric, powerful financier named Hope and stretch back into the darkest days of the French Revolution.

When the killer grows ever more desperate and vicious, Sebastian finds his new marriage to Hero tested by the shadows of his first love, especially when he begins to suspect that Kat is keeping secrets of her own. And as matters rise to a crisis, Sebastian must face a bitter truth–that he has been less than open with the fearless woman who is now his wife.
For those who prefer a more refined type of crime-busting, not to mention the more historic, very little beats C.S. Harris (damn, no relation) take on post-Napoleonic war PTSD and what her tormented hero does with his angst. Sebastian St. Cyr comes back from the war and finds he no longer fits into the society he came from. His inner torment leads him to dark places and to fight dark crimes. The historical background, the mystery and the romance of love lost and found is intense and heartbreaking.
What about your Sunday Cravings? Is this week as busy for you bookwise as it is for us?