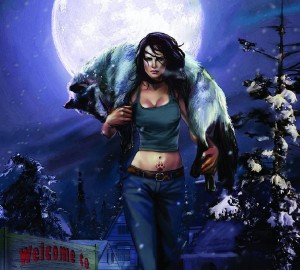 Welcome back to the Book Lovers for the Prevention of Supporting Character Neglect! Where Book Lovers from across the world stand in solidarity for the supporting cast. Those individuals that make the story and keep us coming back even when the protagonist needs a good smack (*cough Buffy Summers cough*). Hear our anthem! Because everyone deserves top billing now and then.
This week we are tossing life-rafts out into Patricia Briggs' Mercyverse. Patricia has already taken great strides to save one of the original supporting cast, with the Alpha & Omega spin off series. Tragically the spin-off (vastly superior to the Mercy books in case anyone was wondering) has only served to highlight just how fascinating all the people not-Mercy (or Adam. or Sam) truly are. This whole series is ripe for a Red Wedding style purge – so we must act quickly!
Caro: When I think of characters who need love, the only one I always go back to is Stefan.  Come on the dude is a vampire with a Scooby-doo van!!! We've learned a lot about him but not nearly enough.  That guy is broken…I want to see him fixed!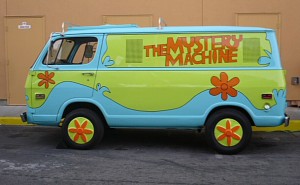 Stefan's bus was painted to match the Mystery Machine, which said a lot about the vampire it belonged to. Stefan told me that he'd briefly considered painting it black a few years ago when he started watching Buffy, but, in the end, he'd decided the vampire slayer was no match for Scooby Doo.
Cass: To be honest, I pretty much forgot about Stefan after the first book. His van was super-awesome, but then he was just an occasional blip on the love-triangle radar. A randomly employed obstacle to Mercy's inevitable HEA with Mr. You-Want-To-Be-Dominated or Mr. Brainwash-a-Child-Into-Loving-Me-So-I-Can-Breed-Her.
Leah, however, has always been very interesting to me. She seems to be universally hated by everyone, even Bran, and yet hasn't really done anything worth that level of disgust. What about her makes her not care?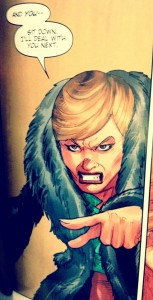 "You"—Leah had turned her attention to Anna—"go sit on the couch. I'll deal with you in a minute."

A prudent woman would have done it, Anna thought regretfully. The woman she had been a week ago would have cringed, sat, and waited for whatever hell would have followed. The Anna who was Charles's mate, who was Omega and outside of the pack order, lifted her chin, and said,

"No, thank you. I think you'd better leave and come back when my"—three years a werewolf but calling Charles her mate sounded wrong, and he wasn't her husband— "when Charles is here." The hesitation robbed her statement of much of its strength.

Sage smiled, her whole face lighting with delight. "Yes, Leah, why don't you come back when Charles is here? I'd like to see that."

But Leah wasn't paying attention to her. Her eyebrows lowered in puzzlement as she stared at Anna. "Sit down," she said, her voice low and rich with a power that once more slid over Anna and did not touch her.

Anna frowned back. "No. Thank you." She thought of something, and before she could stop herself, she said, "I saw Sage at the funeral, but the Marrok was alone. Why weren't you beside him?"

"He had no business there," Leah said passionately. "He killed Carter. And now he pretends to mourn him? I couldn't keep him from going. He never listens to me anyway, does he? His sons are his advisors, all I am is a replacement for his lost love, the incomparably beautiful, self-sacrificing, Indian bitch. I can't stop him, but I won't support him, either." By the time she was finished, a tear slid down her face. She wiped it off and looked at it and then at Anna with an expression of horror. "Oh, God. Oh, my God. You're one of those. I should have known, should have known that Charles would bring something like you into my territory."
Caro: Okay, I'm with you about Leah. She's an awful bitch but I'd love to see some side story. I mean she's mated to the most powerful guy out there. I'd like to see how it got that way.
 "Brother Wolf chose you as my mate the moment he laid eyes on you, and I can only applaud his good sense."

"What would have happened if you had hated me?" He sighed against her hair. "Then we'd not be here. I wouldn't want to end up like my father and Leah."

"He hates her?"

He shrugged. "No. Not really. I don't know." How had they ended up on this subject? "He'd never say anything one way or another, but matters are not right between them. He told me once, a long time ago, that his wolf decided that he needed a mate to replace my mother."

"So what went wrong?" she asked, as her body softened into his.

He shook his head. "I have no desire to ask the Marrok that question and suggest you don't either."
Amanda: Definitely Leah and Bran. Their wolves bonded by their people didn't! That has grounds for a really good romance.  But I also want to know why she's so crazy.
Bran smiled as he hung up the phone. Then he got out of bed and dressed for a drive. He paused outside of Leah's closed door, but what was wrong between them could not be changed. He didn't even want it to change, only regretted that she was so often hurt. In the end he let her be. He didn't leave a note.
Cass: Clearly she's crazy because Bran is a narcissistic asshole who drove her insane. Ruining her entire life? Totally acceptable. She never deserves a chance to be loved, respected, or happy. At least not so long as it suits him. I just can't fathom why she puts up with it. Do werewolves have divorce?
He entered his house quietly and eased up the stairs.

Leah wasn't in her room. He knew, before he got to his door, that she was sleeping in his bed. Silently, he let himself in and shut the door behind him.

Curled up on his side of the bed, she hugged a pillow. Tenderness welled up in him; asleep she looked soft and vulnerable.

He pushed the tenderness away in that there was too much danger. He knew his sons had never understood his marriage, his mating. It had taken him a few years after Blue Jay Woman's death to find Leah, a woman so selfish and stupid he was certain he could never really love her. But love wasn't necessary for the mating bond. […] He could not afford to lose anyone else he loved the way he had loved Blue Jay Woman. So he'd found an acceptable compromise in Leah.
Bran? Just in case you were wondering, loving your children does not negate deliberately and systematically ruining a woman's life for your convenience.

What do you think? The interest in Leah seems to be pretty universal, though for vastly different reasons. Are you, like me, interested in finding out what she is getting out of the hell Bran made her life? Or are you on the Caro/Amanda bandwagon and seeing this as an Epic Tragic Romance? Did we forget anyone else who needs their own story?