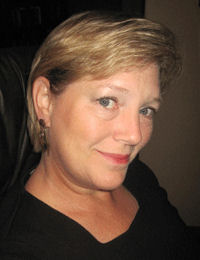 It's seductive, it's dangerous…it's voodoo! Today we're pleased to welcome multipublished, award-winning author Elle James, who visits for a chat about her latest release, Voodoo on the Bayou (from Entangled Publishing). She also shares some of her thoughts on reading and writing–including some of her upcoming titles from Entangled! Please show her a warm BLI welcome. 
——–
Stella: Hi Elle, welcome to Book Lovers Inc! Can you please tell us a bit about yourself?
Elle James spent twenty years in South Central Texas, ranching horses, cattle, goats, ostriches and emus. A former IT professional, retired Army and Air Force Reservist, she's proud to be writing full-time, penning intrigues and paranormal adventures that keep her readers on the edge of their seats or laughing out loud. Now, living in northwest Arkansas, she's given up wrangling cattle and exotic birds to wrangle her muses, a malti-poo and a yorkie. When she's not at her computer, she's traveling, out snow skiing, boating, or riding her four-wheeler, dreaming up new stories.
Stella: Are you a planner or pantser? Can you tell us a bit about your writing process? How do your novels come to life?
I'm a little of both a plotter and a pantser, but I lean toward plotting. It really depends on the length of the story. For longer books, I like to have a clear road map to lead me from the start, through the murky middle to the fabulous ending! The works are all about the characters. I love to get inside their thoughts and emotions and experience what they're going through.
Stella: What do you think is the difference between a reader and a real Book Lover?
A Reader is someone who likes to escape into another world. A Book Lover CRAVES that wonderful escape and can't wait to dive into the next world and live the lives of the characters in it. It's an addiction. A good one!
Stella: Your first Entangled novel, Voodoo on the Bayou was released on 25 February, congratulations! Can you tell our readers what they can expect of it?
"By day a frog, by night a man, 'til de next full moon…"
At first, lawyer and ladies' man Craig Thibodeaux thought Madame LeBieu's chant was a strange bayou joke. But the voodoo worked and Craig is spending his days as…well, a small green frog. Now he has only two weeks to find love, or his new froggy transformation becomes permanent.
Stella: Could you introduce the hero and heroine of Voodoo on the Bayou to us?
I love the scene where Elaine first encounters Craig, right after he's shifted back to human form. Er…he's somewhat naked… 🙂
Elaine stood in a silent stupor as the muscles in his shoulders flexed and extended with each movement. Her mouth went dry and not a single coherent thought surfaced.

He turned and treated her to the full force of his ice-blue stare. Ebony hair hung long around his ears and curled down the nape of his neck in dark waves. A single lock fell across his forehead and he pushed it back with a broad hand.

Elaine's fingers itched to pull the curl back down on his forehead. Her stomach turned flip-flops at the expanse of hard-muscled chest only a few feet away.

Startled by her reaction to the half-naked man standing in front of her, her eyes widened and she licked her lips. At least she thought he was half naked. Was that a bare leg she could see through the glass case standing between them? Her gaze slid downward.

The man glanced down, his eyes widening. A faint red stained his cheeks. He folded his arms across his chest and quickly leaned against the counter. "Can I help you?"

It took her several seconds to locate her tongue before she could reply. "I need you," she stammered.
Stella: If Voodoo on the Bayou were to be made into a movie, who would be your perfect cast?
Anne Hathaway for Elaine and Jake Gyllenhaal for Craig. Anne can play the frumpy, plain Jane and morph into a beauty. Jake has those incredibly blue eyes and swagger and can pull off the hero as well as do the comic relief bit too.
Stella: Voodoo on the Bayou is a unique mix of fairy tale, paranormal, romantic suspense and contemporary romance, how did you come up with this mash up?
I started with the fairytale and looked for a different kind of magic to make it happen. Loving the idea of the bayou and Voodoo, it seemed perfect. And I write romantic suspense, so it was a natural inclusion!
Stella: Now can you tell us 3 reasons why people should read Voodoo on the Bayou?
It's fun!

It's set in a fabulous location! If you haven't visited the Louisiana bayous, it's a must! And take an airboat tour. You'll get to ride one in the pages of DEJA VOODOO coming in June.

It's got it all, a great hero with a lesson to learn, a heroine we can relate to and root for and a suspense to keep us on the edges of our seats!
Stella: Could you please summarize Voodoo on the Bayou for us Twitter-style (in 140 characters or less)?
A frog by day, man by night, a cursed, cynical lawyer hopes to break a voodoo spell by making a lovelorn scientist fall in love with him before the next full moon while helping her unravel the mystery of swamp pollutants.
Stella: What is your favourite part of a romance novel to read or write? The beginning, the first meeting, first kiss, getting to know each other, first love scene, big fight, HEA, or something else?
I love to write the beginnings when the hero and heroine first meet and the big black moment at the end when the characters think all is lost.
Stella: What is next on your schedule? Any future plans you'd like to share with us?
I'm working on edits for the next in the series VOODOO FOR TWO (Apr 2013) and just finished the rough draft of DEJA VOODOO (Jun 2013). So look for more fun in Bayou Miste and more danger and exciting mysteries to unravel.
Stella: Could you share with us something, a trivia that not many people know about you?
I'm not a girlie-girl. I love the outdoors and exploring new environments. While on the airboat ride in the bayous, I was the only one who volunteered to pet the alligator the tour guide dragged up to the boat. Yeah, baby! Bring it on!
Voodoo on the Bayou by Elle James

"By day a frog, by night a man, 'til de next full moon…"


At first, lawyer and ladies' man Craig Thibodeaux thought Madame LeBieu's chant was a strange bayou joke. But the voodoo worked and Craig is spending his days as…well, a small green frog. Now he has only two weeks to find love, or his new froggy transformation becomes permanent.

When she receives the anonymous toxic water sample from Bayou Miste, research scientist Elaine Smith decides a trip to the bayou is the perfect excuse to escape the lab, and forget about her cheating ex-fiancé. Then she accidentally stumbles upon Craig's oh-so-fine naked form, and her science-nerd brain is overrun with naughty thoughts about her new gorgeous night-time bayou guide.

But there's more to Bayou Miste than voodoo curses and sexy late-night trysts. Dark secrets threaten the delicate ecosystem, and there are those who would do anything to keep those secrets hidden. Even murder…

———-

Find it here:
Please be sure to include a valid email address in the comment form (need not be in the actual body of the comment).