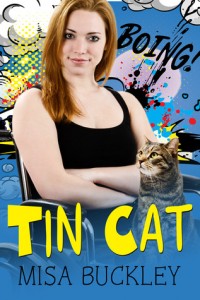 Format Read: ebook provided by the author
Number of Pages: 108 pages
Release Date: March 4, 2013
Publisher: Champagne Books
Genre: Science Fiction Romance
Formats Available: ebook
Purchasing Info: Amazon | B&N | Kobo | Author's Website | Publisher's Website | Goodreads
Book Blurb:
A year after the accident that put her in a wheelchair, Amber Gerald has more or less gotten used to living with her impairment. It doesn't make a difference to running a comic book store anyway, and the customers have been the best support group she could have wished for.

When she rescues an abandoned cat, Amber has no idea that she's interfering in the mad scheme of a time travelling bank robber. Or that the man that walks into her store dressed like Blade is about to become her bodyguard.

Between being an unwitting owner of an android cat and falling for a cybernetic bounty hunter, Amber finds her life a whole new level of weird as science fiction becomes a very real factual threat.
My Thoughts:
The author had me at "android cat". Not "android's cat" although Star Trek TNG did that one very, very well, but "android cat". Being a cat, it's no more, or less, obedient than the purely flesh and blood kind. But that's not the end of the story.
Amber Gerald's adoption of "Cat" brings a whole new level of weird into her life. And considering that Amber owns a comic book store, weird is pretty much her stock-in-trade.
Her adoption of the stray cat brings a stray man into her life. and that's something that hasn't happened in over a year. Not since the auto accident that put her in a wheelchair.
But this Blade-wannabe who shows up at her shop says he's a time traveler. And so's the cat. Even better, or worse, he proves it to her. He shows her where his flesh meets his cybernetic implants. Hunter Gray is a bounty hunter with a built-in Kevlar vest, and a few other modifications.
What he isn't is put off by Amber's physical handicaps. He's merely curious. No one in the future has any handicaps like Amber's. Medical science has advanced past that point. Gray feels no pity, only intrigue, and interest. Good old-fashioned sexual interest. That's not a reaction Amber's seen from a man, let alone a gorgeous one, since the accident. Too many people, not just handsome men, see the chair and not her.
Amber is the strongest woman Gray has ever met. She accepted his story. She accepted his modifications. She's even accepting his need to guard her from the time-traveling bank robber he's pursuing.
All because she adopted that tin cat.
It's just too bad that whatever relationship they are building will end when Gray catches the villain. Because whatever they are building…it really is something special.
Verdict: Tin Cat is surprisingly good in any number of ways. You expect it to be an ugly duckling story. Meaning that Amber the handicapped ugly duckling gets turned into a beautiful swan by having her handicaps miraculously healed by future tech.
Let me reassure you now, Misa Buckley was much smarter than that. Or Amber was. Amber has come to terms with where her home is, and who her friends are. The ugly duckling in this story is Hunter Gray.
He's the one who gets redeemed by the power of true love, but not until after he does a few of the usual idiotic male actions first.
He lies about why he's chasing the bad guy. Not that the bad guy isn't truly evil, but there is some reason for his actions.
Gray is being punished, and he's not exactly forthcoming about why. Which doesn't mean he's not still a good guy. He's just typically afraid that he'll lose the best thing that ever happened to him if he's upfront about all of his many flaws.
Amber is hesitant about falling in love with anyone, let alone entering into a relationship with a definite expiration date.
Amber's handicaps are handled with a lot of sensitivity, but are not glossed over or made less in any way. She's brave but not Pollyanna.
And the cat both gets them in horrible trouble, and saves them in the end.
If you like science fiction romance at ALL, read this.
I give Tin Cat by Misa Buckley 5 proudly costumed stars!

***FTC Disclaimer: Most books reviewed on this site have been provided free of charge by the publisher, author or publicist. Some books we have purchased with our own money and will be noted as such. Any links to places to purchase books are provided as a convenience, and do not serve as an endorsement by this blog. All reviews are the true and honest opinion of the blogger reviewing the book. The method of acquiring the book does not have a bearing on the content of the review.