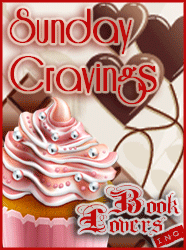 Hello Book Lovers everywhere in the world! How are you? Are you having a great weekend? Mine is craaazy busy but I'm super excited for everything I do even though that leaves me little to no time to read anything among the great books that have recently released.
This week, isn't nearly as busy as next week will be, but still there are many interesting books scheduled for release. Have you pre-ordered anything new? Let's explore our Sunday Cravings for this week!
Stella: Grave Secret by Sierra Dean
Sometimes a secret goes to the grave. Sometimes Secret puts you there.

It's been a hell of a year for Secret McQueen, and the last thing in the world she wants is to get caught up in werewolf drama. But when her former fiancé Lucas Rain shows up asking for her help, she knows there's no easy way out.

After making it known she wants nothing to do with him, Secret agrees to help find Lucas's wayward sister Kellen. After all, how much trouble could one socialite get into in the city that never sleeps?

Unless that socialite has been spirited away by fairies.

Trying to track down a missing girl in an alternate reality is just the start of Secret's problems, though. Someone appears to be killing teenagers, and the MO looks eerily similar to something for which the half-fairy oracle, Calliope, might be responsible. Throw in a rogue wolf pack claiming allegiance to Secret's mother, Mercy, and she'll have miles to go before she rests.

Warning: This book contains a promise fulfilled, sex that's out of this world, and more heartache than one hybrid assassin can handle.
I looove Sierra Dean's Secret McQueen series and though I still have to read Book #4 I'm incredibly excited to be able to continue with Grave Secret right away 😀 Yay!
Marlene: Cards & Caravans by Cindy Spencer Pape
Book five of The Gaslight Chronicles.

Belinda Danvers isn't a witch. But that won't stop them burning her at the stake…

Connor McKay can tell at a glance that Belinda's magickal powers are minimal at best. She can't be guilty of murdering village children. There's something suspicious about her arrest and lightning-quick sentence. Unfortunately, telling anyone how he knows would mean revealing his own powers. He's been sent by the Order of the Round Table to help and he can't just let her die.

Escaping from jail and running from vindictive villagers in her grandfather's steam-powered caravan is more excitement than Belinda's had in years. And despite the danger–or maybe because of it–she loves the time spent with her sexy rescuer. But there's more to his magick than he's letting on…

There's something going on that's bigger than the two of them. It's time for good to make a stand.
Truly awesome steampunk romance series. Really. Not just for the steampunk, but because the descendants of the Knights of the Round Table are alive and well and still defending Queen and country. With magick! This series keeps getting better.
Stella: Jilted by Kelly Jamieson
The wedding's off but the honeymoon is on…

The Promise Harbor Wedding, Book 1

Devon can do this. She can show up at her ex-boyfriend Josh's wedding, even though he's marrying her ex-best-friend. She can show everyone she's happy with her fabulous life in Boston, her great career, her amazing shoes — and she can show everyone she's over him.

Truth is, her life isn't so fabulous. She's just been downsized out of her job, her Jimmy Choos won't pay her mortgage, and…she's still heartbroken that Josh chose family over her. The real reason she's enduring this wedding is that her next stop is nearby Greenbush Island, her last hope of finding a new job.

Josh knows marrying long-time friend Allie will make everyone happy after the rough time their families have been through, and since the woman he really wanted to marry chose her career and big city life over him — why not?

But the perfect wedding turns into a perfect disaster when Allie leaves him at the altar for another man. He never saw that coming! But hey, Devon's there, offering to help him look for Allie on Greenbush Island, where he'd planned their honeymoon. Only, all they find are their old feelings for each other and a temptation to risk their hearts one more time…

Warning: This book contains a firefighter hot enough to ignite flames, a woman who doesn't want to get burned again, a honeymoon suite but no honeymoon, and sex not on the beach (sorry).
I love wedding settings for romances and this series of 4 books by Kelly Jamieson, Meg Benjamin, Sydney Somers and Erin Nicholas looks fantastic, I can't wait to read these!! 😀 (and the covers are gorgeous too!)
Amanda: Emblaze by Jessica Shirvington
Once again Violet Eden faces an impossible choice … and the consequences are unimaginable.

Violet has come to terms with the fact that being part angel, part human, means her life will never be as it was.

Now Violet has something Phoenix – the exiled angel who betrayed her – will do anything for, and she has no intention of letting it fall into his hands. The only problem is that he has something she needs too.

Not afraid to raise the stakes, Phoenix seemingly holds all the power, always one step ahead. And when he puts the final pieces of the prophecy together, it doesn't take him long to realise exactly who he needs in order to open the gates of Hell.

With the help of surprising new allies, ancient prophecies are deciphered, a destination set and, after a shattering confrontation with her father, Violet leaves for the islands of Greece without knowing if she will have a home to return to…
I have already read this book and it's absolutely fantastic!!! This series in my opinion just keeps getting better and better. And the twist and the cliffhanger omg. I get butterflies everytime I think about this series.
Jackie and Anna: Clockwork Princess by Cassandra Clare
Danger intensifies for the Shadowhunters as the New York Times bestselling Infernal Devices trilogy comes to a close.

If the only way to save the world was to destroy what you loved most, would you do it?

The clock is ticking. Everyone must choose.

Passion. Power. Secrets. Enchantment.

Danger closes in around the Shadowhunters in the final installment of the bestselling Infernal Devices trilogy.
Jackie: From this list, I'd pick Clockwork Princess by Cassandra Clare, though a bit hesitantly. I'm a sucker for the Victorian England setting with a large dash of Shadowhunter and steampunk in it. I was a little disappointed in the love triangle that reared its head in Clockwork Prince, but I still want to see where things go for Tessa, Will, and Jem…or Will and Magnus?! Yeah, hesitation's over; I have to read it now, no doubt.
How about your Sunday Cravings for this week?