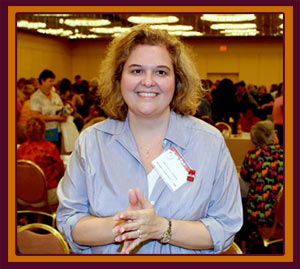 We are delighted to welcome back HelenKay Dimon today in celebration of the release of the first book in her new Hanover Brothers series, No Turning Back which has been greeted with rave reviews! No Turning Back is published by Berkley InterMix and became available for download on March 19, 2013.

Take it away HelenKay! 🙂
Thank you for having me here today to talk about my newest release, NO TURNING BACK. The book follows the sons of a notorious con man, focusing on our hero, Declan. The heroine, Leah, is the daughter of one of the con man's first victims. As you can imagine, that makes for a rocky road to romance.
I loved the idea of exploring how events outside of the hero and heroine's control could have them spinning. Declan has his father's messed-up legacy to handle and overcome. Leah has been taught by her father from birth to hate all Hanovers. But when attraction steps in, common sense sometimes steps out…and isn't that one of the things that makes romance novels so great?
Just because Declan and Leah have rough pasts to deal with, a house they're fighting over and a mutual attraction they can't fight off, that doesn't mean they can't have an old-fashioned date now and then. I thought I'd show you a bit of that:
Leah leaned against the side of the car and glanced around, but no one walked down the street. Nothing but a stray car at the stop sign up at the end of the block. "What are you doing here?"

"Dinner."

She didn't like where this conversation headed. Actually, she did like it, which was the problem. "You're eating it on my porch?"

"I'm inviting you to join me." He leaned a hand against her closed driver's door and dipped in closer to her.

Being this close, smelling the soap on his skin touched off a memory of those kisses and had her heart flipping around. The stupid, traitorous thing. "I don't see a pizza on you. Is there a sandwich hiding around here somewhere?"

He shot her that panty-dropping smile. "There's an Italian place about fifteen minutes from here."

"How would you know that?" He'd been in town about a week and already had the food scene down. Men and their meals.

"There is this amazing new invention called the internet."

Since he was standing there looking all adorable and offering food, she ignored the sarcasm. "Which restaurant?"

"Does your answer on coming with me depend on my choice of venue?"

Sad thing was he could probably suggest fast food and she'd jump at it. Her control had deflated that far. "Maybe."

"Castellano's."

The man had taste. "Good choice."

A car drove by and honked. Without thinking she waved. So did he.

"So is that a yes?" he asked.

It should be a no. A definite no. The last two times they were close they'd climbed all over each other. "You know this is a terrible idea, right? We should negotiate on a price for the house—"

"I'm not ready to talk sale, it could be days or weeks or never. I don't know and I'm not making a decision."

He didn't say the word ever but she thought she heard it. "It's the best answer."

"I'm not sure that's true. Not for me."

"Declan, we could—"

"Arguing with me is not going to change my mind. No real estate talk. Just dinner."

She inhaled long and deep, hoping her brain would restart and the word no would form on her tongue. None of that happened. "Food. No kissing."

He raised both hands in the air in what she guessed was his version of a vow. "I promise to keep my lips off you, but you can feel free to put your hands all over me whenever you want."

If she did that they'd never get in the car.
Thank you so much for joining us today HelenKay. 🙂
 About NO TURNING BACK: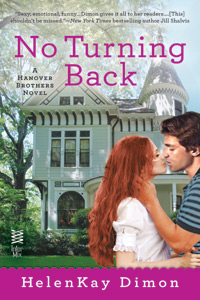 Length: 272 Pages
Genre: Contemporary Romance
Series: Hanover Brothers Book I
Release Date: March 19, 2013
Publisher: Berkley InterMix
Formats Available: eBook, Kindle, Nook
Purchasing Info:Publisher, Author's Website, Goodreads, iBookstore, Kindle, Nook.
Book Blurb:
The Hanover brothers inherited some bad behavior from their con artist father. Now three strong women will make honest men out of them.

After ten years in the Army and four overseas deployments, Declan Hanover is ready for life away from a military base. Sweetwater, Oregon, a sleepy coastal town, seems like the perfect place to start over. His plan is to work out a deal with his brothers and the bank to let him keep the estate they've inherited, Shadow Hill. But he wasn't prepared for Leah Baron, whose family lost everything to his father's cons—including the house Declan intends to make his own…

Leah thinks Declan is just like his conman father. He possesses a bad boy charm that makes her heart pound, but that doesn't mean she can trust him. All she wants is to get close to him so she can get her house back. But Declan has other ideas. He doesn't mind being in close proximity to Leah—as long as it's in the bedroom…
~~~~~~~~~~~~
About HelenKay:
HelenKay Dimon is an award-winning author of more than a dozen novels and novellas. Her first single title, Your Mouth Drives Me Crazy, was excerpted in Cosmopolitan magazine in August '07 and spotlighted at E! Online. She made Cosmopolitan a second time in December 2009 with her novella "It's Hotter At Christmas" from the Kissing Santa Claus anthology. Her books also have been published by Doubleday Book Club and Rhapsody Book Club and translated into several languages.
After twelve years as a divorce lawyer specializing in unhappy endings, HelenKay now writes romance for a living. The sudden career change resulted from her husband getting one of those "can't turn it down" job offers. With only a few months' notice, his work took the family from Maryland to their current home in California. So, instead of days filled with court, clients and a great deal of whining and complaining, HelenKay now writes for a living. She thinks of herself as a "recovering lawyer" and is grateful every day for the ability to write full time.
Where to find HelenKay:
Website | Twitter | Blog | Facebook
~~~~~~~~~~~~~~~~~~~~~~~~~~~~~~~~~~~~~~~~
~*~*Giveaway*~*~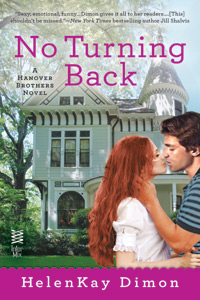 HelenKay has generously offered a digital copy of NO TURNING BACK to one lucky commenter!
All you have to do leave a meaningful comment regarding HelenKay's post or a question for her!
(You can read our full giveaway policy here)
Please leave us a way to contact you.
(Email in blogger profile or twitter name – no way to contact you – no entry).
This giveaway is open to International entries!
Giveaway ends on Saturday, March 30, 2013; and we will announce the winner on Sunday.
Good luck!