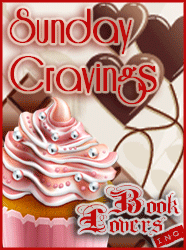 Hello Book Lovers everywhere in the world! How are you this weekend? You can't even imagine how glad I am that this weekend has finally arrived! Talking about one hellish week 😛 Anyway, the week to come is again pretty slow as far as new books are concerned. Not that many titles once more are scheduled for release but still, those few that are are pretty interesting! So, without any further delay, let's start with this week's Sunday Cravings 🙂
Stella: Saved By The Bride by Fiona Lowe
Welcome to Whitetail, Wisconsin, future home of Weddings that WOW!

As acting mayor, Annika will do anything to revive the economy of the town that's been her refuge ever since her art career imploded and her fiancé walked out. Even if it means crashing an engagement party to talk business with the bride's billionaire father. But the evening starts with a kiss from a gorgeous stranger—and ends with a night in jail.

Finn Callahan can't believe his sister is getting married, not after their parents' disastrous track record. And he'd rather be anywhere than working from his family's vacation home. Until he catches a leggy blonde sneaking in the window, and suddenly telecommuting for the season is very appealing.

Unable to resist their mutual attraction, Annika and Finn are soon mixing business and pleasure—just for the summer. Too bad Annika's heart missed the memo about not falling in love…

Book one of Wedding Fever.
You know I love wedding romances, and I have a soft spot for heroines who crash or sneak into weddings, and this one sounds like lots of fun. I hope the dialogue is witty and the chemistry sizzling, can't wait to discover Fiona Lowe's new Wedding Fever series!
Stella and Marlene: After Hours by Cara McKenna
A dangerous infatuation with a rough and ready man…

Erin Coffey has been a nurse for years, but nothing's prepared her for the physical and emotional demands of her new position. Needing to move closer to her dysfunctional family, she takes a dangerous job at Larkhaven Psychiatric Hospital, where she quickly learns that she needs protection—and she meets the strong, over-confident coworker who's more than willing to provide it.

Kelly Robak is the type of guy that Erin has sworn she'd never get involved with. She's seen firsthand, via her mess of a sister, what chaos guys like him can bring into a woman's life. But she finds herself drawn to him anyway, even when he shows up at her door, not eager to take no for an answer.

What Erin finds even more shocking than Kelly's indecent proposal is how much she enjoys submitting to his every command. But he can't play the tough guy indefinitely. If they want to have more than just an affair, both will have to open up and reveal what they truly need.
Stella: Wow. Seriously, with such a cover I wouldn't even need a backcover blurb lol 😉 I.want.it.now. ok, pretty please and puppy eyes?
Marlene: I'll second those puppy eyes for Cara McKenna's After Hours. Her Strangers on a Train story, Thank you for Riding, (written as Meg Maguire) was absolutely yummy, and everyone raved about the stories she writes as Cara McKenna being hotter and more delicious. I can hardly wait.
Stella: Busted by Sydney Somers
His game… her rules.

The Promise Harbor Wedding, Book 3

Hockey star Jackson Knight has a hundred reasons not to return to Promise Harbor, but none of them are good enough to get him out of attending his best friend's wedding. Even with a career-ending knee injury, every puck-bunny in town will be gunning for him.

Worse, getting a pair of cuffs slapped on him at the bachelor party could ruin any chance of getting back in the game, even as a coach. Unless he can convince the arresting officer to smooth things over—by going to the wedding as his date.

Hayley Stone figures posing as Jackson's girlfriend is the least she can do to salvage his reputation. Plus, having a man with a toe-curling smile on her arm will keep her ex off her back.

What starts as a simple plan to deflect small-town pot-shots unexpectedly becomes a sizzling night that hits Jackson like a full-body-check to the heart. Now he's determined to prove that she's the best of reason of all to come home—for good.
I enjoyed Jilted, the 1st book in the series, I'm in the middle of Bolted, Book #2 and it's laugh out loud funny, so of course I wouldn't want to miss Busted, Book #3 in the series! 😀
Marlene: Werewolves Be Damned by Stacey Kennedy
Nexi Jones—part witch, part guardian, and wannabe kick-ass warrior—can't throw a punch or conjure the simplest magic. But that doesn't stop her from hunting the werewolves who slaughtered her human family. She'll have her revenge, but only if Kyden, the elite guardian, would get the hell out of her way.

Kyden can't decide if Nexi wants to get herself killed or if she just has no clue what she's doing. But her father made it clear: keep Nexi safe…or else. Of course, the more Nexi runs toward revenge, the more she needs Kyden's aid, and as she grows into her power and confidence, so does his desire to protect her. The only problem? She'd rather he dropped dead.

But when a vampire paints a bull's-eye on Nexi's back, she's hard-pressed to deny Kyden and the help he's offering. Even if it means getting her revenge will be a little bit harder. At least it will still be as sweet.
I loved Stacey Kennedy's Frostbite series, diabolic cliffhangers and all, so I can't wait to see what she does with this new paranormal romance, especially since she's building a new world of secret guardians, witches-power and long-simmering revenge. This one looks like another wild ride.
What about your Sunday Cravings for this week?