Today we are very happy to welcome back to Book Lovers author Ophelia London in celebration of her newest release with Entangled Publishing, Abby Road. Abby Road is a sweet romance that combines two of my favorite things in this world: music and a heartwarming love story! What more could I ask from a story? Ophelia stops by today with a very interesting guest post, sharing with us some great songs that fit her story that I just have to check out later! Don't you? So, let's welcome Ophelia and don't forget to check at the end of the post for our contest details 🙂 You can also check the full Blog Tour schedule here.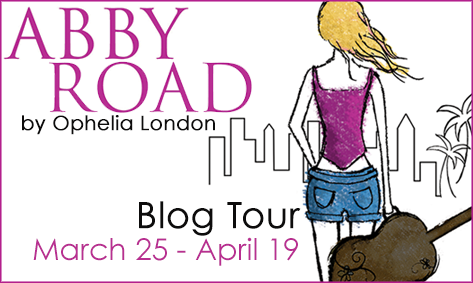 Hi Book Lovers Inc! I'm so excited to be guest blogging today. I was asked by Stella to share some songs that go with the characters in my new novel ABBY ROAD. A topic like this…I'm a kid in a candy store! I make playlists for every story I write. With ABBY ROAD, the list is very extensive, since it's actually about a rock band. *rubs hands together* So let's get this party started!
Abigail Kelly: At the beginning of ABBY ROAD, Abby is a shell of the carefree person she used to be; burned out and trying to hide from the spotlight. Then she meets ultra-hunky Todd, and her life makes an unexpectedly blissful turn. Abby's journey takes her from complete isolation, to the distraction of a new romance, then back to reality, flinging her to a darker place than where she started. Only by figuring out a way to forgive herself and trust those that love her can she hope to rediscover her missing rapture.
Here is a snippet of Abby's musical journey:
"City," by Sara Bareilles
"These boys only listen to me when I sing/And I don't feel like singing tonight/All the same songs…"
"Things I'll Never Say," By Avril Lavigne
"What's wrong with my tongue?/These words keeps slipping away…"
"Big Girls Don't Cry," by Fergie
"Myself and I/We've got some figuring out to do…"
"Golden Slumbers," by The Bealtes
"Sleep, pretty darling, do not cry/And I will sing a lullaby…"
"Underneath It All," by No Doubt
"You see the colors in me like no one else…"
Todd: Before meeting Abby, Todd had his own relationship hurdles. With college, military and a whole lot of life experience, he knows in his heart that he is the perfect match for Abby. But the road to insure that the love of his life gets her happily ever after is anything but smooth.
"I'm in Love with a Girl," by Gavin DeGraw
"I'm in love with a girl who knows me better/Fell for the woman just when I met her…"
"Her Diamonds," by Rob Thomas
"I don't know what I'm supposed to do/But if she feels bad, then I do too…"
"Fly Me to the Moon," by Frank Sinatra
"Fill my heart with song/And let me sing forever more…"
Molly: As Abby's personal assistant and best friend, her job is to keep Abby on schedule and in good spirits. Which sometimes means that she has to grab Abby by the hand and dance around the room until all her problems are forgotten.
"22," by Taylor Swift
http://www.youtube.com/watch?v=niVVIOP2pms
"If feels like one of those night/We ditch the whole scene/And end up dreaming instead of sleeping…"
Hal & the other Mustang Sally guys:
Despite the fact that Mustang Sally is fronted by a chick, this band is all boy!
"Silence is a Scary Sound," by McFly
"Well I'm just too excited/The end of this can be sighted/She's overdue for a break out/I better go she blows my brains out…"
Max: Abby's manager is your typical workaholic that makes everyone around him feel guilty for not working as hard as he does. Abby's summer getaway almost never happened, thanks to Max and his not-so-subtle manipulation.
"King of Hollywood," by The Eagles
http://www.youtube.com/watch?v=BNiLM12K8mw
"All your talent and my good taste/I'd hate to see it go to waste…"
Now, after all that…if I had to pick just ONE song (*gasp*) as a theme to ABBY ROAD, it would be "Runaway," by The Corrs.
https://www.youtube.com/watch?v=7nCq9Yo8Y3E
"Say it's true/There's nothing like me and you/We're not alone/Tell me you feel it too/And I would run away with you…"
Think about your favorite novel. Do you have a song that sums up the whole story? Tell me!!
About the Author
Ophelia London was born and raised among the redwood trees in beautiful northern California. Once she was fully educated, she decided to settle in Florida, but her car broke down in Texas and she's lived in Dallas ever since. A cupcake and treadmill aficionado (obviously those things are connected), she spends her time watching arthouse movies and impossibly trashy TV, while living vicariously through the characters in the books she writes. Ophelia is the author of PLAYING AT LOVE, SPEAKING OF LOVE… and ABBY ROAD. Visit her at http://ophelia-london.blogspot.com. But don't call when The Vampire Diaries is on.
About the Book
Touted by the tabloids as the biggest rock star of our generation, Abigail Kelly is used to being in the spotlight. But beyond the glam of Hollywood, her world is falling apart. Still reeling from the death of her brother and wilting under the iron fist of Max, her manager, Abby banishes herself to the secluded beaches of Florida for the summer, thinking some anonymity and sunshine are just what she needs. What she finds, instead, is Todd, an ex-marine eager to embrace life after war. Together, Abby and Todd find the balance Abby's life has been missing.

That is, until Max resurfaces, demanding Abby return to Los Angeles to record her band's newest album. As the pressures of public appearances, paparazzi, and late-night recordings start to mount, Abby will have to risk everything or lose the life she always dreamed of.

Ophelia London's ABBY ROAD is a love letter to music—both the kind you cherish and the kind you create—as well as a beautiful love story that proves even when everyone in the world can recognize your face, the only people who matter are those who can see inside your heart.

Buy it at: Amazon, B&N, Kobo, Book Depository, Goodreads
~~~~~~~~~~~~~~~~~~~~~~~~~~~~~~~~~~~~~~~~
~*~*Giveaway*~*~
Ophelia is hosting a big giveaway in celebration of Abby Road's release! All you have to do is fill the form below to enter.