It's our great pleasure to welcome Melissa Bourbon Ramirez to BLI today! Melissa is here for the latest stop in her whirlwind Entangled Publishing Blog Tour to celebrate the release of her latest novel Bare-Naked Lola, which hit the stands on May 15, 2012. Bare-Naked Lola is a mystery with romantic elements and is the third book of her highly acclaimed Lola Cruz Mystery series.
About Melissa:
Melissa Bourbon, who sometimes answers to her Latina-by-marriage name Misa Ramirez, gave up teaching middle and high school kids in Northern California to write full-time amidst horses and Longhorns in North Texas. She fantasizes about spending summers writing in quaint, cozy locales, has a love/hate relationship with yoga and chocolate, is devoted to her family, and can't believe she's lucky enough to be living the life of her dreams.
She is the marketing director at Entangled Publishing, is the author of the Lola Cruz Mystery series with St. Martin's Minotaur and Entangled Publishing, A Magical Dressmaking Mystery series with NAL, is the co-author of The Tricked-out Toolbox with Tonya Kappes, and has two romantic suspense novels to be released in 2012.
Lea: Melissa welcome to BLI! Thank you so much for taking time out of your busy schedule to join us today.
Melissa: Thank you SO much for having me here today. I love talking Lola!
Lea: Wow, you have a busy family life, you are a multi-published author, and a marketing director, Melissa, you are a busy lady! When do you sleep? lol How long have you been writing women's fiction?
Melissa: I AM busy. Usually way too busy for my own good. Sleep doesn't happen often enough, unfortunately, but my body's getting used to less hours!
I started writing about 9 years ago, just after my youngest was born. A friend and I used to go sit in a coffee shop between her house and mine, just so we could both get away from kids for a while. We started doing writing prompts, and from there, the Lola Cruz series began.
Lea: Please describe a typical day of writing? Are you a planner or pantser?
Melissa: I fall somewhere in between. I need to have an idea as to where things are headed in my book, but the details along the way come as I write. The characters take over and the plot develops because of the choices they make.
Lea: I wanted to talk a little about your fascinating heroine Dolores "Lola" Cruz. She has one foot firmly placed in her old school Catholic family's world, (they run a successful Mexican restaurant where she helps out). Lola earned a degree in criminal justice and has placed her other foot in Camancho & Associates a private investigation firm where she is the junior private detective and is trying to prove herself. Can you tell us about Camancho & Associates and for readers not familiar with the series explain a little of Lola's background and her history with the agency?
Melissa: You got all the details right. Lola's known she wanted to be a PI ever since she was in high school, majorly crushing on her brother's best friend, Jack Callaghan. She spied on him, her first taste of surveillance, and even took pictures of him just after he'd done the horizontal salsa with a girl named Greta Pritchard in the back seat of his car. She still has those pictures.
She has always wanted to be the one to put that smoldering look of satisfaction on Jack's face, and when he moves back to Sacramento after being away for a good many years, they are reunited.
Meanwhile, she has started working for former police detective Manny Camacho and is busy solving cases, placating her traditional Mexican family who thinks being a PI is a man's job, and figuring out how to succeed at this job she loves.
I love Lola Cruz! She's so much fun to write.
Lea: Bare-Naked Lola is told by Lola in the first person point-of-view. Do you prefer to write first-person Melissa or do you pen third-person narratives too?
Melissa: Actually, it depends on the story. PI books are usually told in first person because a mystery is unfolding via the eyes of the sleuth. First person makes that easy. My other mystery series (A Magical Dressmaking Mystery Series with NAL) is also first person, but my upcoming romantic suspense novels and romances are third person because you have both the heroine and hero's points of view.
I enjoy writing in both! 🙂
Lea: You've created quite an interesting crew of secondary characters in the staff at Camancho & Associates, starting with the crusty, man-of-few-words Manny Camancho, Lola's boss and mentor. Please tell us about Manny, he's taken Lola under his wing hasn't he? Or is there more to his interest then helping her hone her skills as a detective? *wink* lol
Melissa: Thank you! There's a Goodreads discussion right now: Team Jack or Team Manny? You must weigh in! A little smolder and sexual tension is good, but in my heart, Lola and Jack belong together. But, I guess we'll see what develops as the stories evolve because sometimes the characters go in directions I didn't predict!
Manny is complicated, and a lot of people love him, even though he is muy dark and misterioso. Or maybe because of that!
Format Read:e-ARC provided by publisher for eview
Length: 300 Pages
Release Date: May 8, 2012
Publisher: Entangled Publishing
Genre: Mystery with Romantic Elements
Formats Available: Paperback
Purchasing Info: Author's Website, Publisher, Goodreads, Amazon, Barnes & Noble, Books-A-Million, The Book Depository, Powell's
Book Blurb:
Going undercover is second nature for Private Investigator Lola Cruz, but she's out of her league when the case of a murdered Royals Courtside Dancer leads her to a local nudist resort. Parading around the sidelines of Sacramento's professional basketball scene in a barely-there cheerleading outfit is one thing—but parading around in nothing but smile? If she has any chance of hiding this from her traditional family and on-again/off-again boyfriend Jack, she's going to have a lot more than her duct tape bra and killer dance moves to keep under wraps….
Lea: In Bare Naked Lola you craft a backstory involving the cheerleading team for the championship basketball team The Royals. The squad owner and his wife hire Camancho & Associates to investigate the source of anonymous, rather threatening notes being sent to individual cheerleaders. Lola is chosen as the lead investigator because of her looks and athleticism, plus she is a natural dancer. Despite the seriousness of the investigation there are many laughs to be had particularly surrounding what is involved in Lola's transformation into a "Courtside Dancer". Did you do a lot of research into the life of a cheerleader for a high profile sports team such as this one Melissa? BTW, the duct tape scene? Hilarious! lol
Melissa: Thank you! I have a friend who used to be a dancer for the Sacramento Kings so I picked her brain! All the details are based on research, going to games, and interviews with her. Duck tape… true story!
Lea: Lola is a good Catholic girl, she isn't a prude, but she does have a strong set of behavioral and moral values. Your heroine struggles with modesty and her sense of propriety while working undercover on this case doesn't she?
Melissa: Yes, because I want Lola to stay true to who she is, the values instilled in her by her parents, and there is natural struggle built into that given the nature of her job. There's always a sense of the unknown with her and the question, just how far is she willing to go for her job?
Lea: The title for this book is very appropriate isn't it? lol
Melissa: The perfect summer beach read! Nudist resort… will she or won't she strip to catch a killer?
Lea: We have to talk about sexy Jack Callaghan, Lola's love interest. Please tell readers about Jack and share a little about his and Lola's rather conflicted relationship.
Melissa: Well, as I mentioned earlier, Lola's loved Jack for a long time. He's had a longtime girlfriend while he's been away working in a different city, but now that's over and he's back and he and Lola have their chance. He doesn't love her job, but he respects her and will stand by her.
I think they have hot chemistry together and I love the idea that they're finally coming together after all these years. But there is Manny, the fact that Jack isn't Mexican, which her parents would prefer, and the on again/off again nature of their relationship keeping things interesting… and never easy!
Lea: Can Bare Naked Lola be read as a standalone or would you advise reading your series in order for maximum enjoyment?
Melissa: Absolutely can be read as a standalone. And hopefully, once you get a taste, it'll make you want to gobble up the first two novels and the Christmas short to see how it all began and to see where Jack's and Lola's relationship began.
Lea: Will there be more books in this series Melissa? What is next on your schedule?
Melissa: The next one, tentatively titles Drop Dead Lola, is in the works, with What Lola Wants, after that and likely wrapping up the series, but we'll see. I may not be able to give up Lola altogether!
Next up is a Dead Sexy romantic suspense coming out in June. Sacrifice of Passion is so thrilling, sexy, and…. Uh, sexy!
Lea: Can you summarize Bare Naked Lola for us twitterstyle (in 140 characters or less)?
Melissa: Tough one!
Will Lola take it all off to catch a killer, and what will Jack think?
Lea: That's an awesome Tweet!
Now the BLI hard question: can you please tell us 3 reasons why people should read your books?
Melissa:
1. Perfect beach, pool, and summer read!
2. Laugh out loud funny with a fun mystery that'll keep you guessing.
3. Jack. And Manny.
Great answers Melissa, & I'll definitely check in on the "Team Jack or Team Manny" discussion! Thank you for spending time with us today! Best of luck with Bare Naked Lola!
Where to find Melissa Bourbon Ramirez
Website l Facebook l Twitter l Goodreads
Praise for Bare Naked Lola:
"Ay Caramba! Lola's back, and hotter than ever, whether strutting her stuff as a courtside dancer or crashing a party at a nudist resort. Between the well-crafted mystery and the sizzling romance, BARE-NAKED LOLA is a great read… and muy caliente!" ~Jennie Bentley, NY Times bestselling author
"Smart, sassy, and a bundle of fun!  Lola is the spicy, Latina answer to Stephanie Plum – full of laughs, heart, and the kind of endearing women you can't help rooting for.  Fans of the humorous mystery genre will be cheering in their seats over Melissa Bourbon Ramirez's latest Lola Cruz mystery." ~ Gemma Halliday, NY Times bestselling author
"Bare-Naked Lola reveals just how saucy, funny, sizzling and brave P.I. Lola Cruz can be. She is one hot mamacita, and this book is not to be missed! Loved every page of Bare-Naked Lola!" ~ Bestselling author Heather Webber

~~~~~~~~~~~~~~~~~~~~~~~~~~~~~~~~~~~~~~~~
~*~*Giveaway*~*~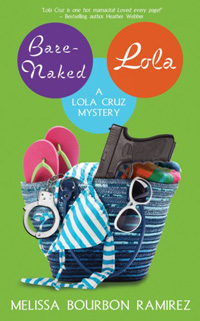 Entangled Publishing has generously offered a digital copy of Bare Naked Lola to one lucky commenter! AND, Melissa is generously offering a print copy to one lucky commenter from the US or Canada! 🙂
All you have to do is leave a meaningful comment about Melissa's interview or a question for her!
(You can read our full giveaway policy here)
Please leave us a way to contact you.
(Email in blogger profile or twitter name – no way to contact you – no entry).
This giveaway is open to International entries for the DIGITAL copy!
*Please Note: The print copy is available to a winner from the USA or Canada only!
Giveaway ends on Saturday, June 2, 2012; and we will announce the winner on Sunday.
Good luck!