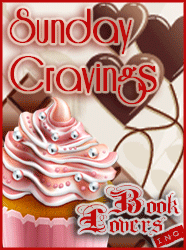 Hello my fellow Book Lovers everywhere in the world! How is this weekend for you? I hope it's just great and more so I really hope that you have a great book keeping you company 🙂 This week, is another slow one I'm afraid in the publishing world. Again not much happens. It seems that most of the good books are being kept for April 30th so be prepared for next week! There's one long list coming! But, let's see which are our Sunday Cravings for this week 🙂
Marlene: Diana's Hound by Moira Rogers
The female of the species is more deadly…

Bloodhounds, Book 4

Nate Powell lived one full life as a world-class inventor before a disaster born of magic and science returned him to his prime—and turned him into a half-vampire, half-bloodhound abomination.

He's finally stopped yearning for death, but he's a long way from being excited about life—even if his newly virile body is very excited by the latest arrival to Iron Creek.

Diana is another creature that shouldn't exist—a female bloodhound. While the males of Iron Creek accept her as a fellow warrior, Nate seems torn between a desire to study her and a need to protect her. Diana's urges are a lot more carnal.

When they learn that a rogue hound is selling women across the border, Diana and Nate are chosen to infiltrate the vampires' capital city. Before long, their inner bloodhounds feel the mating pull—and a hound never outlives their mate for long. In a fight to keep each other alive, they could both end up worse than dead.

Warning: Contains a badass vampire-hunting heroine who isn't afraid to fight dirty and a broody half-vampire hero about to discover a reason to live again. Also beware of: bloodhound-on-bloodhound violence, airship heists and some furniture-endangering sex with lots of biting, all in an alternate Wild West
The Bloodhounds series is just so damn much fun! It's not just steampunk, it's western steampunk where the werewolves are the good guys. AND they're the creation of some secret government experiment to fight the vampires. Except that the government, of course, didn't figure on all the results of that experiment, like the werewolf, oops, I meant bloodhound, life-mating. And there are neat inventions. The whole series has a gritty post-apocalyptic flavor too. These are a hoot, so I'm always eager to meet the next hound!
Stella: Behind the Courtesan by Bronwyn Stuart
When courtesan Sophia Martin returns to the village she fled as a young woman, she knows it won't be a happy reunion–but she can't refuse her brother's request to attend his expectant wife. Trapped until the baby arrives, she must navigate the social rift she caused when she left to pursue a disreputable life–and keep the true reason for her departure from the man she once loved, the bastard son of the Duke who ruined her.

Blake Vale has never forgotten Sophia, but he can't accept the decisions she made, the courtesan's life she leads, or the fact she's cast aside her true self. Plain old Sophia has to be inside this hardened woman somewhere, and he's determined to make her see she doesn't need rich men to be happy, and that their future has nothing to do with the past.

When the dukedom suddenly falls within his reach, Blake must come to terms with his own past and his birthright, and what that means for his future…and Sophia.
Having a courtesan heroine who gave up the hero and her virginal and traditional life to become a celebrated courtesan is quite the unusual set-up for a romance story, and that is what makes me very curious about Bronwyn Stuart's novel, I really want to see if/how she pulled this off…
Marlene: The Mystery Woman by Amanda Quick
Beatrice Lockwood, one of the intrepid ladies of Lantern Street, is in the middle of a case when her past comes back to haunt her. Joshua North, a former spy for the Crown, has come out of a self-imposed retirement after a disastrous case that left him scarred and forced to use a cane. He is hunting the villain who is blackmailing his sister.

The trail leads him to Beatrice who is his chief suspect. But when he realizes that she is not the blackmailer they set out to find the real extortionist. Passion flares between them as they dodge a professional assassin. Meanwhile a mysterious scientist intent on resurrecting his dead lover using an ancient Egyptian formula for preserving the bodies of the dead is also hunting Beatrice. He is keeping his dead love perfectly preserved in a special, crystal-topped sarcophagus filled with the special fluid. But he needs Beatrice's paranormal talent to activate the reviving properties of the preservative in the coffin. Time is running out for everyone involved.

The two cases collide at a mysterious country-house filled with artifacts from ancient Egyptian tombs. The drama concludes in the mad scientist's laboratory where Joshua discovers that the past he thought was dead is still very much alive — sort of.
I love Amanda Quick's blend of suspense, paranormal, and romance. For me, she always has this perfect blend of mystery, history and steamy romance that I just can't wait to sink into. This one looks like oodles of fun, since the dastardly evil-doer has plans to resurrect some Egyptian mummies. Looks like fun!
So, what about your Sunday Cravings? Is there any book you have ordered for this week or are you keeping all your money for the week to come?