Welcome to this week's news post! In this week's edition we have news of Amazon's launch into licensing fanfiction with Alloy Entertainment,   and more author and book news!
With the recent successes of pulled to publish fanfiction like 50 Shades of Grey and Gabriel's Inferno, has certainly helped paved the way. But Amazon has now joined forces with Alloy Entertainment, a book packager who is behind popular franchises like The Vampire Diaries, Gossip Girls and Pretty Little Liars. Fanfic writers who have written stories based in these worlds belonging to Alloy Entertainment which is a subsidiary of Warner brothers, are invited to submit to sell their works via a license which Amazon and will be sold under an imprint called Kindle Worlds. Unlike the KDP programme which allows authors up to 70% of royalties, fanficcers can only get around 35% for each story sold. There is also restrictions which Amazon have declared that fanfiction must fit a certain criteria such as no pornography or crossovers and that any ideas or content from the stories can be used by the original copyright holder with no compensation.
This is going to be interesting to see if there are other authors who will join into this programme, but I suspect most will not agree to it. But I am in two minds about this because while there has been sanctioned fanfiction in the past – this allows both parties to profit from fanfiction with an agreement unlike pulled to published fanfiction which is more ethically shady with the serial numbers filed off. However the joy of fanfiction is that it is free with no restrictions especially about sexual content and crossovers! Also the shared sense of community is also part of  being a fandom and monetizing this doesn't sit well for me. Unlike pulled to published fiction, at least there is an agreement with both parties about the conditions although I do think its worth more to offer it freely and write an original piece of work instead, because I do think this essentially dilutes the copyright of a book or text/show.
Stephen King's latest book, Joyland wont be available in ebook although King has been one of the forerunners in using this format for previously published stories and books. King states that – "Maybe at some point, but in the meantime, let people stir their sticks and go to an actual bookstore rather than a digital one." – whether this will be successful for readers in buying more print books remains to be seen. And it is also interesting to note that this didn't stop other previously unavailable ebook versions of Harry Potter didn't stop it being pirated.
Author, S.U Pacat serialised MM story,Captive Prince, which was posted for free and was self pubslished has been picked up by Berkley and not just for ebooks but for paperback. This is a huge step for a romance book which features a gay couple, there is still time to check out the story for free although it will be removed very soon but I  think this is fantastic news and I hope there is more to come!
News in Brief:
Due to early copy being sent out a Goodreads reviewer posted the identity of the hero from Nalini Singh's long anticipated Heart of Obsidian, because of the potential spoiler leaking, she has posted two chapter excerpts at her site. BUT this has a huge spoiler and please keep this quiet until the release of the book which is slated for early June!
Ilona and Gordon Andrews have posted some tentative dates for their upcoming signing for Magic Rises.
Now for books to watch out for!
Kristen Callihan's wonderful paranormal historical series has another installment coming up, Shadowdance is slated for later this year.
Once a heart is lost in shadow…

Life has been anything but kind to Mary Chase. But the Society for the Suppression of Supernaturals has given her purpose. Now she's been tasked with catching a vicious murderer dubbed the Bishop of Charing Cross. But someone is already on the case—and the last thing he relishes is a partner.

Only someone who lives in darkness can find it.

Jack Talent has been alone with his demons for many years. He never expected to have the willful Mary Chase assist him on the Bishop case. Their age-old rivalry reaches new heights—even as their desire for one another reaches a fever pitch. Though he aches to bring her close, Jack's dark secrets are a chasm between them. With dangerous enemies closing in, Jack must find the strength to face the past…or risk losing Mary forever.
I really love the sound of Emily Croy Barker's – The Thinking Woman's Guide to Real Magic  and the concept looks very unique and imaginative.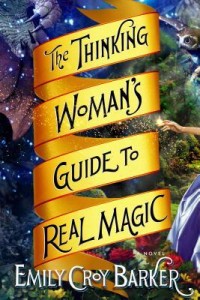 An imaginative story of a woman caught in an alternate world—where she will need to learn the skills of magic to survive

Nora Fischer's dissertation is stalled and her boyfriend is about to marry another woman.  During a miserable weekend at a friend's wedding, Nora wanders off and walks through a portal into a different world where she's transformed from a drab grad student into a stunning beauty.  Before long, she has a set of glamorous new friends and her romance with gorgeous, masterful Raclin is heating up. It's almost too good to be true.

Then the elegant veneer shatters. Nora's new fantasy world turns darker, a fairy tale gone incredibly wrong. Making it here will take skills Nora never learned in graduate school. Her only real ally—and a reluctant one at that—is the magician Aruendiel, a grim, reclusive figure with a biting tongue and a shrouded past. And it will take her becoming Aruendiel's student—and learning magic herself—to survive. When a passage home finally opens, Nora must weigh her "real life" against the dangerous power of love and magic.

For lovers of Lev Grossman's The Magicians series (The Magicians and The Magician King) and Deborah Harkness's All Souls Trilogy (A Discovery of Witches and Shadow of Night).
And finally we have Sarah Beth Durst's The Lost which looks really good and haunting.
Lost your way? Your dreams?

Yourself?

Welcome to Lost.

It was supposed to be a small escape. A few hours driving before turning around and heading home. But once you arrive in Lost…well, it's a place you really can't leave. Not until you're Found. Only the Missing Man can send you home. And he took one look at Lauren Chase and disappeared.

So Lauren is now trapped in the town where all lost things go-luggage, keys, dreams, lives-where nothing is permanent, where the locals go feral and where the only people who don't want to kill her are a handsome wild man called the Finder and a knife-wielding six-year-old girl. The only road out of town is engulfed by an impassable dust storm, and escape is impossible….
What do you think of Amazon's move in licensing fanfiction? Do you think its a good idea? And what about restricting ebook releases to increase and support print sales? Do you think Stephen King has made the right decision?