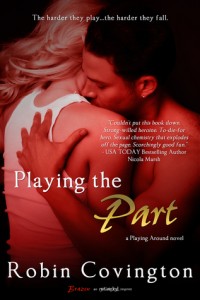 Format read: ebook provided by the publisher
Genre: Contemporary Romance
Release Date: June 10, 2013
Number of pages: 175 pages
Publisher: Entangled: Brazen
Formats available: ebook, paperback
Purchasing Info: Author's Website | Goodreads | Amazon | B&N | Kobo | Publisher's Website
The harder they play . . . the harder they fall.

After publicly self-destructing over a heartbreak a year ago, bestselling romance writer Piper James is now making nice with her publisher by agreeing to teach Hollywood's favorite action star how to act like he's in love. Only playboy Mick Blackwell has no clue what love looks like.

When a seductive heat ignites between Piper and Mick, she jumps at the chance for a bit of fun between the sheets, but with two stipulations: she's kept out of the public eye and things end when she returns to New York. Only Mick keeps changing the rules on her. Tempted by America's favorite bad boy, Piper is wondering how far she's willing to bend…
My Thoughts:
First of all, this was the third book in a row I read where the heroine wasn't a tall size two, and I really want to see this trend continue! I want more heroines for the rest of us! More curvy women need to get the hunky guys!
Back to our regularly scheduled review…
Playing the Part was a whole lot of fun. For one thing, we have the Hollywood tinseltown fantasy of an actor who needs the writer to figure out how to play the character from the book. I think I've read that they send the author of the book a check and hope never to see them again, so we're already into fantasyland, but it's a nice fantasy.
And we have a sex-into-romance story, with a very bad boy of the love-em-and leave-em type, and a woman who is not supposed to get her name into the tabloids again. This last bit sort of tripped my willing-suspension-of-disbelief meter a bit. No one recognizes authors on sight enough to get them in the tabloids.
Although in this particular case she did have a breakup and public meltdown from a scumbag actor just before the wedding. Of course, he cheated. While filming a movie of one of her books. With his co-star and her best friend. Former best friend.
Dragging myself back from digression.
In Playing the Part, star Mick Blackwood is fine in the action scenes of Regan's Gift, but his acting in the love scenes is terrible. He's never been in love and has zero experience to draw on. Piper James, the author of the romance novel, is brought in to coach him on the emotional side of the story. The problem is that she hasn't been in touch with those emotions since she broke up with the scumbag.
Of course they fall for each other. The fun and the amazingly hot love scenes are in watching the way they fall for each other. This book is scorching!
Then it gets to the sweet and gooey center, because the course of true love never does run smooth, especially between two people are aren't willing to call it what it is. When pictures of their fling get plastered all over those tabloids, Piper loses whatever trust she has, not only in Mick, but also in herself.
Mick has a betrayal to investigate, as well as the depths of the heart he didn't think he had. Then he has to figure out how to win Piper back–if that's even possible.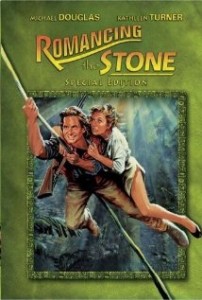 Verdict: A story with a romance writer hasn't been quite this much fun since Romancing the Stone, and that was a long time ago. Although I'll confess that this one had me when Mick described Piper as a sexy librarian because of her glasses. It may be a stereotype, but it's still one of my personal favorites!
Mick and Piper have smoking hot chemistry that practically steams off the pages (or electronics). Piper loves bad boys and that's exactly what Mick is. They start flirting from the second they meet and it never lets up. This is not insta-love, but it is very much instant sexing. She knows she probably shouldn't, but he's just too tempting. The love comes after a 10-day vacation in Hawaii.
The one thing I didn't quite buy was Piper not understanding, or not expecting, that dating a Hollywood star meant a loss of privacy. Not the first time and not the second. She loved the attention when it was positive and was surprised when it turned on her after it went negative, even though she was the one who had the public meltdown. Um, not realistic. While it's hateful, it doesn't seem like something you could have both ways. My 2 cents.
But I loved this story and hope there are more in the series. Mick shared a house with a soulful rock musician named Linc who is just begging for an HEA of his own.

I give  Playing the Part by Robin Covington 4 glittering stars!
***FTC Disclaimer: Most books reviewed on this site have been provided free of charge by the publisher, author or publicist. Some books we have purchased with our own money and will be noted as such. Any links to places to purchase books are provided as a convenience, and do not serve as an endorsement by this blog. All reviews are the true and honest opinion of the blogger reviewing the book. The method of acquiring the book does not have a bearing on the content of the review.