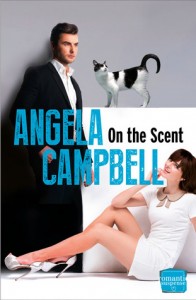 Format read: ebook provided by NetGalley
Genre: Romantic Suspense
Release Date: July 25, 2013
Number of pages: 263 pages
Publisher: Harper Impulse
Formats available: ebook
Purchasing Info: Author's Website | Goodreads | Amazon | B&N | Kobo | Publisher's Website
Hannah Dawson has a big problem: she's just become the unexpected owner of a snarky cat, a loveable but not-so-bright dog… and their $10 million fortune!

Which would be awesome if it hadn't made her the target of every wacko in the metro Atlanta area. Now Hannah and her famous pets need protecting and there's only one man who can help them…

Enter Zachary Collins: ex-TV star of 'The Psychic Detective' and street-wise private investigator – all 6 foot blue-eyed gorgeousness!

Only Zach's got secrets of his own – not least that he finds his new client irresistibly hot. The more time he spends keeping Hannah out of harm's way, the more he's tempted to give in to the attraction… even if it means breaking all his own rules.
My Thoughts: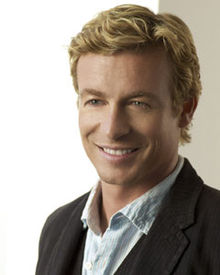 Zachary Collins kept making me think of a dark-haired version of The Mentalist, without quite so much of Patrick Jane's angsty backstory. This isn't by any means a bad thing, Simon Baker is a charmingly handsome devil, with equal emphasis on all three parts of that description. Patrick Jane also started out his detective work as a psychic con man with a TV show. The difference is that Jane always knew he was a psychic but didn't originally work as a detective.
Zach Collins is the other way around; he started as a detective but didn't believe for a second he was psychic. He just thought he was good at seeing things that other people missed.
Hannah Dawson was not one of the things he missed. He investigated her quite thoroughly when old Ellie Parham hired her as a nurse. He didn't just investigate, he totally checked her out, and not in any professional way.
But the only action he took on those very non-professional thoughts was to punch her fiance's lights out when he paid the jackass off three years ago. Paying the moron off was the job Ellie paid him for, after the investigation found out the guy was cheating and was only after Hannah for her steady paycheck.
Ellie made sweet, beautiful Hannah her heir, to the tune of $10 million, in return for taking care of a snarky cat and an adorable doofus of a dog, named after the stars of Ellie's favorite classic films; Abbott and Costello.
Ellie also left instructions for Hannah to hire Zach's private investigations firm if she was ever in trouble. When someone tries to kidnap "the boys", she decides that trouble has come knocking. But once she meets the TV-star handsome investigator she thinks she might be in way over her head.
After all, the only man she's ever thought she loved (at least so far) left her at the altar with a mountain of expensive wedding bills. She's not so sure about her judgment where men are concerned.
But the track record for Zach's security firm is first rate. And Ellie did leave that message. Hannah doesn't just feel responsible for "the boys", she loves those two animals and can't bear the thought that someone might harm them.
So we have a meet-very-cute. Zach knows Hannah, she doesn't know him. He believes it's wrong to get involved with her case, but his private investigations company is going broke, and he needs the business. Also, he already knows she's beautiful and a sweet human being. He likes her and is interested.
But it's unprofessional for him to get involved with a client, no matter how irresistible she is. Especially one who doesn't know the whole truth about his previous involvement in her life. Not to mention the added little difficulty that she hires him believing that he is a psychic, and he's not. Or at least, not at the time.
Then he gets whacked in the head with a baseball bat, and starts hearing voices. One particularly snarky voice wants tuna treats. It's the cat. (I adore Abbott, he sounds just like one of my cats.)
But Abbott knows things that only someone who lived with Ellie Parham would know. He dispenses clues like, well, treats. And clues are definitely necessary, because there was much more to Ellie Parham than anyone ever suspected. Including her identity.
Verdict: On the Scent is romantic suspense with a light touch that just kept me giggling. Once Zach starts being able to hear Abbott and Costello, it's hard to stop snickering.
The suspense part of the plot has a bunch of twists and turns. First it looks like someone is out to kidnap "the boys" in order to get the money. Then it turns out that Ellie Parham turns out to be quite the mysterious person, and the real reason for all the skullduggery hinges on her past. I wish we could have met her!
Then there's the romance. The backstory between Hannah and Zach made for a more interesting than usual misunderstandammit. Both in his choice not to reveal that he was or wasn't psychic, but also that he had investigated her for Ellie and was partially responsible for the breakup of her engagement. They had more past than Hannah knew about, and the revelations broke a lot of the trust that had started to develop.
I liked Zach and Hannah, and watching them resist their attraction to each other, only to eventually fall, was terrific! And fun. And sometimes very funny. Occasionally steamy followed by laughter (pet owners will understand).

I give  On the Scent by Angela Campbell 4 fur-covered stars!
***FTC Disclaimer: Most books reviewed on this site have been provided free of charge by the publisher, author or publicist. Some books we have purchased with our own money and will be noted as such. Any links to places to purchase books are provided as a convenience, and do not serve as an endorsement by this blog. All reviews are the true and honest opinion of the blogger reviewing the book. The method of acquiring the book does not have a bearing on the content of the review.