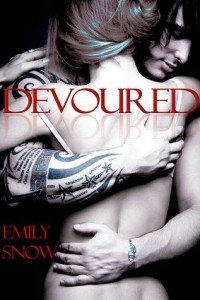 Format Read: Trade Paperback purchased by reviewer
Length: 304 (it's actually 280) Pages
Series: Devoured, Book 1
Genre: Erotic Contemporary romance
Release Date: October 9, 2012
Publisher: Simon & Schuster
Formats Available: Trade PB, Kindle, Nook
Purchasing Info: Publisher, Author's Website, Amazon.com, Barnes & Noble, The Book Depository, Bookish, BAM, Kindle, Nook, iTunes, Goodreads.
Book Blurb:
Sienna's dreams lie in California, but when she discovers her grandmother's Nashville home has been foreclosed, she has no other choice than to move back to Music City, where she comes face-to-face with the flawed, gorgeous man she never thought she'd see again—and who now holds the deed to her grandma's estate.

Millionaire rock star Lucas Wolfe is just as surprised to find the outspoken redhead glaring at him from across a courtroom. He still can't get the night Sienna spent with him out of his mind, and the chemistry between them is as undeniable as ever. Now, Lucas is determined to do whatever it takes to lure Sienna into his bed, so he makes a deal with her: if she spends ten days with him, playing by his rules, he'll hand over the deed to her grandmother's home.

Though she agrees to the arrangement for her family's sake, Sienna struggles with the promises she's made to herself and a past that still haunts her. As Lucas's game of seduction continues and Sienna is introduced to his dark, erotic world, she realizes that at any moment, she could be devoured.
So, I didn't feel like going home after work one day and headed over to the mall for some shopping therapy and to, of course, feed my book addiction. Coffee in hand, I hit the bricks & mortar hallowed halls of Chapters and zeroed in on the Summer Reads shelf because I saw Lauren Dane's book Tart prominently displayed. Beside Ms. Dane's book sat Devoured with it's sexy, very appealing cover art. When I read the synopsis and saw "rock star" and noted it sounded like a lovers reacquainted themed story I snapped it up and threw down my $17 + tax fee. Yep, $17 + tax for a trade paperback here in Toronto. Even though I've got stacks of books to read when I got home I downloaded All Over You, the 57 page short story prequel to Devoured for another $2 (yes I know I'm an idiot). You will understand the point of why I'm sharing how these books came into my hand/on my Kindle shortly. (BTW it says All Over You is a novella on Amazon, but its not.)
There are like 20,000 ratings on Goodreads for Devoured so you may wonder why I'm even bothering to comment about it, well mainly because I get extremely grumpy when I feel I've been taken. :/ Anyway, I digress. This post started out as a review so I'm sharing a few thoughts. Devoured is a quick erotic read with some very light d/s scenes. Initially I thought Lucas was going to be characterized as a heavy duty dom but that wasn't the case. I liked Lucas, a rich, sexy, damaged rock star hero with a sexual aura that attracts women in droves. Lucas has a cruel side and that facet of his personality was especially evident when he was being harassed and threatened by his insane ex-wife. Sam (the ex) knows something damaging about Lucas that apparently could potentially ruin him and his career.
I also liked heroine Sienna, a shy introvert who allows others to take advantage of her. This is especially the case when it comes  her mother and brother who are verbally abusive, demanding and manipulative. However, her inner strength shows in her resistance to Lucas' attempts to seduce her and as their relationship progresses he does help her to come into her own.
You can get the gist of the story from the synopsis or from the 1300 reviews on Goodreads so I'm not going to rehash what's already been said, but am going to grip a bit. I had a couple of issues with this book: First I felt Sienna's personality transition from shy mouse to self-assured, assertive tigress happened too quickly. That being said, she did show good moral fiber in her exceptional resilience to Lucas' charms given their explosive sexual attraction. Secondly I felt she forgave Lucas far too quickly given his extremely hurtful, inconsiderate treatment of her on more than one occasion. Another niggle was that there were intimations that Sienna's presence in Lucas' life is a source of artistic inspiration, she is essentially his muse and this is part of what drove his need to possess her. This aspect of Lucas' deep desire for Sienna was not well developed or communicated and I would have liked to have seen him relay to her how she impacted his work as a songwriter and musician much more fully.
There is one more major problem, and its a biggie, and the reason for the ramble about my trip to the bookstore and said book. So here's the thing: we are never given insight into exactly what information the vicious ex-wife holds that could potentially destroy Lucas. This plot point is the source of overwhelming angst and despair for the protagonists and I felt unsatisfied that there was no reveal regarding this issue by the end of the story. I later learned that Lucas and Sienna's story is continued in Snow's next publication Consumed and apparently his secret is revealed in that book. At this point the steam started billowing out my ears as my pissed off meter hit the red zone. There is no indication on the back, inside or anywhere else in this book that I can see to indicate its a CONTINUING STORY. As far as I'm concerned this is misleading, not to mention mercenary because if readers are interested enough to cough up the $ to purchase Consumed then when all is said and done it's going to drain their wallets of upwards of $35… Needless to say I am unimpressed, but it doesn't matter because the publisher knows Snow's fans will likely cough up the bucks anyway.
The unfortunate part of this situation is that overall Devoured did keep me engaged, I cared about the hero and heroine and liked the secondary characters. I would like to know what the "big reveal" is and see if Snow patches up some of the plot holes. Admittedly I do have a soft spot for sexy, damaged rock star heroes and a lovers reacquainted theme, ergo my attraction to the story and getting duped into purchasing a novel that has the author and publisher laughing all the way to the bank. Will I read Consumed? Just on principle I doubt it. I think I might as well read some of the 59 reviews of Consumed that are already posted on Goodreads, someone is bound to have leaked a spoiler or two. Did I mention the publication date for Consumed is September 17th and there are already 702 ratings? *snort* I'd bet the cost of the next novel I buy that the books were self published first, most likely at a lower price. Yep, like I said, I'm an idiot, but once burned twice shy. :/
Okay, I feel slightly better now….but only slightly.

I begrudgingly give Devoured 3 Stars
***FTC Disclaimer: Most books reviewed on this site have been provided free of charge by the publisher, author or publicist. Some books we have purchased with our own money and will be noted as such. Any links to places to purchase books are provided as a convenience, and do not serve as an endorsement by this blog. All reviews are the true and honest opinion of the blogger reviewing the book. The method of acquiring the book does not have a bearing on the content of the review.