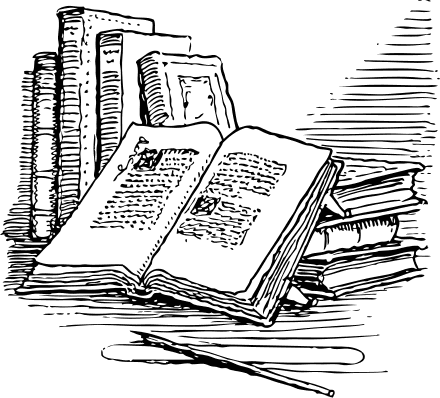 Amongst all of us book lovin' fiends around here, it's no surprise that we all read every- and anything that looks and sounds promising. The first time you read a great book can be nearly indefinable in the emotion and excitement it engenders. But what about multiple readthroughs?
Lately, I've found myself reaching to the back of my bookshelves and rereading some beloved titles, from the early Kara Gillian books to the Chicagoland Vampires series and, most recently, the September BLI Book Club pick, The Iron Duke. In the middle of reading a new book recently, I even stopped suddenly, immediately grabbed up my well-loved copy of Beguiling the Beauty by Sherry Thomas, and proceeded to reread my favorite sections (read: more than 60% of the book) over the few hours that followed. A recent "Booking Through Thursday" topic got me thinking even more about rereads…namely, what's the aim in reading a book again, and what do we get out of it? Here are a couple lines of thought that came to mind on that subject…
Total recall. I usually take plenty of notes when reading a book, just to have something to reference later on; great for reflection and review writing. Yet I find that if I'm reading a series with a continuous narrative–as with many urban fantasies–the compulsion is strong to go through and reread all the preceding book in the series, especially if a lot of time has elapsed in between. (There's nothin' more maddening than not remembering crucial world-building details or picking up on callbacks and in-jokes in a book. The way I see it, I like to be prepared to engage the latest series title and get the maximum enjoyment out of *that* new first-time experience.) This is why I have to recap Kate Daniels books, and why I used to quickly revisit Anita Blake before each new release. It's refreshing the mental encyclopedia, y'know?
Bringing back the magic. Mostly, though, I think rereads are done to re-experience a great book. After all, how often do you reread a book you can't stand? There are some books for which it seems no repeat reading can quite bring back that visceral, magical, singular experience. (For example, Ender's Game, with its jarring focus on war strategist children and its mindblowing twists, the first read can never be matched in subsequent attempts–for now I'll try to ignore the possibility that the author's close-minded antics have become increasingly distracting over the years, as well. But to match that heady effect of the book, you'd have to read a retelling, which is precisely what Orson Scott Card wrote in Ender's Shadow). For those titles that seem to be just as good if not better on subsequent readings…that's when you claim it for your mate and never let go. 🙂 For me, that's means things like Pride and Prejudice (Jane Austen) or the Aftertime books (Sophie Littlefield). It's the guaranteed enjoyment that is sometimes most needed to tide over a reading slump or cleanse palate from a horrible read.
There are the rarer occasions in which I DNF a book (or perhaps just put it on extended pause without reading all the way through), and later try to take another stab at finishing completely. I suppose it's not a reread in the truest sense, but every once in a while, I'm able to find something in the part of a DNF that I did read that drives me to discover the parts I didn't read before. I'd say this is perhaps one of the biggest success and triumph of a second readthrough, don'tcha think?
I'm sure you've reread at least a book or two here and there. If/when you do, is it for a refresher/reminder, or to relive enjoyable bookish moments? Does it tend to be just as good the second (or third, fourth, etc.) time around? If you could wave magic fingers and be able to read a previously-read book for the first time again, what would it be?