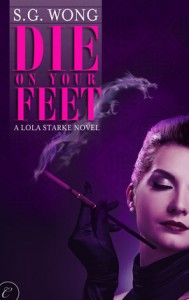 Format Read:ebook provided by the author
Number of Pages:215 pages
Release Date:May 27, 2013
Publisher:Carina Press
Genre:Paranormal, Noir, Mystery
Formats Available: ebook
Purchasing Info: Amazon | B&N | Kobo | Author's website | Publisher's website | Goodreads
Book Blurb:
Crescent City, 1934

In Crescent City, the dead are always close.

At the point of death, people can choose to become Ghosts, tethered to the living. They can remain with their loved ones as invisible companions—or in the case of Crescent City's ghostly mayor, remain in office forever.

Being a P.I. in Crescent City isn't easy or glamorous. Luckily Lola Starke has an edge: her Ghost, Aubrey, who can gather valuable clues from other Ghosts in the Ether. When they accept a simple missing-persons case, they're drawn into a complicated web of lies and double-crosses that involves the most powerful people in the City—including Lola's own mother, Grace McCall, a famous film star and the mayor's former lover.

As Lola races to untangle the deceit ensnaring her, she discovers an old enemy at its center carefully orchestrating the perfect moment to betray Lola and destroy Aubrey forever; unless Lola and Aubrey can stop them first.
My Thoughts:
I was never quite sure whether the "Crescent City" setting of Die on your Feet was meant to be merely a paranormal analog for Hollywood in the 1940's, or whether we'd moved to a completely parallel world or other dimension. I wish the author had been a bit less coy about the setting.
It seemed that Crescent City was more than a noir-type 1940's Hollywood, but it definitely was that. Lola Starke, our heroine, is a private investigator who carried at "gat" rather than a gun. She also talked as tough as any private dick out of the Sam Spade or Raymond Chandler tradition.
But the difference in S.G. Wong's Crescent City is that many citizens have their own personal "Ghost" accompanying them. Aubrey haunts Lola day and night. The questions abound. Why does he? Why did she agree to this? What does he get out of it?
Aubrey used to be her mother's dresser. Not the furniture, a person. There's the Hollywood touch. Lola's mother, Grace McCall, is a famous Hollywood actress. Her late father, Butch, was a Crescent City cop. And her mother's lover was Mayor Matteo Esperanza. Except that now he's just known as Mayor. Not the Mayor. Just Mayor. He's the one and only ghost in Crescent City so powerful that he doesn't need a person to haunt.
Lola starts the story by taking a missing persons case. A man wants to find his best friend. Sounds simple, right? Except his friend is a former heroin addict and the guy who hires her is so obviously lying through his teeth.
Then a former school mate who Lola hated (with good reason, the woman was so obviously one of the mean girls) and clearly vice versa, has Lola kidnapped and forces her to take a case. Forces how? Threatens Lola's family. Her former school "chum" is now a seedy and greedy public official.
So we go from a lying client to a strong-arming client. And things get even more complicated from there. It has to do with the ghosts. And politics. And ghostly politics!
Did I mention that Lola does NOT have a very good relationship with her mother? Throw family politics into the mix. Definitely. And murder.
Verdict: There were a lot of very cool concepts in this story, but maybe one too many. The ghosts were interesting, but it's clear at the end that having a ghost is a double-edged sword. They can be friend or jailor.
The history of Crescent City took a definite turn from our own history. Crescent City came to be Chinese-dominated instead of gwai, but the author didn't explain enough to keep the reader from being confused, or at least this reader. Most of the obvious effects seem to have been in who controlled gambling, the nature of the gaming, and that it was legal. But there was probably a lot more that I just missed.
Lola was a hot mess. She seems to hate and distrust everyone from beginning to end, including her ghost. We don't know why their relationship is so bad, except that she's never forgiven her mother for leaving her father. Things don't get much better during the course of the story, either. Lola solves the mystery in the story, but we don't learn a lot about her.
The case gets more and more complicated as things go on. Missing persons to bureaucrat-on-the-take to political power play to sorcery. It might have been one turn too many. The villain was obvious from the minute she came onstage. Her motivations seemed a bit out there, even for this alternate world.

I give Die On Your Feet by S.G. Wong 3 smoking stars.
***FTC Disclaimer: Most books reviewed on this site have been provided free of charge by the publisher, author or publicist. Some books we have purchased with our own money and will be noted as such. Any links to places to purchase books are provided as a convenience, and do not serve as an endorsement by this blog. All reviews are the true and honest opinion of the blogger reviewing the book. The method of acquiring the book does not have a bearing on the content of the review.